Hanmi Harbinger: Texas Deal Collapse has Ethnic Bank Rethinking Growth Plans
Banking & Finance Special Report
Friday, December 7, 2018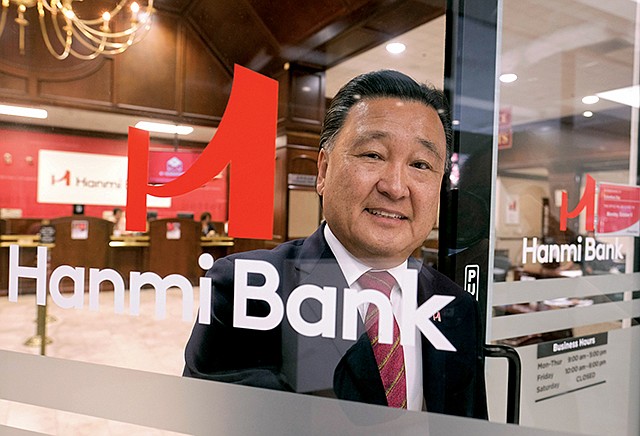 When Hanmi Financial Corp.'s deal to acquire Chinese-American bank SWNB Bancorp in Houston collapsed in late August, it was a bitter pill for president and Chief Executive Chong Guk Kum to swallow.

At the time, the company's stock price had fallen nearly 25 percent from a high of more than $35 per share in early 2017. And Kum, who took over leadership of the bank in 2013, had just recently announced his impending departure from the Koreatown-based bank, slated for May 2019.
Kum's strategy to boost Hanmi's growth – through acquisitions in Texas – had hit a roadblock, and the company's standing among Southern California's highly competitive field of ethnic banks was wavering.
But Kum, who goes by C.G., says he isn't planning to give up. "Despite the termination of the SWNB merger, we anticipate Hanmi to remain active in (merger and acquisition) discussions," he said during an interview in his office along a swanky stretch of Wilshire Boulevard in Koreatown.
Like many regional banks around the country, Hanmi has faced slowing loan growth this year. Kum attributed that slowdown to the bank's challenges growing its local customer base. He told the Business Journal the bank would close four branches – two in Illinois, one in Austin, Texas, and one in Irvine – in 2019 as part of a consolidation plan.
Hanmi and its competitors have turned to markets outside Southern California for new business.
"It makes sense," said Tim Coffey, vice president of research at Atlanta-based Fig Partners who covers banks on the West Coast. For ethnic banks like Hanmi that are already strong in L.A., "you need to find other growth markets," Coffey said.
Eyes on the Lone Star State
Hanmi has had its sights set on Texas for a while. Other local ethnic banks – including Hope Bancorp Inc., CBB Bancorp Inc. and East West Bancorp Inc., the Pasadena-based parent of the $39.1 billion asset East West Bank – have footprints in the Lone Star State, but Hanmi's is the largest. Its nine branches in Texas make up its second largest market behind its 21 Southern California branches.
John Heasley, general counsel and executive vice president of the Texas Bankers Association, isn't surprised by the interest from California's ethnic banks.
"The Asian culture is growing and developing. We have a very strong economy, and there are more opportunities for loan growth," Heasley said.
Looking to continue adding to Hanmi's Texas presence, Kum approached SWNB in 2016, he said. By May, Hanmi was announcing its plans to acquire Houston-based SWNB.
But the bank's shareholders failed to approve the deal in a vote in August.
When the deal collapsed, Hanmi began a share buyback program, a common practice to boost stock valuations. Since the end of August, the company's stock price has declined more than 20 percent as of market close Dec. 4.
Hanmi's performance in recent months may put an end to Kum's growth ambitions for now. He recently told investors that the bank would be consolidating its nationwide footprint next year.
On its third-quarter earnings call, Kum said the bank made a strategic decision to "slow down growth" for the second half of 2018 and to "moderate" loan growth expectations for 2019 to a range of 5 percent to 7 percent. Kum said the company is reviewing its cost structure and operating efficiency with a goal of lowering noninterest expenses by at least $5 million by the end of next year.
The four bank branch closures will help Hanmi meet that target, Kum said.
Fierce competition
While Los Angeles County is home to one of the largest Korean populations in the country, the banks serving that population are encountering limits to their growth.
"Southern California is seeing a real increase in deposits costs though ethnic banks are a little more sensitive to higher deposits costs because of their (limited) customers," Coffey said.
This past year, a tug of war to win deposits from K-Towners by offering higher and higher CD rates erupted among Korean-American banks competing to attract well-heeled customers.
"Clearly we are competitive on certain fronts," a spokeswoman for Hanmi competitor Bank of Hope said "We did raise our rates (on deposits) earlier this year with a strategy that (federal interest) rates would go up," said spokeswoman Angie Yang, but she declined to discuss the bank's growth strategy further.
In response to the CD tit for tat, Hanmi began slowing down its loan production in its fiscal quarter that began July 1.
Hanmi plots next move
Kum, who has a panoramic view from his modest office overlooking other Korean-American banking rivals situated in skyscrapers looming near his, has an appetite to buy something though he admits time is running out to leave his mark. He announced plans in the summer to leave his post next year. Kum, who is 64, did not disclose reasons for his departure or his next step.

Nonetheless, SWNB is off his radar, mainly because, he says, SWNB's leadership wanted to raise the price after previously settling on $76.7 million in May. An Oct. 2 lawsuit was filed to recoup fees associated with the failed deal.
Rumors have since swirled that Hanmi could be in play itself – perhaps being bought by Bank of Hope, America's biggest Korean-ethnic bank, or a U.S.-based banking arm of one of South Korea's prominent banks.
Kum denies the speculation. "I have not been approached to be bought," Kum said in a recent interview.
Instead, he said, Hanmi is on the prowl for acquisitions to help fuel more growth in its franchise, which he worries is slowing down.
"The market knows I'm interested in buying banks, but it has to make sense for the shareholders and the board," Kum said.
Coffey said Hanmi could consider buying a finance company to complement its purchase two years ago of the commercial specialty equipment finance unit from Irvine-based Banc of California Inc.
"The Southwest deal falling through was unfortunate, but that was a temporary setback," Coffey said.
For reprint and licensing requests for this article, CLICK HERE.