Spotlight on Education: LMU Expands Graduate Education in Silicon Beach
Custom Content by the Los Angeles Business Journal
Monday, December 3, 2018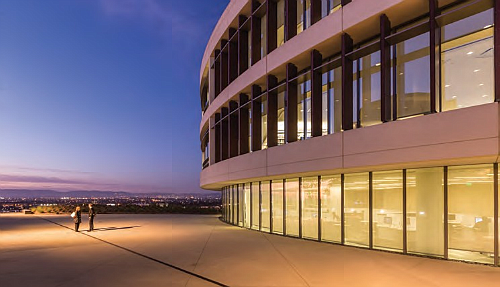 2018 was a significant year of transition and growth for the College of Business Administration (CBA) at Loyola Marymount University (LMU). The college gained new leadership, added programs and charted a course for the future.
The college welcomed Dayle M. Smith, Ph.D. in June as its new dean. Earlier, Joe O'Hannigan came onboard as associate dean of graduate business programs. Together these new leaders have brought energy and a new focus to the highly regarded business school.
In August, the university opened the doors to the LMU Playa Vista Campus, a creative center for graduate and professional education in Silicon Beach – already home to the Executive MBA program and future home to a number of graduate business programs set to launch in fall 2019.
"It's a game-changer for the College of Business Administration, and our graduate programs specifically, to have a launchpad in the heart of Silicon Beach," said O'Hannigan. "Being in the middle of the action makes us an even more attractive educational partner, and it also allows us to help influence the ideas and innovations that are emerging from Silicon Beach."
NEW VISION FOR THE CBA
In only seven months, Dean Smith has brought a new vision to LMU's College of Business Administration.
"It is clear to me that the CBA has a key role to play in developing tomorrow's leaders," said Smith. "I see the college's engagement in the LMU mission as fundamental to determining how business can be a force for good, committed to triple bottom line values and making an impact as 'men and women for others' on a global stage. I envision the CBA as a playground for the mind and a play space for the imagination – where students gain discipline knowledge and develop an entrepreneurial mindset and skill set, while exploring new ways to address tomorrow's business challenges."
The college received more than $1 million in U.S. Department of Education funding this fall to expand international business education initiatives over the next four years with a focus on global marketing, talent management, foreign business-language education, international entrepreneurship, global sustainability and business ethics. The grant will help fund a new institute for international business that aligns with the university's mission to cultivate a globally imaginative campus, providing students with a transformative education that is innovative and interdisciplinary.
NEW GRADUATE BUSINESS PROGRAMS
The CBA is ensuring its students stay relevant and competitive in today's ever-changing marketplace by introducing several new graduate business programs to meet industry demand. Take a closer look at what's new:
Master of Science in Management
The Master of Science in Management is a one-year program for individuals with an undergraduate degree in a field other than business who wish to enhance their core understanding of business. Designed for college graduates with less than a year of work experience, this program gives students the knowledge and skills to apply key business concepts in organizational settings in the areas of accounting, finance, marketing, operations and supply-chain management, information technology, economics and statistics.
Master of Science in Business Analytics
The Master of Science in Business Analytics is a one-year, full-time program that provides students with data analytics knowledge and skills to become data-savvy managers. Students learn about all areas related to business analytics and big data analysis, including data management, modeling, programming, analysis, visualization, data-mining, machine learning, and integration strategies to analyze large, structured and unstructured datasets for making effective business decisions. Classes will be held at the LMU Playa Vista Campus in the heart of Silicon Beach, providing students great opportunities to engage with the local business community.
Executive Education Certificate Programs
Beginning in 2019, the CBA will offer a variety of executive education courses and certificate programs for different career stages. Designed for working professionals, these small classes will be taught by LMU faculty and industry professionals at the LMU Playa Vista Campus. A sampling of certificate programs include: business of film; leadership skills for the modern workplace; managing intergenerational teams in the modern workplace; business applications of blockchain; impact entrepreneurship: building new ventures for social, environmental and economic success; excellence in nonprofit management; and introduction to sustainable business, among others.
LMU is also collaborating with the Harbin Institute of Technology Shenzhen Academy (HITSZ) to offer certificate programs in entrepreneurship, international finance and marketing to accomplished working professionals in China. Held on weekends at HITSZ's campus in Shenzhen, small classes will be taught in English by LMU faculty.
For more information on LMU graduate business programs, visit cba.lmu.edu/gradprograms.
For reprint and licensing requests for this article, CLICK HERE.