Spotlight on Education: LA's Visionary Educator Paul Cummins Makes a Case for the Importance of Poetry
Custom Content by the Los Angeles Business Journal
Monday, December 3, 2018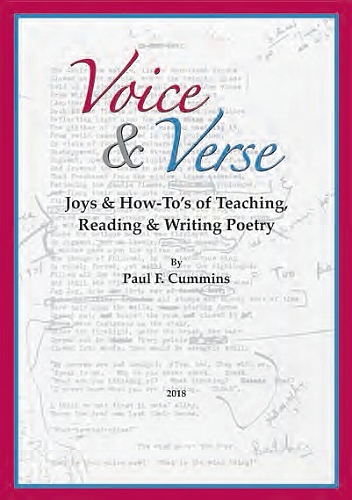 Dr. Paul Cummins is making a powerful case for the relevance of poetry (and how to teach it) with his latest book. In Voice & Verse: Joys and How-To's of Teaching, Reading and Writing Poetry, Cummins lovingly shares practical and accessible advice and perspective on how best to share the art of reading and creating poetry with students, including explorations of the tremendous benefits poetry brings and how teachers, parents and poets of all ages can impart the joys of the art with the next generation.
Cummins believes that poetry is an art form worth fighting for, and the best way to keep it alive is by teaching it in meaningful and lasting ways to a new generation.
In his book, Cummins shares examples of poetry's ability to transform lives. For 14 years, he and his nonprofit organization have been involved in bringing arts electives to incarcerated juveniles at Camp Gonzalez in Southern California. One of the most influential classes has been creative writing: usually beginning with rap, but almost always evolving into other forms of poetry. Boys who have never liked school find they love these electives. They gain opportunities to discover and hurl their voices out into the world in a positive way, many for the first time, and the results, Cummins says, are stunning. They live their lives no longer as a "broken-winged bird that cannot fly" but as dreamers who leave their cages transformed and inspired to rebuild their previously dysfunctional lives. Poetry, for example, led one student to leave camp, enroll in a two-year college, transfer to UC Berkeley, graduate in June 2016, and receive a full scholarship to a Ph.D. program at Duke University in September 2016. This is, of course, just one example of how poetry can make things happen.
Practicing what he preaches, Cummins' Collected Poems, an assortment of his own finest and most beautiful poems, will be published by Griffith Moon early next year, demonstrating that Cummins is not only a supporter and educator of verse, but also a genuine, inspiring poet himself.
Cummins received his bachelor of arts from Stanford, his MAT from Harvard, and his doctorate from the USC. In 1971, he co-founded Crossroads School in Santa Monica and built it into one of Los Angeles's most successful educational institutions and a national model for innovative, independent schools. In 1995, Cummins stepped down as Headmaster of Crossroads and formed New Visions Foundation (now Coalition for Engaged Education) to offer opportunities for Engaged Education to all youth. The first venture was New Roads School, a diverse, K-12 independent school in Santa Monica that has a deep commitment to social justice.
Since 2016, Cummins has helped co-create two new progressive schools: Pine Ridge Girls School in Pine Ridge, South Dakota; and Tree Academy in Los Angeles. Both schools serve grades 6-12 and are diverse, providing substantial financial aid.
Cummins has published several books on education, including Proceed With Passion: Engaging Students in Meaningful Education (2004), Two Americas, Two Educations: Funding Quality Schools for all Students (2007) and Confessions of a Headmaster: My Pursuit of Joy and Justice in Education (2015). His book of essays, Why Poetry? Reflections on Poetry, Writing and Culture, was published in 2009, in addition to two volumes of his own poetry and two children's books.
Paul Cummins latest book, Voice & Verse: Joys and How-To's of Teaching, Reading and Writing Poetry is now available via Amazon and The Collected Poems of Paul F. Cummins will be published in early 2019.
For reprint and licensing requests for this article, CLICK HERE.