Cedars-Sinai Joins Koreatown-Based Pragma to Offer VR Course in GI Surgery
Monday, December 3, 2018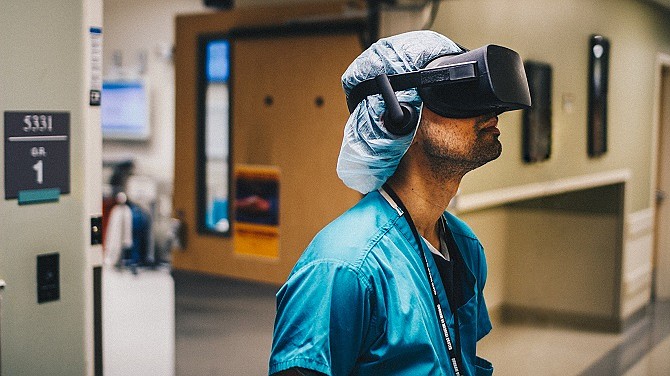 Cedars-Sinai Medical Center has teamed up with digital health startup Pragma Inc. to launch what may be the first accredited continuing medical education course taught in virtual reality.
The link-up between the Beverly Grove hospital and the Koreatown-based firm doing business as GIBLIB now allows surgeons and medical professionals to stream the 360-degree VR course in gastro-intestinal surgery.
The immersive course lets any doctor with a VR headset into a virtual GI operating room – with surgeon points-of-view or angles seen by surgery assistants, including laparoscopic and robotic camera feeds.
"We are excited to bring Cedars-Sinai medicine virtually to any doctor at any medical facility," said Harry Sax, executive vice chair of the Department of Surgery, in a statement. "With this technology, other medical professionals can learn our advanced techniques and procedures and ultimately, deliver excellent care to patients across the country."
Gastroenterology and GI surgery specialties at Cedars-Sinai were ranked No. 3 in a 2018 Best Hospitals edition of U.S. News and World Report.
Pragma Inc., a digital health startup sprung three years ago from the Digital Health Lab at USC, aims to build the world's largest digital library of medical lectures, surgical how-to and virtual reality videos. GIBLIB, which dubs itself "the Netflix of medical education," raised $1 million during an April 2016 pre-seed round.
The company films each VR video in Cedars-Sinai's Essential GI Surgeries course.
Health business reporter Dana Bartholomew can be reached at dbartholomew@labusinessjournal.com. Follow him on Twitter @_DanaBart.
For reprint and licensing requests for this article, CLICK HERE.