Going Up Throughout L.A. County
Big construction projects total $34.1 billion
Friday, August 31, 2018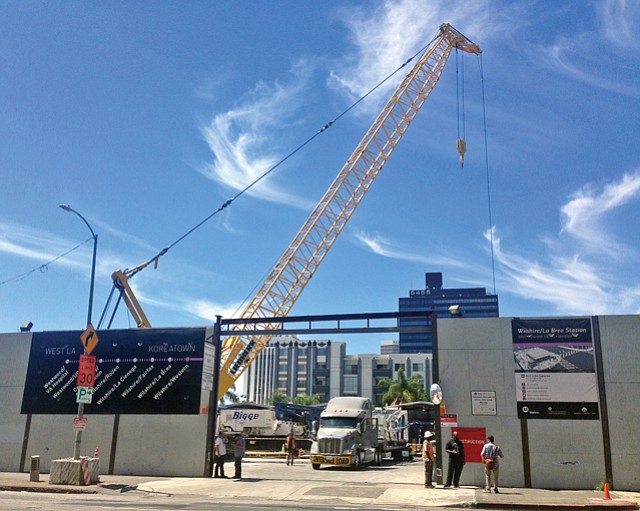 The rumble of construction across Los Angeles grew louder over the past year, from a new football stadium complex to airport terminals to transit lines burrowing past high-rise commercial and residential towers.
The total value of the largest commercial and infrastructure projects now under construction across Los Angeles County over the past year grew 16.1 percent to $34.1 billion, according to the Business Journal's annual lists of top projects ranked by cost. The lists give separate consideration to general projects and infrastructure projects.
The cost of the top 50 general construction projects grew 12.9 percent to $16.3 billion, outpacing a nearly 5 percent rise in 2017.
The cumulative cost of the 25 largest infrastructure projects grew 19.2 percent to nearly $17.8 billion, compared with a nearly 12 percent increase from a year earlier.
The $2.5 billion Metro Purple Line Extension Phase 2 project – from Beverly Hills to Century City – topped the list of mostly public infrastructure projects.
It was followed by a $1.9 billion makeover of Delta Air Lines Inc.'s terminals at Los Angeles International Airport, and the $1.6 billion Los Angeles County Metropolitan Transportation Authority's, or Metro, Purple Line Extension Phase 1 project along Wilshire Boulevard.
The higher growth rate for public infrastructure projects came thanks to billions of dollars raised by voter-approved sales tax measures to boost transit.
Metro now has five large rail lines and a transit stop project underway at a cost of nearly $8 billion. Another $1.5 billion is being spent on current bridge and freeway upgrades.
"We're engaged in the most ambitious transportation infrastructure building boom anywhere in the nation," said Metro spokesman Dave Sotero. "We're going to be transforming L.A. residents' ability to move around the county."
Metro now oversees a network of 105 miles of rail and subway lines – with another 32 miles on the drawing boards. The two Metro Purple Line projects would, when completed by 2025, extend the subway to the Avenue of the Stars and Constellation Boulevard from the Western Avenue station.
A third phase would extend the Purple Line to Westwood by 2026 if federal funds are found, with construction expected to break ground next year, Sotero said. A train from downtown could take 25 minutes.
"We're making great progress," he said. "For the first time in decades, people will have an alternative way to get between downtown and West Los Angeles."
Two other Metro projects also made the top 10. A $1.5 billion Foothill Gold Line Extension to run light rail through the San Gabriel Valley ranked fourth. A $1.3 billion Crenshaw-LAX Transit Corridor project to extend the Exposition Line from South L.A. to LAX ranked eighth.
LAX
Upgrades to LAX valued at $3.6 billion also accounted for spots among the upper reaches of this year's infrastructure projects.
The LAX-Delta Sky Way Project, a $1.9 billion Delta upgrade linking airport terminals 2, 3 and the Tom Bradley International Terminal, took the second position. The project is expected to be finished in 2023.
A $1.3 billion, 12-gate LAX Midfield Satellite Concourse North project ties for sixth. A $391 million modernization of a Southwest Airlines Co. terminal ranks at 11th.
Expect the trend to continue next year – American Airlines Inc. is expected to break ground on a $1.6 billion renovation of terminals 4 and 5. The total renovation of LAX, begun in 2008, is expected to cost more than $14 billion.
"Our mission is to serve the world in connecting people, places and cultures," said Charles Pannunzio, a spokesman for Los Angeles World Airports, which oversees LAX and other L.A. airports. "To build a world-class experience, it's what this modernization is about."
The Port of Long Beach also got in on the action. The list of largest infrastructure projects includes a $1.5 billion Port of Long Beach Middle Harbor project to link two aging container terminals into one 304-acre terminal featuring advanced green technology, which ranked fifth.
The $1.3 billion Gerald Desmond Bridge replacement at the Long Beach port ranked ninth, while the Alamitos Energy Center natural gas power plant being built in Long Beach tied for sixth.
Stadium project
The fast pace of general construction this year was led by the colossal Hollywood Park stadium project developed by Stanley Kroenke, owner of the Los Angeles Rams.

The privately funded Los Angeles Stadium and Entertainment District at Hollywood Park in Inglewood, the future home of a 70,240-seat stadium for the Los Angeles Rams and Los Angeles Chargers, topped this year's list. The 298-acre project will eventually include a concert venue, hotel, 1,500 homes, 1.5 million square feet of retail and office space and more than 20 acres of parks.
National Football League documents last spring projected the final cost of the project overall at nearly $5 billion.

More than four million worker hours have gone into the project to date, according to the Rams. More than 10 million cubic yards of dirt has been excavated by the more than 2,000 daily construction workers now employed Turner Construction Co. of New York and AECOM of Century City, its joint contractors.
The 3-million square-foot stadium, outdoor plaza and a 6,000-seat performance venue are expected to be completed in time for Rams' and Chargers' kickoffs in the fall of 2020.
A Kroenke representative declined to discuss financing, or respond to a request for comment.
The Los Angeles Stadium and Entertainment District is followed by the $1.2 billion Lucas Museum of Narrative Art in Exposition Park, and a $900 million mixed-used conversion of the Century Plaza Hotel in Century City.
The construction fervor across Los Angeles may slow in coming years because of the rising cost of construction, analysts say.
The tariffs on steel, aluminum and Canadian wood being imposed by the administration of President Donald Trump have driven up the price of building materials, according to Gary Tulacz, senior editor of the Engineering News-Record.
"There's still a substantial demand for housing – I would say that the market will remain strong in L.A., in upcoming years, absent some major catastrophe," he said. "Contractors are still going to be busy – but I wouldn't count on double-digit growth going forward."
For reprint and licensing requests for this article, CLICK HERE.