Going Up Throughout L.A. County
Big construction projects total $34.1 billion
Friday, August 31, 2018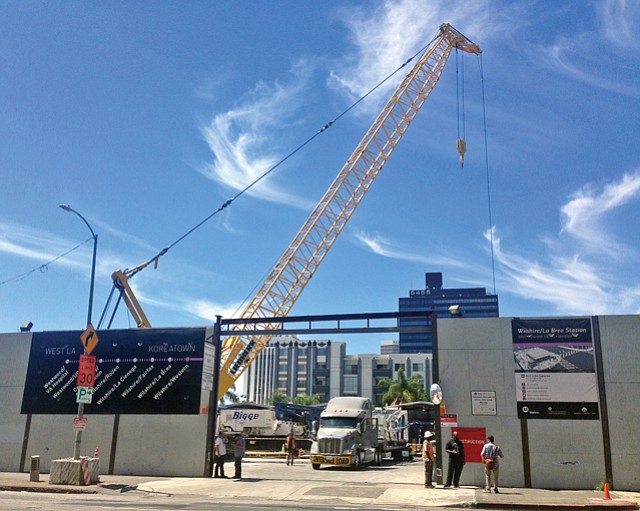 The rumble of construction across Los Angeles grew louder over the past year, from a new football stadium complex to airport terminals to transit lines burrowing past high-rise commercial and residential towers.
The total value of the largest commercial and infrastructure projects now under construction across Los Angeles County over the past year grew 16.1 percent to $34.1 billion, according to the Business Journal's annual lists of top projects ranked by cost. The lists give separate consideration to general projects and infrastructure projects.
The cost of the top 50 general construction projects grew 12.9 percent to $16.3 billion, outpacing a nearly 5 percent rise in 2017.
The cumulative cost of the 25 largest infrastructure projects grew 19.2 percent to nearly $17.8 billion, compared with a nearly 12 percent increase from a year earlier.
The $2.5 billion Metro Purple Line Extension Phase 2 project – from Beverly Hills to Century City – topped the list of mostly public infrastructure projects.
It was followed by a $1.9 billion makeover of Delta Air Lines Inc.'s terminals at Los Angeles International Airport, and the $1.6 billion Los Angeles County Metropolitan Transportation Authority's, or Metro, Purple Line Extension Phase 1 project along Wilshire Boulevard.
The higher growth rate for public infrastructure projects came thanks to billions of dollars raised by voter-approved sales tax measures to boost transit.
Metro now has five large rail lines and a transit stop project underway at a cost of nearly $8 billion. Another $1.5 billion is being spent on current bridge and freeway upgrades.
"We're engaged in the most ambitious transportation infrastructure building boom anywhere in the nation," said Metro spokesman Dave Sotero. "We're going to be transforming L.A. residents' ability to move around the county."
Metro now oversees a network of 105 miles of rail and subway lines – with another 32 miles on the drawing boards. The two Metro Purple Line projects would, when completed by 2025, extend the subway to the Avenue of the Stars and Constellation Boulevard from the Western Avenue station.
A third phase would extend the Purple Line to Westwood by 2026 if federal funds are found, with construction expected to break ground next year, Sotero said. A train from downtown could take 25 minutes.
"We're making great progress," he said. "For the first time in decades, people will have an alternative way to get between downtown and West Los Angeles."
Two other Metro projects also made the top 10. A $1.5 billion Foothill Gold Line Extension to run light rail through the San Gabriel Valley ranked fourth. A $1.3 billion Crenshaw-LAX Transit Corridor project to extend the Exposition Line from South L.A. to LAX ranked eighth.
Prev Next
For reprint and licensing requests for this article, CLICK HERE.