Who's Brokering Los Angeles (June 25): U.S. Commercial Real Estate Development and Operations Supports 7.6 Million Jobs
Custom Content by the Los Angeles Business Journal
Tuesday, August 28, 2018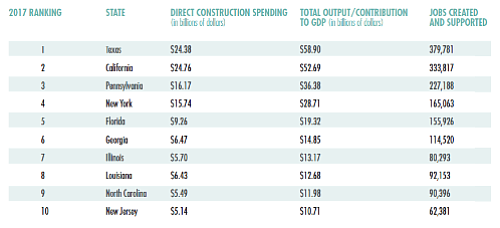 New development and ongoing operations of existing commercial real estate buildings in the United States – office, industrial, warehouse and retail – generates significant economic growth at the state and national levels. The combined impact: Commercial real estate supported 7.6 million American jobs and contributed $935.1 billion to U.S. GDP in 2017.
The annual study "Economic Impacts of Commercial Real Estate," published by the NAIOP Research Foundation, measures the contributions to GDP, salaries and wages generated, and jobs created and supported from the development and operations of commercial real estate.
• New commercial real estate development and ongoing operations of existing buildings supported 7.6 million American jobs in 2017 (a measure of both new and existing jobs), resulting in salaries and wages of $286.4 billion.
• New commercial real estate development and ongoing operations of existing buildings contributed $935.1 billion to U.S. GDP in 2017.
• 524 million square feet of office, retail, warehouse and industrial commenced construction in 2017, with capacity to house more than 1.3 million new workers.
"The importance of commercial development to the U.S. economy is well established, and the industry's growth is critical to creating new jobs, improving infrastructure, and creating places to work, shop and play," said Thomas Bisacquino, NAIOP president and CEO. "Commercial real estate is a robust contributor to national and state economies, and NAIOP is dedicated to working with the administration, Congress and state legislators to develop bipartisan infrastructure investment incentives that empower our industry to expand."
The report identifies several key factors that are expected to impact economic growth in 2018 and beyond, including:

• Interest rates that are projected to move higher in 2018 as the Federal Reserve raises its rate three-quarters of a point in three increments over the year;
• Labor shortages that are already appearing in several key sectors — including construction — and will tighten further in 2018 with resulting increases in wage inflation;
• Energy prices that are currently projected to stay relatively steady in 2018, but slightly above the 2017 average; and
• The impact of the new 2017 federal tax law and the effects of lower tax rates on consumer spending and corporate investment.
CONSTRUCTION SPENDING CONTINUES
An important factor in the economy's growth in 2017 was the strength of the construction sector. Total hard construction expenditures for the four building types included in the report totaled $98.6 billion – a $15.6 billion (18.9 percent) increase from 2016.
• Warehouse construction registered its seventh consecutive year of increased expenditures in 2017, up 55.7 percent from 2016.
• Industrial construction spending rebounded in 2017, gaining 52.5 percent following sharp decreases in the two years prior, reflecting a modest turnaround in the energy sector.
• Office construction expenditures totaled $36.5 billion in 2017, a slight decrease of 0.4 percent from 2016.
• Retail construction expenditures totaled $17.1 billion in 2017, a decrease of 0.8 percent from 2016.
BUILDING AND NONBUILDING CONSTRUCTION DELIVER IMMENSE CONTRIBUTIONS
Combining residential and nonresidential buildings (warehouse/industrial, office, retail, health care, entertainment, education, public safety, religious and lodging), as well as infrastructure for water, sewer, highways and power, the total impact of construction spending (direct, indirect and induced) accounted for 18.0 percent of all the nation's economic activity in 2017. For the year, GDP increased by $763.6 billion from its 2016 value (in current dollars). In comparison to this overall gain in GDP during 2017, the total value of construction spending ($1.22 trillion) was 1.6 times greater than the year's annual GDP growth in dollar value, underscoring that growth in the construction sector outpaced growth in the overall economy.
TOP 10 STATES BY DEVELOPMENT IMPACTS IN 2017
Above are the top 10 states by development impacts (ranked by contribution to GDP and jobs created and supported) for office, industrial, warehouse and retail, combined.
The "Economic Impacts of Commercial Real Estate" report is authored by economist Stephen S. Fuller, Ph.D., Dwight Schar Faculty Chair, university professor and director, Stephen S. Fuller Institute, Schar School of Policy and Government at George Mason University, Arlington, Virginia. Data was provided by Dodge Data & Analytics. It includes detailed data on commercial real estate development activity in all 50 states, including direct spending; total output; salaries and wages; and jobs supported.
Individual state data included in report is available at: naiop.org/contributions2018
For reprint and licensing requests for this article, CLICK HERE.