Silicon Beach Regional Report: Demountable Wall Solutions Offer Versatility and Style to Enhance Design Aesthetics
Custom Content by the Los Angeles Business Journal
Monday, August 27, 2018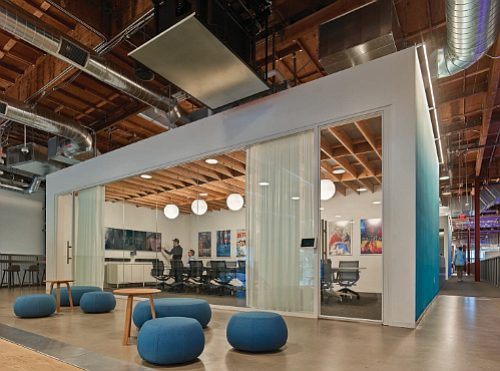 Walls are an often overlooked, yet vital, element in the overall scheme of interior environments, from both a structural and design perspective. However, rather than treating them solely as spatial dividers, they deserve as much care and attention as any other design element of a project.
One solution to this oversight that offers significant advantages over standard construction is demountable walls. These solutions have a wide range of applications, especially in the rapid adoption of open and modular workspaces, by offering the flexibility to adapt to changing requirements easily over time.
INTEGRATING WALLS AESTHETICALLY AND STRUCTURALLY
The first question to ask is "What is the intent behind the design?"
The right demountable wall solutions are engineered and designed to integrate seamlessly into the overall architectural aesthetic curated by the designer. Using a demountable solution for interior office glazed and solid partitions provides an added level of fit and finish that can't easily be achieved with standard glazier or drywall offerings.
These wall options offer designers numerous layout and finish options as well as many that may be customized to differing extents in order to achieve the overall aesthetic intended. In fact, many wall systems are designed to be focal pieces in an otherwise standard installation.
Demountable systems are designed to be non-permanent, allowing them to be inherently flexible and capable of being taken down and moved to other similarly dimensioned locations as needed with minimal to no damage to the site.
As workplace needs evolve, many demountable wall solutions can adapt along with them to save time and expense later. Changes like office sizes, panel types, glazing thicknesses and door types can be handled quickly, without affecting the overall system. That can mean little-to-no demo waste and no need to relocate employees.
IMPORTANT FACTORS TO CONSIDER
The most important factor to have in mind when specifying a demountable wall system is to identify the driving force behind the need for such a solution. Is it a need for enhanced acoustics, better fit and finish, hosting of technology, increased flexibility, or perhaps all of the above?
The most often overlooked factors that affect the success or failure of a demountable system have more to do with what is being built around the wall system than the wall system itself.
What are the acoustical properties of the surrounding stick-built partitions? What type of ceiling is being installed and how is it acoustically detailed? Is the ductwork for the HVAC system isolated or does it connect room-to-room allowing sound to transfer between?
For reprint and licensing requests for this article, CLICK HERE.
Prev Next