Health Care 2018 - A Roundtable Discussion
Custom Content by the Los Angeles Business Journal
Monday, August 27, 2018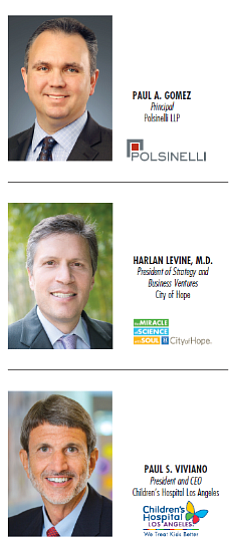 What are your projections for how the healthcare system in our country will evolve over the coming year or two and what impact will it have on businesses?
LEVINE: I think we're going to see a continued consolidation of health care providers over time driven by price pressures on the health care system, which will motivate providers to search for alternative, more sustainable business models. So over time, I predict consumers will have to choose health benefit plans based on selecting integrated delivery systems more than they are today with narrower networks and higher deductible plans to keep them affordable. Over time, as hospital systems become larger, we may see the pendulum swing the other way and some may be able to command greater reimbursement based more on their market share dominance as opposed to quality patient centric care. This will lead to an unevenness in the cost of care based on geography. I'm not sure anyone knows the right answer and it will be interesting to see how this will play out. We will likely experience some instability while the health care delivery system discovers how to define and deliver affordable value-based care and society decides how much it prioritizes health care for its citizens.
At this stage in the game, what do hospitals and physicians need to do to offset the fact that reimbursements have been reduced?
VIVIANO: The critical reality is that health care costs have been increasing and will continue to do so. Part of our responsibility as an organization is to seek affordability for patient families (and businesses who provide their health insurance) without compromising our commitment to provide the highest quality care. Like most businesses, Children's Hospital Los Angeles is constantly working to make sure we are managing expenses and making the most out of capital investments; as a high fixed-cost organization, the more we can do to increase volume and throughput, the better we can deal with revenue pressures. Over the last year, this has meant focusing on creating lasting value in all our settings – inpatient, outpatient, operating rooms, etc. One great example is the work we've done to streamline throughput in our Emergency Department, which has actually reduced the average cost per visit to our ED while improving the time it takes to be seen by a physician, time to be diagnosed and treated, and in certain circumstances, time to be admitted to an inpatient unit.
For reprint and licensing requests for this article, CLICK HERE.
Prev Next