Best Places to Work 2018: What Today's Employees Want
Tuesday, August 21, 2018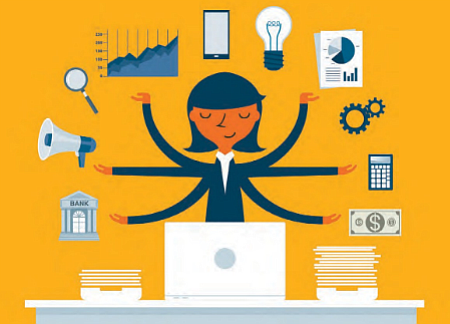 What does it take to be an employer of choice and best place to work in today's full-employment economy? Across most industries in California, the answers are surprisingly similar based on MMA's work with small- to mid-tier employers. The challenge for many is meeting the increasingly higher bar due to competitive pressures to attract and retain the best employees.
The following is an overview of winning compensation and benefit strategies in today's marketplace.
COMPENSATION THAT IS GOOD – VERY GOOD.
Attractive pay is the attention-grabber that motivates candidates to look more closely at your firm. What is "attractive" compensation? Firms that tend to pay above market median in total compensation do the best. A company's approach to salary increases can also make a decisive difference. Over the past decade, salary increase budgets have been relatively constant at 3% to 3.5%. At the same time, annual turnover has been consistent at 14% to 18%. Having a good process to identify and reward the top-performing employees can go a long way to retaining your most valuable people.
EMPLOYEE HEALTH AND BENEFITS THAT COVER ALL THE BASES, BUT AREN'T TOO ONEROUS IN TERMS OF CO-PAYS.
Due to the rising cost of health care, employees are placing a high priority on coverage. That means medical, dental and vision plans that cover themselves and their dependents.
RETIREMENT BENEFITS THAT HELP EMPLOYEES GET AHEAD.
With defined pension plans a thing of the past, employees are drawn to organizations with employer-funded retirement programs, such as 401k or 403b plans. Those organizations with an employer contribution, which are increasingly common have a better chance at recruiting employees.
EQUITY PARTICIPATION TO BENEFIT FROM THE COMPANY'S SUCCESS.
Stock options, restricted stock awards and employee stock purchase programs are some of the reasons why so many people head to technology and biotech firms. They can offer opportunities to generate wealth. Companies that offer equity ownership in some form have a greater opportunity to win the hearts and minds of younger and more seasoned professionals.
A WELL-DEFINED CAREER PATH.
Increasingly, employees are looking for a clear career path that includes professional development, training and mentorship. Top performers have many options to go elsewhere. Forward-thinking employers are making a commitment to their best employees to preempt them from looking elsewhere.
A POSITIVE AND INCLUSIVE COMPANY CULTURE/BRAND.
Younger professionals in particular want work-life balance and prefer employers that are trying to solve the world's problems. They want to be part of the solution, not the problem. Employees also want to work for employers who respect gender and racial diversity and demonstrate it in their hiring practices.
HELP MANAGING STUDENT LOAN DEBT.
Student loan repayment programs are among the hottest new employee benefits. With the average borrower taking on $26,500 in debt for a bachelor's degree – and six-figure debt for professional degrees for doctors and lawyers – employers that help employees pay down student debt have a clear advantage in the marketplace.
COMPREHENSIVE WELLNESS PROGRAMS.
More employers are providing on-site medical clinics for health check-ups or flu shots because they keep their workers healthy and fit. These programs include telemedicine offerings; free, same-day prescription delivery; on-site therapists and massages; and spaces where employees can take a mental break – sleep pods, relaxation rooms, and game and arcade rooms.
SUPPORT FOR CAREGIVERS.
The majority of caregivers are women, and about two-thirds miss work or take unpaid leave. According to AARP, each caregiver costs a company $2,000 per year in lost productivity. Recognizing that more support is needed beyond paid maternity/ paternity leave, employers are providing programs to help employees care for family members. Among them are on site day care or subsidized childcare service and on-site nursing/mother rooms; work-from- home and flexible schedules; and financial coaching and budgeting assistance, including short-term loans repaid through payroll deductions.
FAMILY PLANNING BENEFITS.
Many employees tend to put their careers ahead of everything else, but when they start a family, they may look to their employers for assistance. High on the list of new benefits are fertility treatments, which can be very expensive. To offset that cost, some employers are offering fertility treatments through a direct reimbursement model. Reimbursement for adoption services is another popular benefit. Because the process can be so difficult and costly, employers are offering direct reimbursement for qualifying expenses. Some of the expenses include adoption fees, court costs, attorney fees, traveling expenses and other expenses incurred in the legal adoption of a child.
INNOVATIVE NEW BENEFITS THAT HELP OVERWORKED EMPLOYEES.
Employees totally focused on work often need help in other aspects of their lives. Employers are trying to ease the burden by providing on-site or pick-up laundry service, free meals, healthy snacks, and grocery delivery services. Employers are realizing that refreshed, less-harried employees are more productive.
FLEXIBLE VACATION AND PAID-TIME OFF.
A growing number of companies are offering unlimited vacation time – a benefit that often sounds better on paper than it is in reality. Whether an employee can take as much time off as they want doesn't matter. Unlimited vacation is another attention-grabbing benefit for employees who seeking work-life balance.
MMA is a proud sponsor of the LABJ Best Places to Work Event. Learn how Marsh & McLennan Agency can help you put together a strong compensation plan and benefits program that will attract and retain talent at MMA-West.com.
Brian Hegarty is a Principal and Managing Director of the L.A. office at Marsh & McLennan Agency (MMA). He specializes in employee benefits programs for mid-size to large companies, working closely with many leading L.A. industries such as technology, entertainment, apparel, and hospitality, among others.
For reprint and licensing requests for this article, CLICK HERE.