E-Sports Seeks Traditional Path to Growth
$700M in global revenue last year; media rights, events seen as prime opportunities for more
Friday, August 10, 2018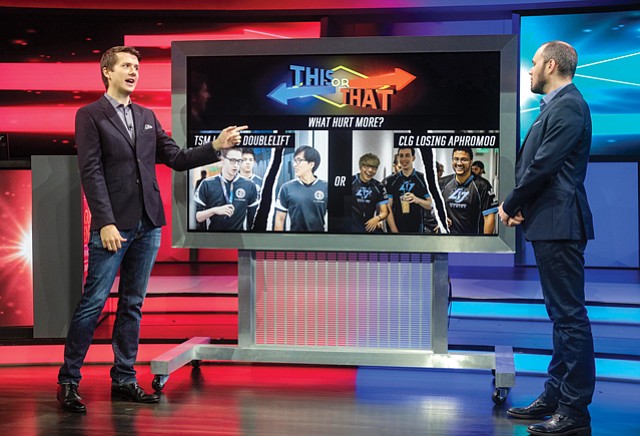 Season one of the Overwatch League e-sports tournament at Burbank's Blizzard Arena featured computer-generated avatars fighting virtual battles on giant screens watched by hundreds of fans.
Accompanying the dizzying graphics was old-fashioned play-by-play sports telecasting – commentators speculating on who might win; statistics such as "deaths per minute"; elaborate pre-game player introductions; and, finally, post-game interviews.
Then came the post-season, when the 12-team Overwatch League – owned by Santa Monica-based Activision Blizzard Inc. – broadcast and streamed playoff matches from its Burbank Arena and sold out two grand finale games at the 19,000-seat arena at Barclays Center in Brooklyn.
"The Overwatch League achieved success," said Brian Mirakian, principal at Populous Inc. architecture design firm, which designs e-sports venues. "And they did it by using the traditional sports model."
The business model and growth trajectory for e-sports are becoming clearer – and they increasingly resemble patterns established by football, baseball and other team sports.
In the last year studies from research firm Newzoo, accounting and consulting powerhouse Deloitte, and a Foley & Lardner law firm e-sports investors survey all have pointed to the future growth of e-sports dollars coming from advertising and sponsors of streaming platforms and live venues.
It's shaping up as a fast-growing market, in any case. E-sports revenue reached $696 million globally in 2017 – a 41 percent jump from the prior year, according to Newzoo. The largest portion, about $235 million, came from sponsorships, with the rest from advertising, game publisher fees, media rights and merchandise and ticket sales.
The biggest growth area is media rights. The Newzoo study projected that 2018 media rights revenue would jump 72.1 percent to $162.1 million.
Part of that $162.1 million comes from a reported two-year, $90 million deal that Activision's Overwatch league signed with Amazon.com Inc.-owned Twitch Interactive Inc.
Definition
Newzoo defines e-sports as competitive electronic gaming that is organized by a third-party. The industry has grown beyond player-versus-computer games to online competitions that began developing in the late 1990s, as internet access became widespread.
Individual leagues have emerged as they have in traditional sports, but financial performance is difficult to determine.
That's partly because the largest e-sports companies are relatively small subsidiaries of corporations which don't often break out those revenues and profits.
Take publicly traded Activision, which bundles the Overwatch League in the "other" category with results from its studios, distribution business and fellow e-sports organization Major League Gaming in its financial reports.
The "other" category netted $104 million in second-quarter profit – six percent of the company's $1.64 billion for the period.
L.A. hub
Overwatch League might be a small part of its parent company, but it's a big part of the reason the Los Angeles market is a hub for e-sports.
Riot Games Inc., creator of the internationally popular League of Legends game is is a neighbor of Activision in Santa Monica. Riot is owned by Tencent Holdings, a Chinese digital, technology, and entertainment holding company that netted $74 billion in 2017 operating income.
"The industry is very Los Angeles heavy," said Leo Hsu, director of Business Strategy at aXiomatic, a two-year-old, e-sports investment firm with offices in the Miracle Mile district. "The basis for that is it being your traditional media and entertainment hub, and also Activision and Riot being here."
Franchise future
A promising sign that e-sports will become a success can be found in the interest in franchise ownership by notable and experienced names in the sports and entertainment industries.
Another potential positive indicator: the emerging franchises mean that players earn salaries and receive benefits, lending an aspect of stability to the league.
"The franchise model signals a big shift into the mainstream," a Deloitte study from June on the e-sports industry concluded.
Activision's Overwatch league is replete with franchise owners such as Stan Kroenke, owner of the Los Angeles Gladiators, and Josh Kroenke, billionaires who also own the National Football League's Los Angeles Rams, and National Basketball Association's Denver Nuggets.
Such largesse, the Deloitte study noted, enables franchise owners to regard their teams as more of a long-term or even vanity investment – and to tolerate possibly losing money for a few years. Leagues also benefit from owners' experience in making arena deals and attracting the advertising and sponsorships that come with team sports.
E-sports franchise owners pocket some of their team revenue, while sharing a cut with the other teams.
E-sports players' salaries, while nowhere near the multi-million-dollar contracts of many major league traditional team players, also represent the industry's growing legitimacy.
The Overwatch League has $50,000 minimum annual salary, and players receive health care benefits and are provided housing. The average League of Legends player in the European league earns in annual salary the U.S. equivalent of six figures.
Streaming dominance
Players' salaries come heavily from advertising and sponsorship from streaming.
"Streaming is the focus of e-sports, and I have not seen any disruptive technology or features with the potential to change that," said Jens Hilgers, founder of e-sports incubator BitKraft, a company with offices in Los Angeles and Berlin.
For now, it seems, Amazon's San Francisco-based Twitch, has a "stranglehold" on streaming, according to aXiomatic Gaming's Hsu.
One example of this dominance is League of Legends streaming rights.
Riot Games tried for almost two years to get a deal with Walt Disney Co.-owned ESPN Inc. to exclusively stream League of Legends. It ended up selling non-exclusive rights to ESPN that enables to Twitch to also stream League of Legends matches.
Chris Hopper, director of Riot Games' North American e-sports division, said the company is now unlikely to negotiate any exclusive streaming deal in the near future.
Activision also signed an ESPN streaming plus broadcast deal for its Overwatch playoffs. But it too was a non-exclusive deal that didn't interfere with Twitch's pre-existing two-year contract to stream Activision's Overwatch league.

The booked-up status of streaming leaves investors looking for companies that augment the streaming experience.
BitKraft, for example, was just part of a $2.5 million funding round for Quarterback Inc., a Los Angeles-based social engagement platform meant to connect e-sports players and viewers during down time between matches.
Innovative ways to engage fans, Hilgers said, could lead to a broadening e-sports audience.
E-sports arenas
The streaming market has a dominant player, but the venue market is more open.
E-sports venues have sold out for championship competitions, such as the recent Blizzard title, plus League of Legends championships in Staples Center, and a June competition of Activision's Fortnite game at Banc of California Stadium – all venues with 20,000-plus seating capacities.

"It is a model that is still adapting. Live events are a small part now of the e-sports revenue system," said Mirakian, the Kansas City-based architect who recently led the design of an e-sports arena in Arlington, Texas.
But non-championship matches are not delivering the same numbers.
"Compared to traditional sports, e-sports still has a relatively low amount of live spectators on a consistent basis," Pannekeet said.
Activision's Blizzard Arena holds just 400 spectators. Riot Games also has venues in Santa Monica and across the country with a few hundred spectators.
The 1,000-seat eSports Arena in Santa Ana managed by China-based Tianjin Allied eSports Arena Internet Technology Co. charges $20 and $40 monthly membership dues with some events featuring a "light show, music, video games, friendship, and fun," said arena executive director Tyler Endres.
For reprint and licensing requests for this article, CLICK HERE.