E-Sports Seeks Traditional Path to Growth
$700M in global revenue last year; media rights, events seen as prime opportunities for more
Friday, August 10, 2018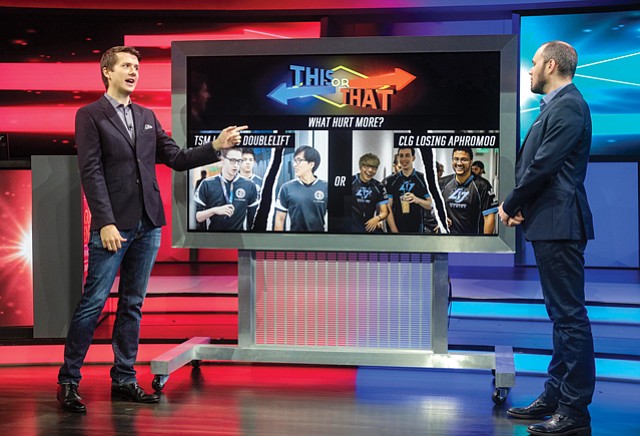 Season one of the Overwatch League e-sports tournament at Burbank's Blizzard Arena featured computer-generated avatars fighting virtual battles on giant screens watched by hundreds of fans.
Accompanying the dizzying graphics was old-fashioned play-by-play sports telecasting – commentators speculating on who might win; statistics such as "deaths per minute"; elaborate pre-game player introductions; and, finally, post-game interviews.
Then came the post-season, when the 12-team Overwatch League – owned by Santa Monica-based Activision Blizzard Inc. – broadcast and streamed playoff matches from its Burbank Arena and sold out two grand finale games at the 19,000-seat arena at Barclays Center in Brooklyn.
"The Overwatch League achieved success," said Brian Mirakian, principal at Populous Inc. architecture design firm, which designs e-sports venues. "And they did it by using the traditional sports model."
The business model and growth trajectory for e-sports are becoming clearer – and they increasingly resemble patterns established by football, baseball and other team sports.
In the last year studies from research firm Newzoo, accounting and consulting powerhouse Deloitte, and a Foley & Lardner law firm e-sports investors survey all have pointed to the future growth of e-sports dollars coming from advertising and sponsors of streaming platforms and live venues.
It's shaping up as a fast-growing market, in any case. E-sports revenue reached $696 million globally in 2017 – a 41 percent jump from the prior year, according to Newzoo. The largest portion, about $235 million, came from sponsorships, with the rest from advertising, game publisher fees, media rights and merchandise and ticket sales.
The biggest growth area is media rights. The Newzoo study projected that 2018 media rights revenue would jump 72.1 percent to $162.1 million.
Part of that $162.1 million comes from a reported two-year, $90 million deal that Activision's Overwatch league signed with Amazon.com Inc.-owned Twitch Interactive Inc.
Definition
Newzoo defines e-sports as competitive electronic gaming that is organized by a third-party. The industry has grown beyond player-versus-computer games to online competitions that began developing in the late 1990s, as internet access became widespread.
Individual leagues have emerged as they have in traditional sports, but financial performance is difficult to determine.
That's partly because the largest e-sports companies are relatively small subsidiaries of corporations which don't often break out those revenues and profits.
Take publicly traded Activision, which bundles the Overwatch League in the "other" category with results from its studios, distribution business and fellow e-sports organization Major League Gaming in its financial reports.
Prev Next
For reprint and licensing requests for this article, CLICK HERE.