Accessory Junkie Brings Pop-Up to Malibu
Online retailer holds event to show off jewelry, talk women in business
Friday, August 10, 2018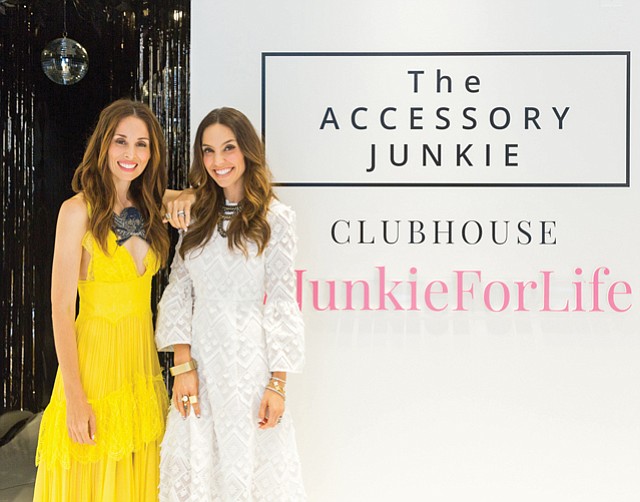 Accessory Junkie co-founder Ursula Lyon lived up to her e-commerce company's name in a flowy white dress complete with a resplendent, statement necklace to catch the eyes of kombucha-sipping guests at an outdoor mall in Malibu.
The scene was the toney Malibu Lumber Yard, site of Accessory Junkie's first try at being a brick-and-mortar retailer in the form of a pop-up retail store for the summer months.
The theme of the evening?
A fierce females' cocktail party.
Lyon and co-founder Michelle Reeves led a discussion about women in business. Lyon told the Business Journal the decision to choose Malibu for its retail pop-up was easy.
"A lot of our clientele are based here," she said. "We've found a lot of synergy with our clients – they understand the art, curation and travel aspect to what we offer."
The biggest challenge for the two? Time difference. Lyon is based in Connecticut and Reeves in Oregon. But the duo said their love for art and accessories makes it all worth it. They launched the company in September 2016 as an e-commerce platform that curates and sells one-piece items produced by jewelers from around the world. Pieces range from $28 to $1,500 and the site has four collections so far.
"Every single collection sells out in four to five weeks," Lyon said. "Our business model focusses on quality and our clients' needs, which is why our online store is open only four times a year."
The company was self-funded by the founders. Lyon said they have since gotten an undisclosed investment from client-turned-investor, Randi Zuckerberg, the chief executive of Zuckerberg Media and sister of Facebook Inc. founder Mark Zuckerberg.
Accessory Junkie currently has four employees. Lyon declined to provide revenue figures.

ATL Adds Rock-It Cargo
New York City-based private equity firm ATL Partners purchased a majority stake in Westchester-based Rock-It Cargo USA and its subsidiary, Rich Forwarding, the company announced July 31.
Terms of the deal were undisclosed.
Rock-It is a logistics firm and provides services to the music, entertainment and sports industries. Clients include Taylor Swift, Paul McCartney and the National Football League, among others, the company said,
David Charles Bernstein, who founded Rock-It in 1978, will maintain a significant equity stake in the company, according to the announcement. Bernstein said the deal will allow the company to "accelerate growth by capturing more opportunities in our existing end markets," with an eye on internal expansion and other acquisition potential. Its subsidiary, Rich Forwarding, is based in London and also is a logistics services provider.
For reprint and licensing requests for this article, CLICK HERE.
Prev Next