Executive Education: Woodbury University MBA: Cultivating Transformational Leaders for Sustainable Business
Custom Content from the Los Angeles Business Journal
Monday, August 6, 2018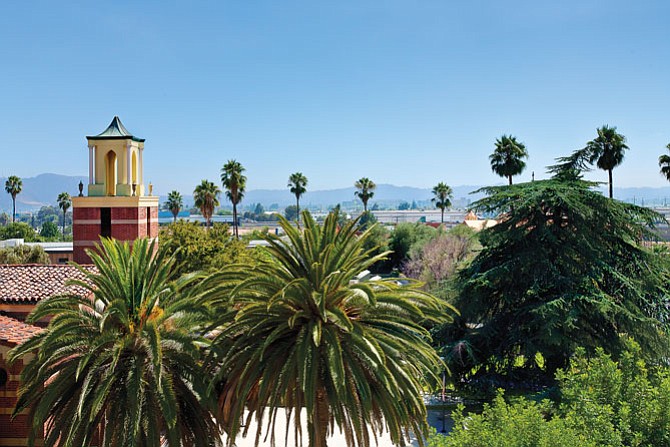 Located at the heart of Los Angeles' business and creative economies, Woodbury University offers an innovative MBA program that is taught by some of today's top working professionals and leadership scholars.
It delivers a practice-based, advanced degree that is flexible, recognizing that many students are already immersed in the working world. It also provides students with globally challenging subjects, such as ethics, global leadership and sustainability, that are important in today's national and global environments.
One of the oldest business programs in the West, Woodbury's School of Business is among the 5 percent of schools globally accredited by the Association to Advance Collegiate Schools of Business (AACSB). It also recently earned a Colleges of Distinction – Business badge for 2018-2019, and was named 'The Best Graduate School' by readers of the Daily News in the 2018 Readers Choice Awards.
Importantly, the GMAT or GRE are not required to enter the program, which is distinguished by a rotating team of executives-in-residence, world-class faculty and a range of civic engagement experiences, all aimed at preparing students for superb business performance. Woodbury also offers a 3+1 program that combines both a BBA in Management and a Master's in Business Administration, enabling students to earn both their undergraduate degree and an MBA in just four years.
Woodbury recognizes that earning an MBA is just one avenue for improving career prospects and it is not a one-size-fits-all proposition. An MBA is not required or appropriate in every field, but it is invaluable and even essential in many. Earning power over a lifetime is one clear, compelling rationale: statistics indicate that those with graduate degrees can expect to make 50 percent more than those without. But there are psychic rewards as well, some of which accrue from building expertise and being exposed to socially conscious business practices that are embedded into the foundations of the program.
Woodbury's MBA program offers two concentration options: Leadership-Global Strategy and Accounting-Finance. Students may also select a general degree with a free choice of electives. Regardless of their choice, Woodbury's MBA students gain entrepreneurial, ethical, and change-prepared skills. The flexible program offers an intensive 36-credit curriculum, with one-year and two-year completion options, structured around seven-week sessions, with evening and weekend classes available.

Woodbury's 15:1 student/faculty ratio creates a highly personalized setting where MBA students receive the mentoring required to achieve career success. From Burbank to Bangalore, commerce is now international, multicultural, and challenging in fascinating ways. Woodbury reflects this diversity and equips students to harness the power of multiple perspectives. Students emerge from the MBA program with a sound knowledge base in accounting, finance, marketing, leadership and strategy, along with the networking skills to move you to the next level and beyond.
For reprint and licensing requests for this article, CLICK HERE.
Prev Next