Adobe Sets Up Shop in SaMo
First L.A. County office for creative software company
Friday, August 3, 2018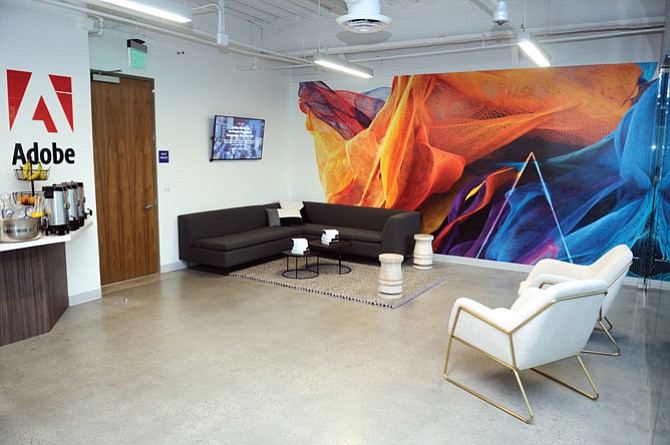 Adobe Systems Inc. cut the ribbon July 25 at a
new Santa Monica office, which leaders said will help deepen the tech company's relationship with the post-production community in Hollywood.
Adobe, which makes creative software tools, said clients in L.A. requested more access to company personnel and trainings and that the physical outpost allows Adobe to accomplish that goal. The 3,000-square-foot facility at 429 Santa Monica Blvd. will house some 20 Adobe employees.
"We take feedback to heart and are excited to create a dedicated Adobe home in Los Angeles, where we can work side-by-side with the post-production community and better support each other," said Steve Warner, vice president of digital and audio at Adobe.
Van Bedient, head of Adobe's strategic development team, said the company isn't a stranger to L.A. The company had "a handful" of employees working in L.A. prior to the Santa Monica office opening, but worked remotely and reported to the company's headquarters in San Jose.
The newly opened physical office space represents a new level of commitment to the L.A. market.
"Having this space here I think does a couple of things in that it establishes a presence for Adobe, it hopefully shows commitment, that we're focused on this market," he said. "This is about rolling up our sleeves and making sure we're really entrenched here and learning."
A relationship with the Motion Picture Editors Guild and American Cinema Editors allows Adobe to provide free training to the guilds in exchange for the guild's use of its products.
Bedient said that Adobe recently extended an open invitation for the trade groups to come learn about its products, adding that the company frequently participates in the guilds' editing festivals and intern programs.
Adobe reported $7.3 billion in 2017 revenue and net income of $1.7 billion, according to its annual report.
For reprint and licensing requests for this article, CLICK HERE.