MOVIE MAKEOVER
Luxury services, niche appeal attract audiences; trade group takes streaming in stride
Friday, April 27, 2018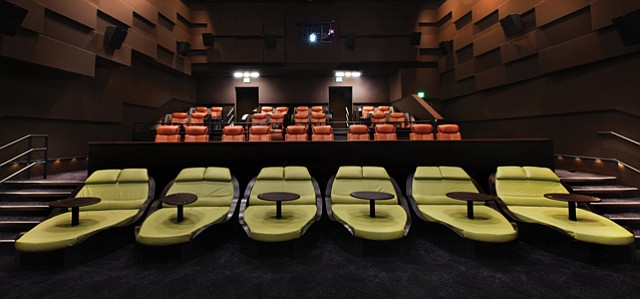 A new day dawned for selling the old experience of movie going last week as iPic Entertainment Inc.'s Pasadena location unveiled luxuriant pods, chaise lounges and the ability to order cocktails and three-course meals at the push of a button.
Patent-pending on the design – no holding back on the hype for the April 27 debut.
"If Tesla and Porsche had a baby they would give birth to this pod," said Michelle Soudry, a spokeswoman for Boca Raton, Fla.-based iPic.
Waiters taking movie goers' orders won't disturb other patrons' movie watching, Soudry said, because, "You have a ninja waiter," who arrives in stealth and discreetly serves you.
The premier of iPic's ninja waiters is part of a larger effort by theater owners to combat with niche offerings a decline in ticket sales since the early 2000s. While there have been fluctuations from year to year, data compiled by Nash Information Services shows North American ticket sales peaked in 2002 at 1.6 billion and bottomed out in 2017 at 1.2 billion.
"This industry is wracked with disruption," said Gene Del Vecchio, business professor at USC.
The decline in ticket sales looks disappointing but not necessarily alarming, reflecting the experience of Greg Laemmle, president of the Los Angeles-based Laemmle Theatres. Laemmle's eight current locales focus on independent cinema, and films seeking to qualify for Academy Award nominations.
"We do see declines in ticket sales; there's no denying that," Laemmle said.
But the dips are in the single digits each year, said Laemmle, who despite the decrease in ticket sales plans to open a five-screen location in Glendale later this year.
Laemmle said his business is about the appeal of the movies themselves.

"It all comes down to product," he said.
Protective niches
The strategy to focus on a particular audience segment has helped keep independent chain afloat, Del Vecchio said.
"Right now Laemmle is benefiting because they have a niche, which is providing art house fair," he said.
The professor put Los Angeles-headquartered Landmark Theatres, which has three outposts in the market, in a similar spot. But, Del Vecchio added, the demands on Landmark are different, since they have theaters across the country.
Other players in the market rely on different tactics to get audiences to theaters.
The biggest exhibitor in Los Angeles and nationally – Leawood, Kan.-based AMC Entertainment Holdings Inc., which is owned by China-based entertainment conglomerate Dalian Wanda Group – bills itself as an industry leader whose innovations include recliner seating and offering alcoholic drinks to theater goers. These measures have been "duplicated throughout the industry," according to company spokesman Ryan Noonan.
Younger companies, including iPic, have set out to top AMC on luxury.

Eight-year-old iPic has theaters in Pasadena and Westwood where patrons might spend $32, the company's high-end price, to see a movie.
"We're the only real luxury seater," Soudry said.
One major exhibitor that straddles the line between luxury and art house appeal is Beverly Grove-based Decurion Corp.'s ArcLight Cinemas.
Del Vecchio said ArcLight, akin to Laemmle and Landmark, could be insulated because of its product, which often includes movies besides the sequels, remakes or comic book blockbusters exhibited at AMC or iPic.
An x-factor in the theater market is Regal Entertainment Group, the second largest exhibitor in North America to AMC, and owner of the 14-screen LA Live.
Regal is now internationally owned as London's Cineworld completed its purchase of the business in February.
The 16-year-old Knoxville, Tenn.-based outfit hasn't announced business changes that might accompany the ownership switch. Messages left with the company were not returned.

Local data gap
Los Angeles might be the movie capital of the world, but there is scant local data about movie theater performance. Business groups and arms of government, including the county's Film LA organization, focus on the production and viewing side of movies.
Hollywood-based National Association of Theater Owners – it call itself "NATO" – and the MPAA have, though, released national reports on movie going.
A Motion Picture Association of America report released in April found that North American theater revenue was down 2 percent in 2017 from the year before, even after adjusting for higher ticket prices.
The NATO report, which was issued April 24 and conducted by Ernst & Young, took a different tact, comparing how many times people go to the movies each year with how much online streaming content viewers watch a week.
The report's authors concluded that movie going and viewing had a "positive relationship" – people who go to the movies more frequently stream more content online, and vice-versa.
The study also found a generational gap – although not an enormous divide – in viewing habits.
Millennials, classified as between ages 18 to 37, go to about five movies a year and watch 10 hours of online content a week. Baby boomers, those ages 53 to 72, see 5.7 movies a year on average, and spend 8.1 hours a week streaming content.
The NATO report coincided with movie exhibitors taking stock of their industry during the group's yearly get together in Las Vegas.
The report, upbeat speeches from the conference – Motion Picture Association of America Chief Executive Charles Rivkin called the state of theaters "a great business story" – and sneak previews of new Sandra Bullock and Ryan Gosling movies contrasted with outside observations that the industry is in trouble.
But disruption does not mean demise, at least in the Los Angeles area.
"Theaters are always going to exist if they are managed well," Del Vecchio said. "It's all about providing unique value."
For reprint and licensing requests for this article, CLICK HERE.