Electric Vehicle Access Expands in L.A.
More charging stations, car-sharing programs on tap
Friday, April 20, 2018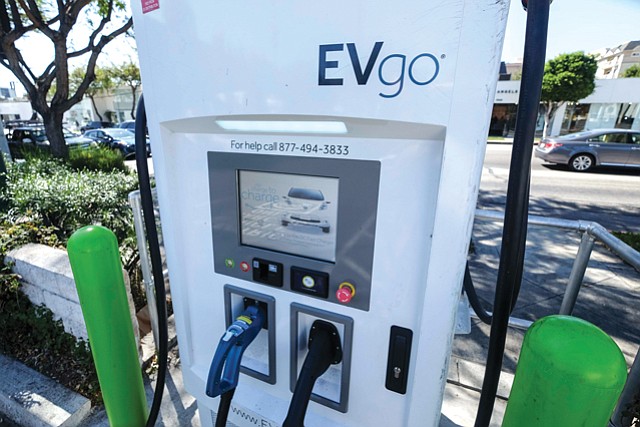 Los Angeles — As consumers and car-sharing services shift toward electric vehicle adoption, charging infrastructure – and access to it – is increasingly an industry choke point.
In Los Angeles, which is one of the largest electric vehicle markets in the country, several initiatives are being implemented to address the issue.
Sawtelle-based EVgo, makers of charging stations for electric vehicles, announced this month its plan to roll out charging stations for General Motor Co.'s car-sharing program, Maven, which is run in seven cities including L.A.
EVgo said it will build hundreds of charging stations specifically for the Chevrolet Bolt – the only electric vehicle used in Maven's fleet.
The company declined to say exactly how many would be built in L.A. even as it emphasized the market.
"In the U.S., California is the center of the electric vehicle universe and San Francisco and Los Angeles are the largest markets, and are of similar scale," said Julie Blunden, vice president of business development at EVgo. "But L.A. is the car capital and the place where we're seeing more people go electric."
The city also is taking an active role in establishing a more robust network of charging stations, with a particular focus on low-income and underserved neighborhoods.
A Los Angeles Department of Transportation partnership with BlueLA went into effect last week, with the downtown-based company rolling out seven new charging stations and a fleet of 25 electric vehicles serving portions of Westlake, Pico-Union, Koreatown, Echo Park, and downtown. BlueLA, which manufactures electric vehicles and chargers, aims to have 40 charging stations and 100 electric vehicles in use by the end of 2018.
"This is the first city partnership with a car-sharing company," Oliver Hou, spokesman for the department of transportation, said in an email. "This is the largest car-sharing program aimed at underserved neighborhoods in the United States."
BlueLA was incorporated in February 2016 and won the city contract two months later, Christophe Arnaud, the company's managing director said.
Electric vehicle sales in the U.S. numbered 811,670 last year, up from 140,000 in 2013, according to Veloz, a nonprofit that advocates for electric car adoption. Almost half of the U.S. 2017 electric vehicle sales – close to 390,000 – were in California. Veloz claims that there are 14,926 charging stations in the state.
According to ChargeHub, a website that keeps track of charging stations in the country, including EVgo's, there are approximately 1,500 charging stations within a 10 mile radius of the city of L.A., but it's unclear how many stations exist countywide.
Charging forward
The BlueLA and EVgo initiatives are also tied to another phenomenon that is gaining some traction of late and is closely tied to electric vehicle usage: car-sharing services.
In addition to BlueLA and the Maven program EVgo is working on, Santa Monica-based WaiveCar launched its car-sharing service this month in Santa Monica and Venice Beach. The company offers free car rentals for the first two hours and $5.99 an hour thereafter.
Maven is geared more towards individuals who want to drive for ride-sharing companies, such as Uber Technologies Inc. or Lyft Inc., and weekly rates start at $229.
BlueLA car-sharing program focuses on drivers who are part of households of four that have less than $45,000 in annual income. Rates are $1 per month for membership and $9 an hour to use the company's electric vehicles.
The BlueLA's launch isn't surprising to experts like Susan Shaheen, co-director of University of California, Berkeley's Transportation Sustainability Research Center.
"In 2014, the state of California made a concerted effort to address inequity in car-sharing services. They said to companies that they wanted to see shared-mobility options offered to individuals who are low-income."
BlueLA, which counts 12 employees, received a $1.7 million grant from the state for the first phase to be completed by the end of this year. The expectation is continued support as the program expands, the transportation department's Hou said.
California connection
California's position on the forefront of electric vehicle adoption also is attracting businesses to the state, including EVgo.
The urge to be closer to its customers led the company to relocate to L.A. from Houston last summer. It counts 60 employees on its payroll.
Terry O'Day, vice president of product strategy at EVgo, told the Business Journal earlier this year that the company has tens of thousands of customers and 200 of the company's 1,100 charging stations are in the five-county Southern California region.
EVgo's chargers in L.A. will increase with the Maven deal, Blunden said, and while she wouldn't disclose by how many, she said production for the chargers were underway.
Building those charging stations is a priority for EVgo, not only to fulfill the Maven contract but because the company gets valuable data from the stations.
"We saw things like charging peak times, popular stations, wait times, and much more," Blunden said.
There are some restrictions, however: The chargers EVgo is building for Maven users will only be accessible to them via the Maven app.
"It's clear that Maven drivers needed dedicated charging and that's what we're offering them," Blunden said.
The chargers are expected to be installed throughout this year pending permitting and construction processes, she added.
For reprint and licensing requests for this article, CLICK HERE.