Homeless Recuperative-Care Facility to Open in Pico-Union Following $1M Renovation
Thursday, April 19, 2018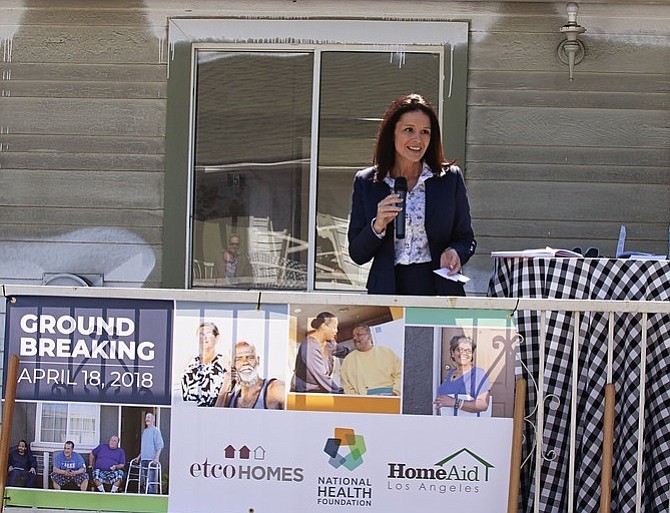 The National Health Foundation is set to transform a century-old sanitarium into a 62-bed recuperative-care facility in Pico-Union for homeless residents discharged from local hospitals.
The downtown-based nonprofit working in tandem with HomeAid Los Angeles broke ground Wednesday on the health care center at 1032 W. 18th St. A $1 million renovation is expected to be completed by fall.
"The new Pico-Union facility will be unique and exemplify National Health Foundation's mission to both humanize and localize care for those experiencing homelessness," said Kelly Bruno, chief executive of the $5 million nonprofit.
The 13,000 square-foot recuperative-care facility, built in 1917, will offer semi-private rooms, family-style dining, visiting hours for local families and a community garden for residents and neighbors alike.
Recuperative care has been shown to reduce by half the readmission of homeless residents to local hospitals, while significantly reducing costs, according to the foundation. Without a place to recover, many return to emergency rooms within 30 days.
A hospital stay in California costs an average $3,300 a day, compared to an average $250 per night for recuperative care.
The National Health Foundation, founded in 1973, foundation aims to help people in underserved communities by addressing the root causes of poor health. HomeAid Los Angeles, launched in July 2016 by HomeAid America, is the building industry's leading charity to fight homelessness.
Health business reporter Dana Bartholomew can be reached at dbartholomew@labusinessjournal.com. Follow him on Twitter @_DanaBart.
For reprint and licensing requests for this article, CLICK HERE.