So Cal Ports Report Cargo Movement for Q1
Friday, April 13, 2018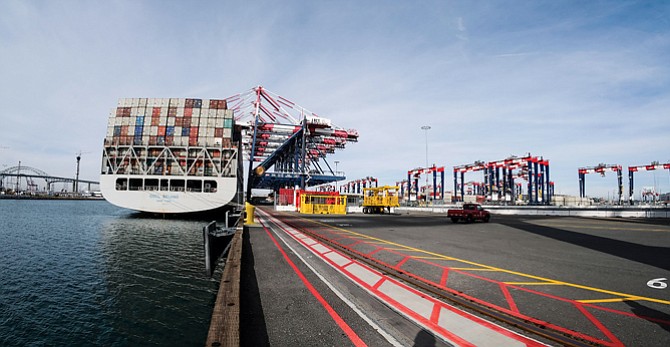 The number of cargo containers moved in the first quarter of 2018 was similar at the Port of Los Angeles and the Port of Long Beach but compared to the same period last year, one port set a record while the other saw a decline.
Three months into 2018, the overall container volumes moved at the Port of Los Angeles decreased from 2.2 million 20-foot-equivalents (TEUs) to 2.1 million TEUs, a 5.7 percent decline compared to 2017. The port attributed the decline to the lunar New Year celebrated across Asia. For the month of March, the port saw a 27 percent decrease to 577,865 TEUs compared to March 2017.
"We're comparing our numbers to an extraordinary 29 percent volume gain last March so a decline is not unexpected," Gene Seroka, port of Los Angeles executive director said in a statement.
Neighboring Port of Long Beach on the other hand, saw its best first quarter ever handling almost 1.9 million TEUs, a rise of 19.4 percent compared to the first three months of 2017. At the beginning of the year last year, Long Beach was still dealing with the effects of South-Korea-based Hanjin's bankruptcy – its largest terminal tenant at the time.
In March, Long Beach moved 575,258 TEUs, an increase of 13.8 percent compared to the same month last year, port officials said.
"Our March cargo jumped despite the shipping slowdown during the Lunar New Year holiday in China," said Port of Long Beach Executive Director Mario Cordero in a statement. "One of the most encouraging signs throughout this surge in cargo last year and this year is the operational efficiency at our marine terminals.
Manufacturing and trade reporter Shwanika Narayan can be reached at snarayan@labusinessjournal.com or (323) 556-8351. Follow her on Twitter @shwanika.
For reprint and licensing requests for this article, CLICK HERE.