Conference Highlights L.A. Biotech Incubators
Once barren, region now features nine programs supporting 50 companies
Friday, April 13, 2018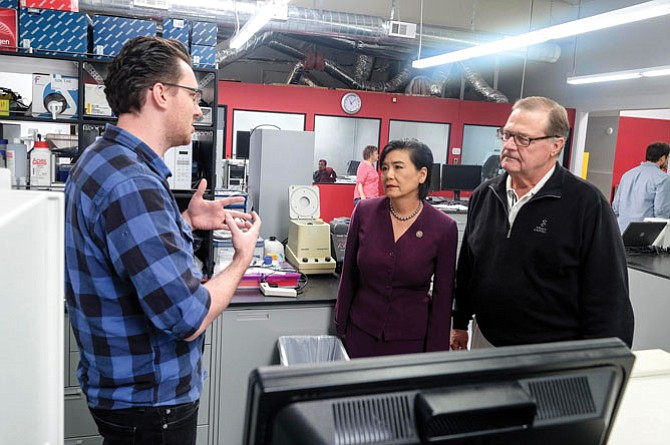 A Los Angeles biotech startup hoping to launch the next big drug or medical device might have gone broke trying to open a research laboratory as recently as the turn of the century.
Not so these days – fledgling firms in the region now can rent lab space at a growing number of life science incubators, which can cut costs and help draw millions of dollars in support for promising drugs and medical devices.
The region's incubators were showcased April 5 at a UCLA conference in support of startup companies, and deemed vital by bioscience proponents to the industry's growing presence in Los Angeles County.
"Believe it or not, fifteen years ago, we didn't have any life science incubators," said Ahmed Enany, chief executive of the Southern California Biomedical Council, a Los Angeles-based trade group that hosted the conference at UCLA's California NanoSystems Institute. "Now we have nine."
The conference drew more than 100 early stage biomedical entrepreneurs seeking incubator space, investor funding and guidance on how to build a successful company.
The function of such incubators is simple: to provide affordable research and development space within a laboratory equipped with benches, equipment and needed hookups for gas, waste and other features.
Such shared research and development facilities, available for lease at between $20 and $30 a square foot, can also connect entrepreneurs to a wealth of scientific support from nearby research institutions, from UCLA to Caltech to Cal Poly Pomona.
Nurturing system
The bulk of the 100 or so biotech firms headquartered in Los Angeles County are in the early stage, Enany said, with about half residing at incubators.
Recent breakthroughs – and deals – include: a stem-cell gene therapy developed inside Alexandria Innovation Center in Pasadena that led to last year's $91 million acquisition of Calimmune Inc. by CSL Behring; molecular imaging for cancer immunotherapies developed at Momentum Biosciences in Culver City, which precipitated a $47 million investment rounds for ImaginAb Inc. of Inglewood; and several biomedical advances from pharmaceuticals to diagnostics to medical devices hatched at the Pasadena Bio Collaborative Incubator, which have drawn millions of dollars in support for dozens of bioscience firms.
The Pasadena incubator, the region's first to open, now hosts 22 biotech, diagnostic and medical device companies within 12,000 square feet of refurbished space.
It has graduated 17 successful companies since 2004, including Auritec Pharmaceuticals Inc. and Neumedicines Inc., of Pasadena, PLC Diagnostics Inc. of Thousand Oaks, iNDX Lifecare Inc. of Los Gatos and ChromoLogic of Monrovia.
Prev Next
For reprint and licensing requests for this article, CLICK HERE.