Focus on Orthopedics and Sports Medicine: Proactively Avoid Golf Injuries and Get Back into the Swing of Things on the Course
Custom Content by the Los Angeles Business Journal
Monday, April 9, 2018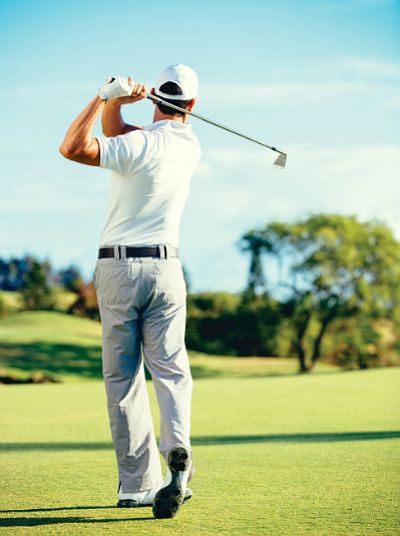 New study looks at common golf injuries and how physicians can effectively diagnose and treat them
People of every age and experience level can enjoy the game of golf. Although there are many benefits to playing the sport, the risk of injury is common. According to a review article published in the February 15, 2018, issue of the Journal of the American Academy of Orthopaedic Surgeons, overuse and poor form were the most common causes of golf-related injuries. When left untreated, many of these injuries can result in increased long-term musculoskeletal problems.
The U.S. Consumer Product Safety Commission estimates that more than 122,000 people were treated for golf-related injuries in 2016. These injuries can range from acute to severe and affect various parts of the body, most often, the lower back and upper extremities.
The article highlights a study of 703 golfers, 643 were amateur golfers and 60 professionals. Over the course of two golf seasons, 82.6 percent of the reported injuries sustained were due to overuse, while 17.4 percent were single-trauma events.
According to the review article, it is important for physicians to understand the various stages of the golf swing as well as the movements of the golfer to better diagnose and treat related injuries.
The differences in a golfer's swing could affect the risk of injury.
• High-handicap (amateur) golfers generate more power in their swing by using their upper extremity strength. This results in an inconsistent golf swing and makes these golfers more susceptible to back injuries.
• Low-handicap (professional) golfers have greater balance and flexibility, which enables them to use their body rotation to generate club speed, thus allowing the upper body to follow through. This reduces their risk of injury.
"Despite the non contact nature of the sport, golfers are susceptible to a variety of musculoskeletal injuries that can be attributed to both improper mechanics, as well as overuse," said Ioannis C. Zouzias, MD, lead author of the review article, and an orthopaedic surgeon specializing in sports medicine and shoulder surgery. "Good conditioning and a well-rounded, golf-specific exercise program are paramount to help prevent these injuries."
A golf-specific exercise program can increase strength and stability in the lower back, shoulder muscles, and hips as well as improve flexibility in the hip joints, along with the upper and middle spine. In addition, warming up for at least 10 minutes before a game will reduce the risk of injuries.
Information for this article was provided by the American Academy of Orthopaedic Surgeons. With more than 38,000 members, the American Academy of Orthopaedic Surgeons is the world's largest medical association of musculoskeletal specialists. The AAOS provides educational programs for orthopaedic surgeons and allied health professionals, champions and advances the highest quality musculoskeletal care for patients, and is the authoritative source of information on bone and joint conditions, treatments and related issues. To learn more, please visit AAOS.org.
For reprint and licensing requests for this article, CLICK HERE.