Former Kite Execs Team With Pfizer to Create Biotech Co. to Treat Cancer
Tuesday, April 3, 2018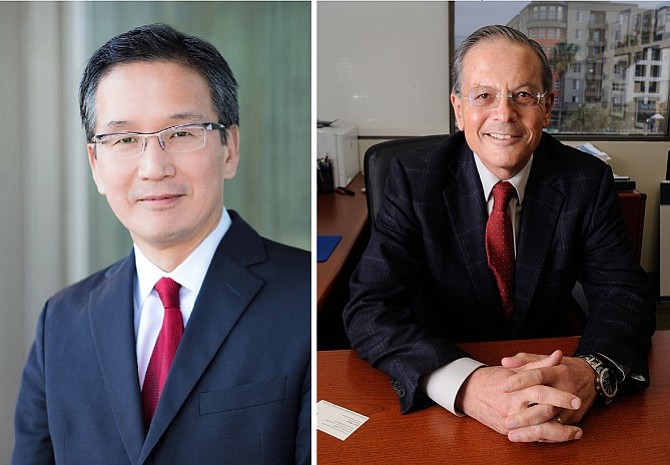 Two UCLA biotech executives, whose Kite Pharma Inc. sold last year for $12 billion, have launched a new venture with Pfizer Inc. to develop a lower-cost immune cell therapy to treat cancer, the company announced April 3.
The newly founded Allogene Therapeutics Inc. has struck a deal with New York-based Pfizer to develop an allogeneic CAR-T therapy that can be sold directly off pharmacy shelves, as opposed to Kite's $373,000 CAR-T treatment, which alters the white blood cells of each individual patient to kill cancer.
"Allogene hopes to bring about the next revolution in the field with the successful development of allogeneic cell therapy and the potential for greater and faster patient access," said Dr. Arie Belldegrun, co-founder of Santa Monica-based Kite, now called Kite, a Gilead Co., in a statement.
Belldegrun, who lives in Bel-Air, will serve as executive chairman of San Francisco-based Allogene. Dr. David Chang, of Santa Monica, a former executive vice president and chief medical officer for Kite who once taught at UCLA, will serve as a co-founder and chief executive.
Allogene Therapeutics was launched by a venture capital company founded by Belldegrun, New York-based Two River Group Holdings, which focuses on biotech.
Belldegrun and Chang's San Francisco biotech firm was founded after Kite was acquired by Gilead Sciences Inc. last summer. The company launched with a $300 million Series A financing round from a consortium that includes the University of California's Office of the Chief Investment Officer.
Pfizer, which developed the allogeneic CAR-T technology now licensed to Allogene, will hold a 25-percent ownership stake.
Other investors include TPG Capital, Vida Ventures and Bellco Capital, which will be represented on the Allogene board. The deal is expected to close by the end of June.
"This is huge, given the amount of money they have raised, and their approach to developing an off-the-shelf CAR-T cell therapy to reduce the cost of treatment," said Ahmed Enany, chief executive of the Los Angeles-based biotech trade group Southern California Biomedical Council, commenting on the deal.
Health business reporter Dana Bartholomew can be reached at dbartholomew@labusinessjournal.com. Follow him on Twitter @_DanaBart.
For reprint and licensing requests for this article, CLICK HERE.