Delta to Add Flights from LAX to Paris, Amsterdam
Monday, September 25, 2017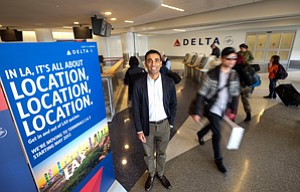 Delta Air Lines announced Monday it will launch nonstop service from Los Angeles International Airport to Amsterdam and Paris beginning in June, connecting Angelenos to Delta's two largest partner hubs in Europe.
Related Link: LAX Passenger Traffic Jumps 5.6 Percent in May to 7.2 Million
Delta will operate four flights per week on the LAX-to-Amsterdam route and three flights per week on the LAX-to-Paris route. The Amsterdam flight will depart Los Angeles on Monday, Wednesday, Friday and Sunday, while the Paris flight will depart on Tuesday, Thursday and Saturday. The Paris flights will also be timed to complement Air France's existing service between Los Angeles and Paris.
Each flight will use Boeing 777-200 aircraft with 291 seats.
A Delta executive said that through Paris and Amsterdam, travellers out of LAX will be able to access more than 100 connecting flights.
"Los Angeles is Delta's largest partner hub, meaning we connect more customers from Delta to our partner airlines in L.A. than anywhere else," Ranjan Goswami, Delta's vice president for Los Angeles and western region sales, said in a statement. "Our new Amsterdam and Paris service means we will have large partner hubs on both sides of the pond, giving our Angeleno customers convenient, one-stop connecting service to more than 100 destinations in Europe, the Middle East, India and Africa through our partners Air France, KLM and Alitalia."
Related Link: Delta Adding Daily Flight from LAX to Mexico City
Delta is in the midst of a $1.9 billion renovation of terminals and expansion of service at LAX. Delta orchestrated a major series of terminal swaps in May for 20 airlines as part of its move from Terminals 5 and 6 to Terminals 2 and 3.
Economy, education, energy and transportation reporter Howard Fine can be reached at hfine@labusinessjournal.com. Follow him on Twitter @howardafine.
For reprint and licensing requests for this article, CLICK HERE.