Delta Adding Daily Flight from LAX to Mexico City
Monday, July 17, 2017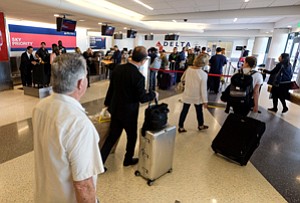 Delta Air Lines announced Monday that it is restoring daily nonstop flight service from Los Angeles International Airport to Mexico City starting Dec. 1 after a 12-year hiatus.
The announcement is part of a partnership agreement between Atlanta-based Delta and Aeromexico of Mexico City that includes a rollout of five new nonstop flights between U.S. and Mexican cities.
"L.A. is the No. 1 U.S. market to Mexico, and together Delta and Aeromexico offer the absolute best schedule between our hub at LAX and Aeromexico's hub in Mexico City with 7 daily flights," Ranjan Goswami, Delta's vice president of sales for the west region, said in a statement. "Our combined schedule gives customers access to more choices and 20 destinations beyond L.A."
This is one of the first additional flights Delta has announced since completing its relocation at LAX to Terminals 2 and 3 from Terminals 5 and 6 in May. That relocation is part of Delta's $1.9 billion investment at LAX to modernize Terminal 3.
Delta's Los Angeles to Mexico City flight service will depart from LAX at 9:30 a.m. each day, arriving at Mexico City at 3:10 p.m. local time. The flight from Mexico City will depart at 4:30 p.m. local time and arrive at LAX at 7 p.m. Delta will use an Airbus A319 aircraft with 132 seats.
Aeromexico already offers six daily roundtrip flights between LAX and Mexico City.
Public policy and energy reporter Howard Fine can be reached at hfine@labusinessjournal.com. Follow him on Twitter @howardafine.
For reprint and licensing requests for this article, CLICK HERE.