L.A. Biotech's Summer Sizzle
HEALTH CARE: Approvals, big deal boost sector's local profile.
Saturday, September 23, 2017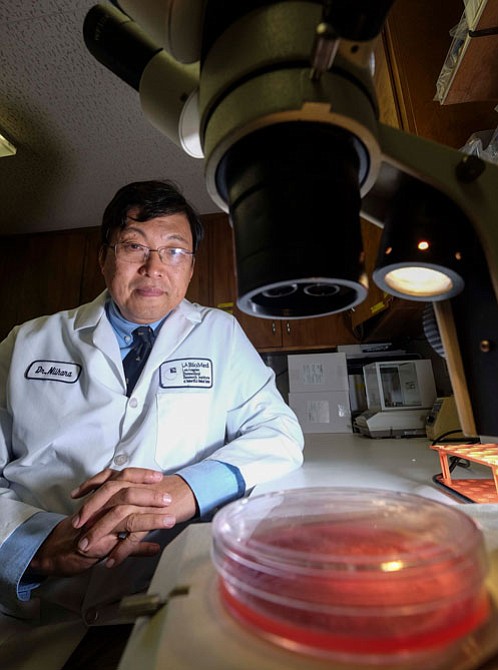 The federal go-ahead for Torrance-based Emmaus Life Sciences Inc. to produce a sickle-cell anemia drug came on July 7.
Then came the July 17 green light for Puma Biotechnology Inc. of West Los Angeles to sell its tent-pole drug, which targets a stubborn form of breast cancer.
Those approvals were followed about a month later with Gilead Sciences Inc.'s $11.9 billion deal for Kite Pharma Inc. of Santa Monica, which is close to approval on another cancer treatment.
Any one of those events would have been big news for the L.A. biotech market, but the trifecta has industry watchers calling this past summer a blockbuster.
"We have definitely been celebrating these announcements," said Dina Lozofsky, executive director of the L.A. office for Biocom, a San Diego-based advocacy group for life-sciences businesses. "Progress – more evidence that the L.A. biotech industry has a place on the world stage."
The L.A.-area life-sciences marketplace is a $40 billion industry comprising roughly 600 companies and employing 70,000 people, according to Biocom. Major employers include drug manufacturer Amgen Inc., which is headquartered in Thousand Oaks; Grifols Shared Services, which produces blood plasma medicine at a plant in El Sereno; and Culver City's NantBio, Dr. Patrick Soon-Shiong's oncology outfit. The life-sciences industry in Los Angeles also includes medical device makers and diagnostics companies, research and developments services as well as medical equipment wholesalers.
About 100 of the 600 life-sciences outfits here are biomedical firms that strive for breakthroughs in cellular and molecular biology, according to industry watchers. Half of that subset works on therapeutic cures for such diseases as sickle-cell anemia and cancer.
The regional base matters to companies such as Emmaus, whose new product, Endari, received the first Food and Drug Administration approval for a drug to treat sickle-cell anemia in nearly 20 years.
"What we want to do is to develop this drug in Los Angeles," said Emmaus founder Dr. Yutaka Niihara, the company's chief executive. "I want people to know that we can do that here within the Los Angeles County public hospital system."
Path to profit
The three recent deals will likely help the L.A. biotech scene continue to grow.
The FDA approval of Emmaus' sickle-cell treatment comes after a quarter-century of dedicated research. Endari's market potential could surpass $1 billion in annual revenue and help treat 100,000 U.S. patients and up to 25 million people worldwide, according to Niihara, who declined to disclose the company's current revenue.
Emmaus has remained privately held and operates with a small team of 24 employees. It is backed by some 500 investors and is also developing drug treatments for diabetes and other ailments, Niihara said, all of which are on the verge of clinical trials.
Puma's once-a-day pill, Nerlynx – which treats a specific type of breast cancer – might be poised next year to rake in more than $200 million in sales, analysts said. The company's annual sales from the drug are forecast to peak at $1.3 billion.
Puma was founded by Alan Auerbach in 2010, and traveled a much shorter road to gaining FDA approval, but it spent huge chunks of cash to get there. The company this month reported a second-quarter loss of $77.8 million, or $2.10 a share. Its yearly loss through the end of June was $150.7 million. Combined net losses for 2015 and 2016 amounted to an additional $515 million.
Another perspective on those losses can be found with a look at the $11.9 billion Kite takeover by Gilead, whose stock immediately rose 28 percent in August on news of the deal. Kite's drug for non-Hodgkin's lymphoma is expected to cost upwards of $500,000 a treatment, and could generate billions if the FDA approves the drug in November as expected.
The Kite deal ostensibly reduces the number of L.A.-based biotech companies, and puts one of the biggest locally based enterprises under an out-of-town corporate umbrella.
But Kite could still create more jobs in L.A. A Gilead spokesman said the company plans to keep Kite's corporate outpost in Santa Monica and manufacturing center in El Segundo.
"We are very impressed with the team at Kite, and hope that the majority of employees will stay and be a part of Gilead," said Nathan Kaiser, a spokesman for the Foster City drug maker. "We see this as a growth opportunity for the company and expect to increase the number of employees at that location."
Exits such as Kite's do produce wealth for individuals in Los Angeles.
Company founder and Chief Executive Arie Belldegrun stood to reap $610 million from the $180-a-share sale price, according to company proxy statements.

Belldegrun stands to walk away with even more cash if some shareholders have their way. A group of Kite investors have already filed a lawsuit alleging the sale price was "grossly inadequate." Kite officials declined to comment on the lawsuit pending the deal's final close, which is expected by year's end.
Ahmed Enany, chief executive of the Southern California Biomedical Council, praised biotech companies willing to stay in town. He said these outfits fuel the local economy with high-paying jobs and serve as anchors to emerging bio-business clusters.
"It's a victory, because it's an L.A. company," Enany said of the Emmaus vow to stay in Los Angeles. "If it stays in L.A. and expands, it's a success story – and shows people the path to success. Anything like Kite, Puma, Emmaus – they're good for L.A.'s image and L.A. performance."
The 25-year development of Emmaus' sickle-cell treatment has been about more than just profit and growth for founder Niihara.
The Japan-born executive moved to Los Angeles in 1989 to study oncology at Harbor-UCLA Medical Center and there he encountered patients with sickle cell. The disease is a debilitating blood disorder that can result in excruciating pain for about one in 500 African-Americans, Niihara said, most of whom are born with the disease.
"For the first time, I realized that this disease is as bad, or worse, than cancer," he said. "And I saw patients my age die."
Career path
He decided to forgo his oncology career and instead became a hematologist and look for ways to help sickle-cell patients.
While other sickle-cell researchers were often focused on cures or prevention, he and a team of scientists at LA BioMed focused on how to treat the effects of the gene mutation. The result of Niihara's work is the Endari drug, which the company claims reduces pain with almost zero side effects, making it safe for children and pregnant women.
Endari is now being manufactured in Sao Paulo, Brazil, and being packaged in Rockport, Ill. The drug is expected to hit pharmacy shelves in November.
Niihara remains bullish on his company's prospects and the region's potential.
"I'm excited," he said. "Los Angeles is a great movie-making city. But it's also a great place to cultivate technology. Los Angeles has so much potential. It's a hub for the best people from all over the world."
For reprint and licensing requests for this article, CLICK HERE.