San Pedro Ports O' Call Shop Owners Protest Evictions
Tuesday, September 19, 2017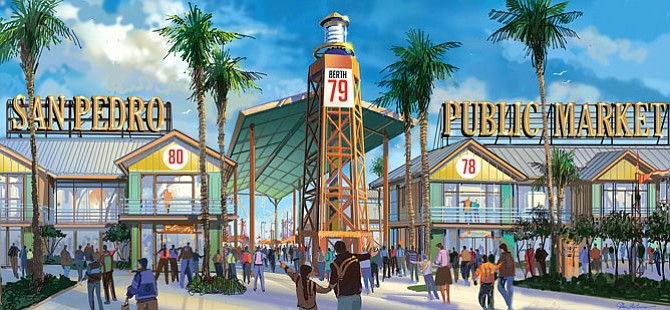 About 15 shop owners at San Pedro's Ports O' Call Village have filed a claim with the L.A. city clerk against the Port of Los Angeles over their pending eviction to make way for a new waterfront attraction, they announced Tuesday.
The shop owners face an Oct. 2 eviction by the port, which owns the property, as development of the estimated $100 million San Pedro Public Market forges ahead. The redevelopment, which was approved in 2009, requires that all buildings on the waterfront be removed for the building of a public promenade and shopping, dining and recreational district.
According to the claim, the original eviction agreement stated that the Ports O' Call Village Shops would be relocated during the second phase of construction, but that changed in summer 2016 when the port added an addendum reclassifying the phases. Initial plans to help businesses relocate remain unclear.
"The shop owners were given a four-month notice to vacate," said Jesse Marquez, executive director with the Coalition for a Safe Environment, who helped the owners with the claim. "They were put on a month-to-month lease two years ago to essentially make it easier for the port to kick them out."
Port spokesman Phillip Sanfield said by email that the port had met with tenants 15 times since 2014 "to keep them aware of on-going redevelopment and timing of expected move-out dates based on the Port's obligations in the new development lease that was approved in June of 2016."
After the port approved the lease with the San Pedro Public Market, Sanfield said it informed tenants on Aug. 2, 2016, that the Ports O' Call village area would be the first development phase based on the developer's phasing plan and the area would need to be vacated during the summer of 2017. However, based on input received from tenants at that meeting, the port agreed to extend the move-out date to beyond Labor Day 2017, which was communicated to tenants in a meeting on Oct. 19, Sanfield said.
Manufacturing and trade reporter Shwanika Narayan can be reached at snarayan@labusinessjournal.com. Follow her on Twitter @shwanika.
For reprint and licensing requests for this article, CLICK HERE.