Licenser of Eatery Brands Links IPO to Crowd
DINING: Fat Brands plans to fill plate with $24 million through Regulation A+.
Friday, September 15, 2017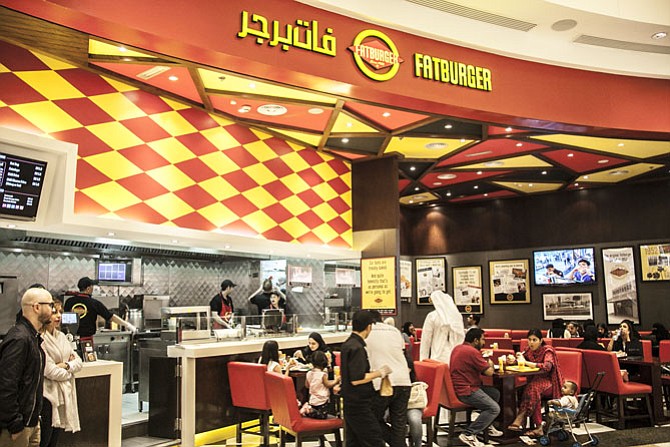 The parent company of old-school burger chain Fatburger is exploring a decidedly new-school way to raise money.
Fat Brands Inc., a brand licensing subsidiary of Beverly Hills-based Fog Cutter Capital Group Inc., filed for an initial public offering this month through Regulation A+, an equity crowdfunding measure that allows companies to raise up to $50 million from unaccredited investors.
Fat Brands, which values itself at $96 million pre-IPO, wants to raise up to $24 million by offering 2 million common shares at $12 a share.
Fog Cutter is itself traded over the counter and will retain an 80 percent stake in its subsidiary after the public float.
Fat Brands, whose brands Fatburger, Buffalo's Café and Buffalo's Express generated just over $10 million in total revenue last year, plans to start trading on the Nasdaq on Oct. 2, said Fog Cutter Chief Executive and principal shareholder Andy Wiederhorn.
The motivation to try the new IPO route?
Going public through equity crowdfunding gives the company more visibility, Wiederhorn said.
"We were going to do a conventional IPO when I learned about Reg A+," he said. "I liked that we could offer (shares) to our franchisees, their employees and customers."
Only four other companies have gone public through Regulation A+, according to Sara Hanks, chief executive of CrowdCheck Inc., an Alexandria, Va., firm that performs due diligence for crowdfunding investors and companies.
President Barack Obama signed the measure into law in 2012. But because the U.S. Securities and Exchange Commission took several years to develop the regulatory framework, equity crowdfunding has been an option for companies for less than 18 months.
The offering must still get approval from the SEC and Nasdaq before it can begin trading. Wiederhorn said he is confident it will pass since Fat Brands has been in touch with both entities.
Making patty
Most companies that avail themselves of the new fundraising outlet don't go public, and three of the four that have used Reg A+ for an IPO are early stage outfits. The move by companies with more mature brands such as Fat Brands for a crowdfunded public offering signals a shift, said Howard Marks, co-founder of Santa Monica equity crowdfunding platform StartEngine (see related charts, item in Deals & Dealmakers, page 10).
"I think Regulation A+ is going to prove to be the go-to down the road for companies that want to raise money," said Marks. "As lawyers become more familiar with it and CEOs understand their options, they'll go for it. Like any new regulation, it takes time to be adopted."
Wiederhorn first heard of Regulation A+ this summer, when he was planning a traditional IPO to finance Fog Cutter's acquisition of Homestyle Dining, the Plano, Texas-based owner of Ponderosa Steakhouse and Bonanza Steakhouse chains. Fog Cutter agreed to buy Homestyle for almost $10.6 million in March, around the same time that it created Fat Brands. The parent company plans to recoup the investment from Fat Brands after the IPO.
"It fit well with the size of the capital we were raising, so we did a slight pivot," Wiederhorn said.
Listing on an exchange through Regulation A+ is cheaper and faster because it gets less scrutiny from the SEC, CrowdCheck's Hanks said. A traditional IPO could cost more than $2 million.
The Regulation A+ route also made sense as part of an effort to raise the Fat Brand's profile, said CrowdCheck's Hanks. Unlike a traditional IPO, where there are rules against solicitation, companies doing crowd equity offerings are allowed to advertise their raises. Since Fat Brands' chief business is licensing restaurant brands rather than running them, raising money more publicly and from a wider group of people allows the company to advertise to prospective franchisees.
Wiederhorn said that Fat Brands will also do a $35 million debt offering at the same time as its IPO. The raises will allow the company to acquire more restaurant brands and pay off debt.
Fat Brands will pay Fog Cutter $9.5 million for loans Fog Cutter incurred when it acquired the Buffalo's Café brand in 2011, according to Fat Brands' SEC filing.
Mixed reviews
StartEngine's Marks said that more retail and restaurant companies might pursue a similar course if Fat Brands' IPO fares well.
"If Fatburger succeeds, it won't be long before we see many more," he said.
Four companies filed for Regulation A+ and went public this summer. Of those, the share price of Newport Beach-based green bus technology maker Adomani Inc. has fluctuated, with its stock up slightly as of Sept. 13's market close.
The share prices of the other three, including Irvine-based scheduling app Shiftpixy, have seen their stock's value cut in about half since their respective IPOs.
CrowdCheck's Hanks agrees with Marks that there will probably be more companies using crowdfunding to go public, but she said it is too early to tell how Fat Brands' IPO compared with the others.
"It's really an evolving market – just over 2 years old," said Hanks. "We have no idea how it works, its characteristics. It's very difficult to say if something is normal or typical since we haven't seen enormous numbers of successful offerings."
Editor's note: This story has been updated to correct the description of $9.5 million that Fat Brands will pay for loans Fog Cutter incurred when it acquired the Buffalo's Café brand.
For reprint and licensing requests for this article, CLICK HERE.