Developer Touts Bull's-Eye With Target's Arrival
Century West Partners sees retailer bolstering its efforts with Koreatown residential.
Friday, September 15, 2017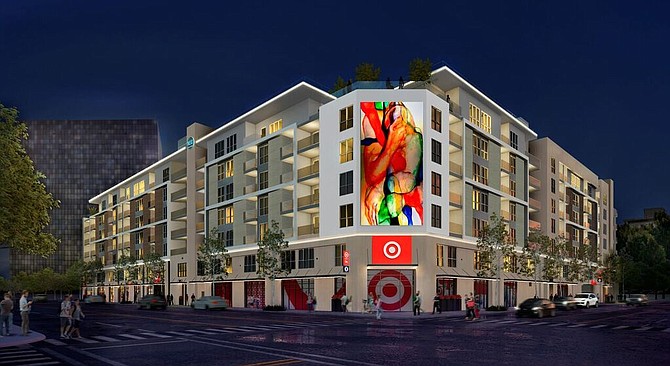 Add retail to Century West Partners' Koreatown portfolio now that one of Target Corp.'s smaller, urban-oriented stores is nearly ready to open.
The Brentwood-based outfit specializes in transit-oriented, mixed-use communities, and the Target store is part of a project that keeps CWP's firmly amid the neighborhood's residential development boom.
The retailer will open up as part of Next on Sixth at the intersection of Sixth Street and Virgil Avenue near the Wilshire-Vermont subway station. The project is ranked No. 29 on the Business Journal's list of Los Angeles County's largest construction projects at a cost of $104.2 million.
The seven-story Next on Sixth – 398 units with studios, one- and two-bedroom floor plans – is one of two key projects by CWP in Koreatown. The Target will take 22,000 square feet on the ground floor, with an opening expected around the year-end holidays.
The developer's recently completed the 476-unit K2LA apartment complex in June 2016 at the southwest corner of S. New Hampshire Avenue and Wilshire Boulevard – a few blocks from Next on Sixth.
"The rejuvenation of Koreatown is truly exciting to us," said Steven Fifield, co-founder and principal with CWP, in a statement. "With these two new apartment communities and the Target offering, Century West is looking to meet the growing lifestyle demands of those who recognize that Koreatown is a true Los Angeles hot spot."
CPW is busy in several other areas of greater Los Angeles, with 1,000 units in the pipeline and $1.3 billion invested in L.A. real estate.
Next on Lex is a $280 million mixed-use, transit-oriented development under construction in downtown Glendale. The project includes ground-floor retail space along with 494 residential rental units situated on six upper floors. An 8,140-square-foot retail space will be home to a Citibank branch.
Leasing of apartments is expected to begin in fall of next year, with the entire project slated for completion in fall 2019.
The Lincoln Collection is in CWP's pipeline for downtown Santa Monica. The project will feature 270 luxury units in two apartment buildings, flanked by 20,000 square feet of ground-floor retail. The Lincoln Collection is within walking distance of Third Street Promenade and the Expo Line's Santa Monica stop, connecting residents to downtown Los Angeles and stops in between.
Building Ties
Robert Kohorst, president and founder of Pasadena real estate firm Everest Properties, was appointed by President Donald Trump to serve as ambassador to Croatia.
For reprint and licensing requests for this article, CLICK HERE.
Prev Next