Hotel Looks to Book Crowds From China
HOSPITALITY: Sheraton eyes San Gabriel Valley boom.
Friday, September 8, 2017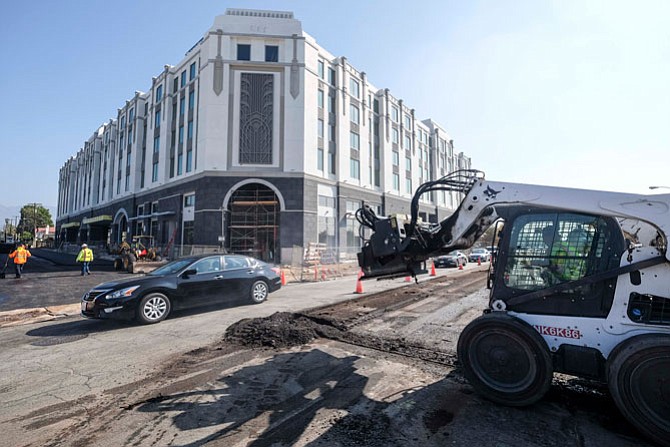 Breaking ground
Visits by Chinese tourists to the United States have grown since China relaxed travel restrictions, and Chinese citizens' discretionary spending has increased. Los Angeles in particular has benefitted due to its proximity to Asia.
Chinese developers have gotten in on the action, creating a hotel boom fueled by investments through the federal EB-5 immigrant investor program, which grants green cards in exchange for investing $500,000 to $1 million in projects that create U.S. jobs.
Yet the city of San Gabriel hasn't had many hotels historically. The Sheraton, which had EB-5 funding, will be the city's second hotel, although it also has three motels, according to Angelica Frausto-Lupo, the city's economic development director.
The first hotel to open there was Encino-based real estate investment firm Landwin Corp.'s Hilton Los Angeles/San Gabriel, a 222-room hotel constructed around 2005 on Valley Boulevard.
"When the owner first built (the Hilton), everyone said, Why? You're never going to survive," said Carl Bolte, the hotel's general manager.
But the venture eventually proved everyone wrong. Business started taking off around 2010 with the influx of Chinese visitors, Bolte said.
In addition to having a room occupancy comparable with the rest of the county in the 80 percent range, the hotel books about 50 to 60 weddings annually, according to Bolte. It charges $179 to $209 a night for rooms.
The success of the Hilton caught the eye of Shenzhen Hazens, Yang said. Although the company, which has projects here and in China, doesn't usually build hotels, it had success with the Sheraton Gateway Los Angeles Hotel near Los Angeles International Airport. That property was bought and then renovated for $35 million in 2013. The Sheraton Gateway has a 92 percent annual occupancy rate, according to Yang.
He didn't share what the company expects to make in revenue or return on investment with the Sheraton in San Gabriel, but said he expects an occupancy rate similar to the Hilton in the 80 percent range and to charge around $180 a night initially and more than $200 in the hotel's second year.
He said the hotel will represent a new high in luxury in the area. It will feature San Gabriel's first Starbucks and steakhouse as well as a branch of Ba Shu Feng, a restaurant popular in China.
All of the amenities are designed to draw possible overflow crowds of L.A. conventiongoers, who Bolte said, sometimes stay at his Hilton.

Marriott benefits
Shenzhen Hazens will pay a percentage of its revenue to Marriott International Inc., owner of the Sheraton brand. A percentage also will go to Pyramid Hotel Group, a Boston-based hospitality managing firm that will manage the San Gabriel hotel.
The hotel, which has 19,000 square feet of indoor and outdoor event space that can accommodate up to around 1,000 people, was also built with the events business in mind. It already has banquets booked for next year, Yang said.
Meanwhile, Landwin is building a second hotel directly adjacent to the Hilton. The Hyatt Place will have 220 rooms, 80 condominiums and 50,000 square feet of retail, Bolte said. Two other hotels, a Courtyard by Marriott and a DoubleTree Hotel by Hilton, are underway in nearby Monterey Park.
"This whole area will be a destination in three to four years," Bolte said.
Prev Next
For reprint and licensing requests for this article, CLICK HERE.