CIM's City in Sight
REAL ESTATE: Downtown vision close to completion.
Friday, September 8, 2017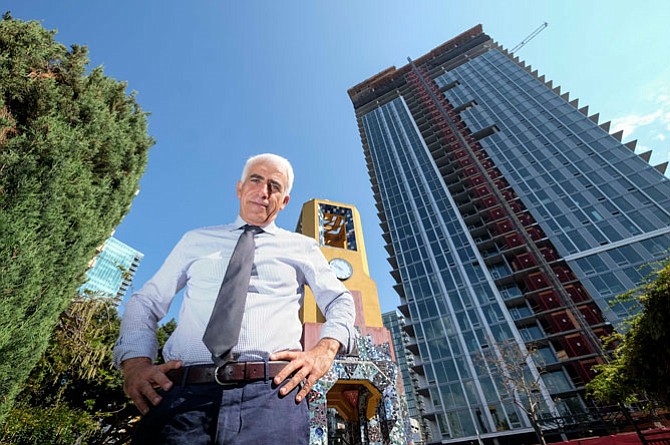 CIM Group's opening of a 34-story apartment and retail building at 888 S. Hope St. in mid-2018 will be the culmination of its almost 20-year development vision for South Park near Staples Center.
The Mid-Wilshire firm's $800 million investment over the past two decades helped spur the downtown renaissance, drawing in visitors and residents alike with retail, office, condo and apartment projects. Perhaps the most impactful development, if not the most prominent, was a grocery store.
"When we bought the site we started looking and thinking about South Park as a community," said Shaul Kuba, co-founding principal of CIM. "It had a few residential buildings, but for the most part, it was mostly parking lots. … The one thing we thought would be the most important part of the amenities would be having a grocery store that would serve the community so the community doesn't have to travel outside of downtown to go to a grocery store."
Ralphs Inc. fit into the developer's larger strategy of figuring out what is missing in a community and providing for that need.
The 525-unit apartment building on Hope is the last of a series of seven properties in a central city portfolio that began taking shape in 2001, when CIM acquired 7.2 acres of land from a single seller.
CIM dubbed the area "South Village" and broker ground on the development in 2003.
Initial projections called for a total investment of $247 million, although that approximation has grown over time, according to the company. The South Village project and a couple of smaller developments nearby have accounted for more than $800 million.
Carol Schatz, chief executive of the Downtown Center Business Improvement District, said CIM was one of only a handful of residential developers that were active near Staples Center shortly after the venue opened at Figueroa and 11th streets in 1999.
"Clearly CIM was a patriarch for this because they took a leap of faith in converting (and developing) those buildings and also used their efforts to bring a new Ralphs in," Schatz said. "They were one of the first pioneers of adaptive reuse and what was happening downtown, so we're generally grateful for their investment."
Envisioning South Park
CIM, founded in 1994, is an urban real estate investor with about $19.7 billion in assets under management.
Among its notable properties is the Hollywood & Highland Center shopping mall and entertainment complex, home to the Dolby Theater and the Academy Awards. CIM acquired the complex in 2004 for $201 million, according to CoStar.
Prev Next
For reprint and licensing requests for this article, CLICK HERE.