CIM's City in Sight
REAL ESTATE: Downtown vision close to completion.
Friday, September 8, 2017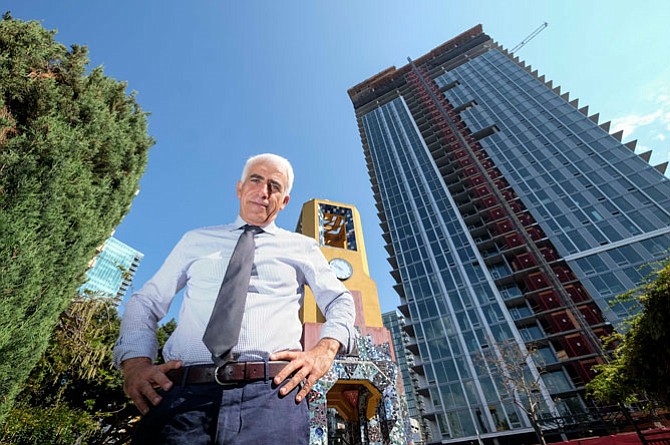 CIM Group's opening of a 34-story apartment and retail building at 888 S. Hope St. in mid-2018 will be the culmination of its almost 20-year development vision for South Park near Staples Center.
The Mid-Wilshire firm's $800 million investment over the past two decades helped spur the downtown renaissance, drawing in visitors and residents alike with retail, office, condo and apartment projects. Perhaps the most impactful development, if not the most prominent, was a grocery store.
"When we bought the site we started looking and thinking about South Park as a community," said Shaul Kuba, co-founding principal of CIM. "It had a few residential buildings, but for the most part, it was mostly parking lots. … The one thing we thought would be the most important part of the amenities would be having a grocery store that would serve the community so the community doesn't have to travel outside of downtown to go to a grocery store."
Ralphs Inc. fit into the developer's larger strategy of figuring out what is missing in a community and providing for that need.
The 525-unit apartment building on Hope is the last of a series of seven properties in a central city portfolio that began taking shape in 2001, when CIM acquired 7.2 acres of land from a single seller.
CIM dubbed the area "South Village" and broker ground on the development in 2003.
Initial projections called for a total investment of $247 million, although that approximation has grown over time, according to the company. The South Village project and a couple of smaller developments nearby have accounted for more than $800 million.
Carol Schatz, chief executive of the Downtown Center Business Improvement District, said CIM was one of only a handful of residential developers that were active near Staples Center shortly after the venue opened at Figueroa and 11th streets in 1999.
"Clearly CIM was a patriarch for this because they took a leap of faith in converting (and developing) those buildings and also used their efforts to bring a new Ralphs in," Schatz said. "They were one of the first pioneers of adaptive reuse and what was happening downtown, so we're generally grateful for their investment."
Envisioning South Park
CIM, founded in 1994, is an urban real estate investor with about $19.7 billion in assets under management.
Among its notable properties is the Hollywood & Highland Center shopping mall and entertainment complex, home to the Dolby Theater and the Academy Awards. CIM acquired the complex in 2004 for $201 million, according to CoStar.
That investment came alongside the firm's blossoming efforts downtown, where South Village was just starting to take shape. The multiblock property is intercut by Eighth, Ninth, Flower and Hope streets, a few blocks northeast of Staples Center.
CIM's efforts began there with the conversion of the historic Gas Company buildings to loft apartments, followed by construction of a 50,000-square-foot Ralphs Fresh Fare supermarket, with lofts above, at Ninth and Flower.
The developments provide a link between the Financial District and South Park, which stretches from Grand Hope Park and the Fashion Institute of Design & Merchandising to L.A. Live and Staples.
Ryan Aubry, development director for Greenland USA, which is developing the $877 million Metropolis mixed-use project nearby, said the supermarket was a catalyst for increased pedestrian traffic in the area. He moved into an apartment two blocks from the Ralphs before it opened in 2007.
"When I moved in, there was nobody walking on the streets after dark," Aubry said. "Every month after it opened, I would progressively pass more people on the street after dark. … In the first decade of this century, that was one of those early projects that certainly brought in people and attracted other development to the area."
Schatz said the opening of the Ralphs was a watershed moment.
"It was a milestone for downtown because it finally meant that there were enough people living here to support a grocery store, but beyond that, our demographic surveys made clear to Ralphs that the average income of our new residents was about $100,000 a year," she said.
CIM wanted to make the properties at South Village stand out, said Kuba, and employed a half-dozen different architects to provide a diversity of aesthetics for South Village.
"We were able to entitle them and design them in separate buildings, so you're not feeling like you're in a big monolithic building," Kuba said. "You walk around and there are different heights, there are different articulations for the buildings. We used six architects to do this project rather than one architecture firm, so it doesn't feel bulky."
He said the biggest challenge CIM faced with moving the project forward came during the Great Recession, when surrounding development slowed.
"The financial meltdown slowed down the progress of downtown, although it picked up again and now it's full steam ahead," Kuba said. "It didn't necessarily impact my portfolio, but we're successful when everybody around us is successful. … That was a big challenge for the community as a whole."
CIM has found other opportunities amid the downtown renaissance. The developer sold parcels it got entitled for projects at Ninth and Flower and 8th and Hope.
It also developed three projects outside of South Village near Staples. They are within the South Park Business Improvement District, which formed in the last decade.
Ellen Riotto, executive director of the South Park BID, said CIM's efforts in the adjacent South Village are definitely an asset for neighbors.
"It's fair to say in the downtown community rising tides raise all ships, so whatever is happening in the Downtown Center Business Improvement District is going to have a net positive impact on South Park," Riotto said.
CIM's South Park properties are seeing a 90 percent occupancy rate with tenants, Kuba said.
"It's a pleasure to see that our vision and the risk we were willing to take at the time helped ignite the developers and others to be involved in creating a community," he said. "Obviously, we have a situation in Los Angeles where we have a shortage of housing, and that helps fuel a portion of the demand that we have. It doesn't address everything we have in terms of the housing shortage, but it's certainly answering some of the demand issues."
Expanding reach
CIM has been developing projects in other communities throughout greater Los Angeles, in addition to South Park.
The firm has a major presence in downtown's Bunker Hill neighborhood as well, with ownership and operation of CityNational@2Cal, formerly Two California Plaza. The firm acquired the property in 2014 for $297.7 million. It purchased the parcel underneath the building for $70 million, according to public records.
In addition to downtown, CIM continues to actively invest in West Hollywood since launching efforts there in 2004, according to the firm, including finishing construction of Formosa West, a 108,000-square-foot office building at the Lot studio campus. The first office property at the site, the 87,000-square-foot Formosa South, houses the corporate offices of Oprah Winfrey Network and Funny or Die Inc.
CIM also recently completed construction of the 500,000-square-foot Sunset La Cienega mixed-use project, with residences, a hotel and ground-floor retail at Sunset and La Cienega boulevards.
The residential and hotel buildings were sold this summer for $168.2 million and $283 million, respectively, according to CoStar data.
CIM said it retained ownership of the 42,000 square feet of street-level retail. Fred Segal has leased 22,000 square feet at the property for the clothing company's new flagship store opening this fall.
The developer is completing a mixed-use building in West Los Angeles, located at 1515 Granville Ave., featuring 147 apartment units above 40,000 square feet of retail, with three levels of underground parking. The nearby Westgate Collection, in three smaller adjacent buildings, has 37 units, and 1500 Granville, across the street from 1515, is another phase of the project that is entitled for 154 apartment units above 15,000 square feet of ground-floor retail and two levels of underground parking, the firm said.
For reprint and licensing requests for this article, CLICK HERE.