Skechers Gets Traction, Racks Up Record Sales
Shoe maker attributes growth to international market, new collection
Friday, October 27, 2017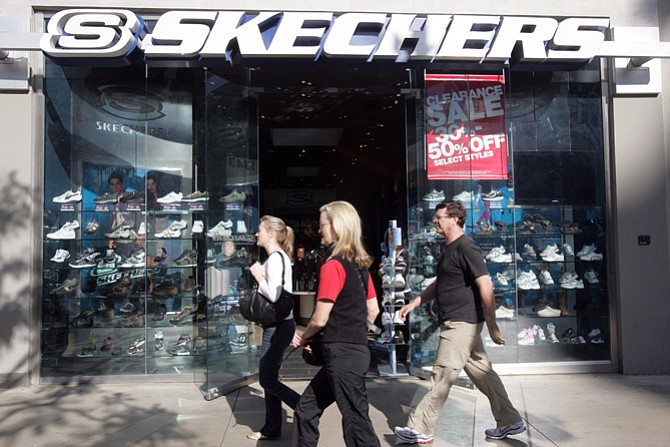 Skechers USA Inc. reported record sales in the third quarter thanks to the international market, spurring a two-year peak in its stock price.
The Manhattan Beach-based athletic and casual footwear company said last week its net sales increased by 16.2 percent to $1.09 billion in the third quarter compared to the same period a year earlier, while net income jumped 41.8 percent to $92.3 million.
The brand's big gains ran counter to industry trends, with many long-established retailers in the midst of bankruptcies and declining sales.
Skechers stock rose more than 41 percent to close at $33.99 a share Oct. 20 on news of the results, a level it hadn't reached since October 2015. Its market capitalization grew to $5.4 billion last week from $3.8 billion before the earnings report.
"The growth came across our three distribution channels … with double-digit increases in our company-owned Skechers retail business worldwide and our international subsidiary and joint venture businesses, as well as a single-digit increase in our international distributor and domestic wholesale businesses," David Weinberg, chief operating officer, said in a statement.
The company said in its earnings call that it had a 25.7 percent gain in international wholesale revenue and an 18.6 percent increase in company-owned global retail stores revenue.
The company reported an increase of 1.4 percent increase in revenue domestically.
Analyst Corinna Van Der Ghinst of Citi Research asked on the earnings call about why Skechers was doing well, unlike its competitors, Weinberg said the company was seeing a broad strength across its collections, including "great acceptance" of BOBS, its new youth-oriented street collection as well as good demand among kids and a pickup across the men's section.

"It's about the product offering and the breadth of the product and the newness and the demand by consumer and also our decision not to lower prices and margins trying to compete for market share," Weinberg said. "We're very happy keeping the market share we have, growing it by low to mid-single digits at the minimum until all that competition goes away for whatever reason, and then maximize our position. So I think we're in a good place."
Romeo's New Power Source
Vernon-based electric vehicle battery pack maker Romeo Power is moving into the consumer market.
The company this month launched "Saber," a mobile charging device that it claims can charge an iPhone up to 10 times and a laptop twice on a single charge.
For reprint and licensing requests for this article, CLICK HERE.
Prev Next