Westside Pavilion Faces Vacancies, Debt Pressures
Macerich mall troubled by tenant exits, possible loan default
Friday, October 27, 2017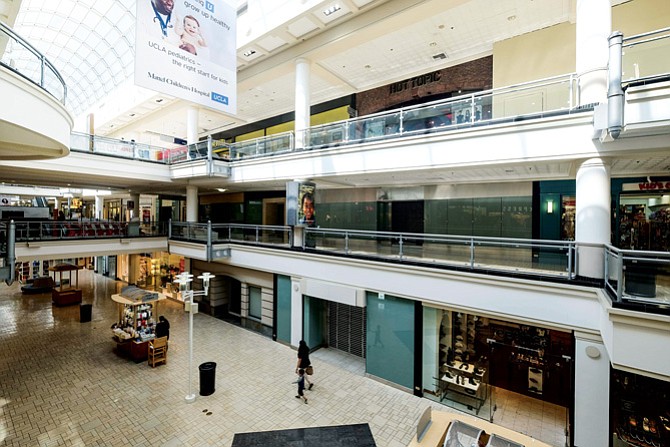 Macerich Co.'s Westside Pavilion mall could be on the bubble of the great retail shakeout as revenue declines, tenants flee and financial troubles come to a head.
The real estate investment trust's 767,000-square-foot, three-story shopping center that encompasses several blocks along Pico Boulevard in West Los Angeles has lost Nordstrom Inc. to the newly renovated Westfield Century City nearby. A second anchor store, Macy's Inc., is slated to close at the end of March while keeping its Westfield Century City location. See related story.
Those departures coincide with a $142 million loan associated with Westside Pavilion going to special servicing in September pending imminent default, according to New York real estate data firm Trepp.
Westside Pavilion is facing many of the same struggles as malls across the country with the migration of retail sales online and a glut of shopping real estate. A report from Switzerland-based financial services company Credit Suisse Group this year estimated that up to 275 U.S. malls, or a quarter of all those in the country, would close in the next five years.
Westside Pavilion's occupancy slipped to 87 percent this year from 98 percent five years ago, according to Trepp. The firm said it obtained its data from Wells Fargo, which footed the $142 million loan in 2012.
The mall's lease revenue followed, decreasing to $22.7 million during fiscal year 2016 from $27 million in 2012, Trepp said. The property generated $9.2 million in the first half of 2017.
A spokeswoman for Macerich Co. declined to comment for this story.
Santa Monica-based Macerich was No. 10 on the Business Journal's list of largest public companies this year with a market capitalization of $8.23 billion as of June 30, 2017.
It owned part or all of 55 shopping centers across the country as of Dec. 31, including five in Los Angeles County and several others in Southern and Northern California, according to its SEC filings.
Westside Pavilion is four miles from Macerich's Santa Monica Place by the Third Street Promenade, and it's two miles from Westfield Century City. Westfield Corp. just completed a $1 billion renovation there, expanding the mall's leasable space from 725,000 square feet, which was smaller than Westside Pavilion, to 1.3 million square feet.
Jeffrey Langbaum, a commercial real estate analyst at Bloomberg Intelligence, said there will be continued demand for higher-end malls, but in areas with more than one shopping center, owners must make changes or shut down. That scenario could play out between Westside Pavilion and Westfield Century City, he said.
"In some cases, there are going to be winners and losers," Langbaum said. "It probably isn't a foregone conclusion that both malls will survive."
Building up
Westside Pavilion was a hot place to go three decades ago, according to Steven Sann, chairman of the Westwood Community Council and a longtime resident. Seattle-based Nordstrom in particular was popular.
"From the day the mall opened in 1985, it was a draw, a magnet that drew thousands of customers," Sann said.
Macerich, which reported $1.04 billion in revenue in 2016, bought the Westside Pavilion in 1998 for $171 million, according to CoStar.
But as the retail market has gotten tougher in recent years, local mall owners have moved to reinvigorate their properties.
Australia-based Westfield Corp. in October completed a $1 billion, two-year renovation of Westfield Century City. Taubman Centers started a $500 million renovation at the Beverly Center last year that the Bloomfield, Mich.-based company expects to complete in 2018.
Macerich Co. told the Business Journal in March 2016 that it was drafting a renovation plan for Westside Pavilion.
The company declined to provide details then, but Barbara Broide, president of the Westwood South of Santa Monica Boulevard Homeowners Association, said the company had floated the idea of making the shops more accessible to foot traffic along Pico Boulevard and converting the third floor to offices. That work hasn't been done.
Tearing down
Then in January, Cincinnati-based Macy's sold its 220,000-square-foot parcel that is considered part of Westside Pavilion but separately owned for $50 million to Brentwood's GPI Cos. That Macerich didn't buy the property was telling, Sann said.
Macy's spokeswoman Blair Rosenberg said last week that the Westside Pavilion store is scheduled to close in March when its lease runs out as the company moves to close about 100 stores nationwide. Nordstrom already abandoned the mall, even though its latest lease was through 2035, according to Trepp.
The real estate firm said the three remaining major tenants have leases that expire in the next five years.
Macerich's loan from Wells Fargo was transferred to Miami's Rialto Capital Advisors for special servicing as it headed toward default in September, according to Trepp's report.
Macerich will likely try to renegotiate the terms of the loan, Bloomberg's Langbaum said. If that's unsuccessful, the property could be seized by the lenders, he said.
One way Macerich could potentially save the site would be to convert it to mixed use.
The property is included in the city's Expo Corridor Transit Neighborhood Plan, which seeks to increase density around transit stations by changing the zoning to allow a mix of commercial and residential uses.
The L.A. Planning Commission is scheduled to review the plan this fall, according to Yeghig Keshishian, chief external affairs officer for the Department of City Planning. The City Council would still have to adopt the plan before it could go into effect, Keshishian said.
The Westwood South of Santa Monica Boulevard Homeowners Association's Broide said she doesn't expect anything to happen for a while.
"Our feeling is that nothing will be decided about the property until the city finalizes the Expo Corridor Transit Neighborhood Plan," she said.
Meanwhile, the outlook for Macerich overall is relatively bright compared with the lagging Westside Pavilion.
The company has done fairly well compared to its retail real estate investment trust peers, Langbaum said. It had an average occupancy of more than 94 percent at the end of last year among its 28 consolidated shopping centers, excluding Westside Pavilion.
The company is scheduled to announce its third-quarter earnings Tuesday.
"What I expect, frankly, is a continuing, ongoing conversation, for lack of a better word, that the retail business is not as bad as perceived," Langbaum said, "and that their portfolio will hold up well because of the amount of high-quality assets."
For reprint and licensing requests for this article, CLICK HERE.