The Food and Beverage Industry in Los Angeles: A Roundtable Discussion
Custom Content by the Los Angeles Business Journal
Thursday, October 26, 2017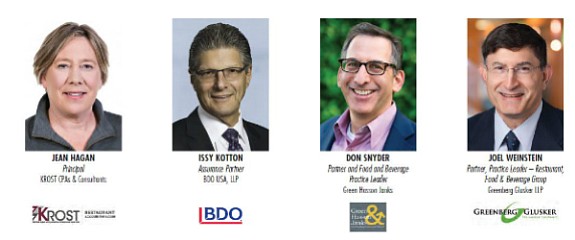 The food and beverage industry as a whole is unique in many ways and here in Los Angeles, where we have some of the best dining and food-for-purchase options in the nation, there's perhaps an even more finely tuned set of rules for success. Stir in an unpredictable economy and unique regulatory conditions and you've got a sector of Southern California business that continues to evolve as swiftly as any other. To make some sense of this exciting and unpredictable realm, the Los Angeles Business Journal has once again turned to some of the leading experts in the region to get their diverse insights and assessments regarding the current state of the industry that Angelenos most certainly couldn't live without!
What opportunities and challenges do the food and beverage industry face as business tax reform takes shape?
KOTTON: Should tax reform pass as proposed, food and beverage companies may have the opportunity to enjoy tax cuts. Given the uncertainty surrounding tax reform, now is the time for businesses to proactively lower their tax rates by meeting with their tax and legal counsels. When companies design a lean tax strategy, they will be better prepared for any regulatory changes that may occur. According to BDO's 2017 Tax Outlook Survey, a reduced corporate tax rate is the primary tax issue for tax executives across industries. However, our data also suggests that many tax professionals expect the rate to fall somewhere between 20 and 24 percent. On the flip side, changes to the federal tax code could complicate state and local taxes for businesses that operate across multiple states. Above all, food and beverage companies can most effectively prepare for tax reform by staying informed of new developments.
WEINSTEIN: All industries face the uncertainty about whether federal tax reform will occur. Nevertheless, tax planning continues to remain critical for a food and beverage company throughout the company's life cycle. Tax planning begins at the formation stage with the basics such as entity selection (i.e., formation as a limited liability company, limited partnership or S corporation) and structuring issues such as forming an intellectual property holding company to hold trademarks for royalty license agreements. During its operating phase, a company should consider maximizing tax credits (i.e., with respect to research and development or enterprise zone hiring), as well as depreciation deductions. There are important tax considerations for liquidity events such as a sale of assets as compared to a sale of equity, as well as the rollover of equity into the purchaser.
Prev Next
For reprint and licensing requests for this article, CLICK HERE.