Feds Remove Hurdle for Cadiz Desert Water Project
Monday, October 16, 2017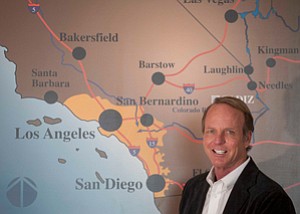 Downtown water developer Cadiz Inc. moved a step closer to building its Mojave Desert water project as a federal agency removed a hurdle for its water pipeline, the company announced Monday.
The Bureau of Land Management reversed a decision that it made two years ago that would have required a planned 43-mile water pipeline from Cadiz' desert aquifer to the Colorado River Aqueduct to undergo a full environmental review. The reversal means the pipeline now has the necessary federal approvals.
Cadiz still may have to get state approval for the pipeline.
Cadiz has signed agreements with six California water agencies to pump up to 50,000 acre-feet of water a year out of its aquifer and send it via pipeline to the Colorado River Aqueduct and then onto 400,000 customers of those water agencies. The pumping plan received environmental approvals four years ago and survived numerous legal challenges from environmental groups that said pumping out groundwater would impact the desert ecosystem.
On the pipeline, Cadiz sought to avoid the time, expense and potential litigation exposure of a full federal environmental review by claiming the pipeline was within the right-of-way of an active railroad and invoking an obscure 1875 law that allowed ministerial approval for improvements that furthered the use of the railroad.
In October 2015, the bureau's top California official under the Obama administration rejected this argument, saying the pipeline should not be exempt from environmental review. But after intense lobbying by Cadiz, new Trump administration officials indicated early on they would review that decision; they also placed the project on the infrastructure project priority list.
Related: Federal Attention Buoys Cadiz Stock
Related: Cadiz Announces $255M Construction Financing
The results of that review were contained in an Oct. 13 letter from the bureau to Cadiz Chief Executive Scott Slater.
But Cadiz' pipeline faces a new hurdle: the state Lands Commission last month said in a letter to Cadiz that it must approve a 200-foot section of the pipeline that crosses state property. Opponents of the water pumping project latched onto this with calls for the state to require a full environmental review.
Cadiz responded that the statute of limitations to challenge the project's environmental approvals has passed.
The company's stock was virtually unchanged at the close of markets Monday at $12.80 a share.
Economy, education, energy and transportation reporter Howard Fine can be reached at hfine@labusinessjournal.com. Follow him on Twitter @howardafine.
For reprint and licensing requests for this article, CLICK HERE.