Will Silicon Valley Augment Snap's Reality?
TECHNOLOGY: Behemoths hand developers new tool box
Friday, October 13, 2017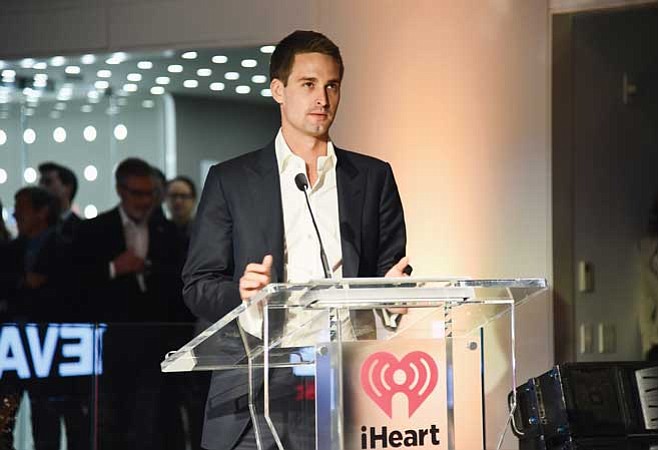 Snap Inc. creates more augmented reality content for its Snapchat users than any other firm in the world.
But the Venice-based unicorn's place on the leading edge of the technology is threatened by the launch of augmented reality platforms from Apple Inc., Alphabet Inc.'s Google and Facebook Inc.
Each of the Silicon Valley standard bearers rolled out software tool boxes that help developers insert augmented reality graphics into apps. Facebook launched Camera Effects in April, followed two months later by Apple's ARKit, with Google joining the fray in August with ARCore.
Facebook's threat perhaps looms largest because the social media behemoth already proved it can pick apart and copy Snapchat's most-popular features. The latest case in point: Facebook subsidiary Instagram's cloned "Stories" feature, which passed the original Snapchat version in total daily active users less than a year after it was rolled out.
Snapchat "can't compete head-on with their resources because Facebook is so big," said Jeff Kelley, an iOS developer for Detroit Labs, who has spent the last six years creating augmented reality apps.
Snap Inc. reported that it had $2.8 billion in cash and marketable securities for the quarter ended June 30, according to a filing with the Securities and Exchange Commission.
Facebook reported it had $35.5 billion in cash and marketable securities for the same period.
Developers and executives in the augmented reality industry said hope is not lost for Snap. The company's co-founders, Chief Executive Evan Spiegel and Chief Technology Officer Bobby Murphy, have demonstrated an uncanny ability to launch features on Snapchat that are perceived by teenagers as cool as well as ahead of the curve, they said. Such features include disappearing messages, slideshow stories, drawings overlaid on pictures and videos, and 3-D augmented reality content.
"I think Snap's competitive advantage is their rapid adoption of technology," said Guy Primus, chief executive of Virtual Reality Co., a mid-Wilshire firm that develops virtual and augmented reality entertainment content. "As the market continues to evolve I think Snap will lead the way in new technology."
Snap did not respond to a request for interview.
Closing the gap
Snapchat has long been out-front with its use of augmented reality. Its so-called lens feature, a face recognition technology launched in 2015, allows users to overlay images onto photos and videos of themselves. It is well-known for cute graphics, such as 3-D vomit rainbows and dog ears. Much of Snap's augmented reality content was developed using proprietary software, obtained through acquisitions of augmented reality companies and internal development, said augmented reality experts.
However, the launch of ARKit, ARCore and Facebook Camera saves independent developers the numerous hours and dollars that Snap had to invest to get to the current version of its software.
"It's really a library of underlying codes that's granted to developers so they don't have to develop themselves," said Matt Stern, chief operating officer of Mira Labs Inc., an augmented reality headset manufacturer and content developer. "At a minimum what these allow for is the ability to recognize horizontal planes."
The kits enable cellphone cameras to recognize horizontal planes in the real world, such as the top of a desk, the sky's horizon or the surface of the floor, he said. Recognizing horizontal planes is needed in order to realistically orient 3-D objects to the world around them – for example, showing a couch from Ikea by virtually placing it in the middle of your living room, Stern said. Cameras can also be programmed to recognize the features of human faces, such as the eyes and mouth. That feature is useful when overlaying images onto a user's face.
By freeing developers from reconstructing the building blocks of augmented reality, these platforms are already facilitating the creation of more augmented reality content, Stern added.
"Since the launch of iOS 11, which is required for ARKit, we've seen hundreds of applications in development which are now in the app store," Virtual Reality's Primus said. "When ARCore gets fully released to the public we also expect tons of applications as well."
Innovate faster
Snap's penchant for pushing innovative augmented reality content – as well as its massive 173 million daily active users – could help the company fight off the challengers.
Shareable augmented reality experiences, where 3-D objects viewed by two or more different people within a physical location, is seen as the next frontier in the medium, Detroit Labs' Kelley said.
"People want to make (augmented reality) more of a social experience," he said, noting that a large network helps Snapchat's users find others to share their experiences with.
San Francisco-based Niantic Inc.'s Pokémon Go app, which was downloaded more than 500 million times last year, is one such example of social augmented reality. That app's ability to create shared augmented reality experiences was relatively imprecise, however, according to Kelley.
He said this gap could be an opening for Snap to develop shared augmented reality experiences that are more realistic and precise.
And it appears the company is already venturing down that path. Snap this month launched an augmented reality art feature within Snapchat that allows users to view renderings of sculptures by pop artist Jeff Koons in public locations around the globe, such as New York's Central Park or Sydney's Opera House.
For reprint and licensing requests for this article, CLICK HERE.