Los Angeles Business Journal Women's Summit: SUMMIT SPEAKERS & PANELISTS
Custom Content by the Los Angeles Business Journal
Tuesday, October 10, 2017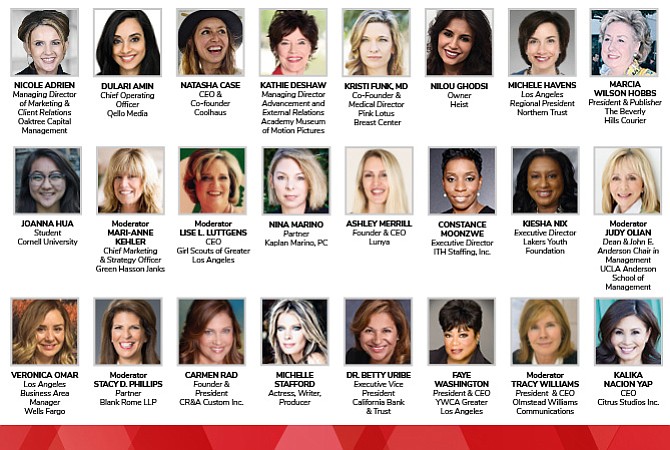 DULARI AMIN
Chief Operating Officer, Qello Media
Now serving as the new COO of Qello, Dulari Amin was most recently, co-Founder and President of Phenomenon, a brand strategy and creative agency. From 2006-2017, she bootstrapped Phenomenon to over 120 employees across two offices, and $30M+ in Revenue. Her firm's clients included some of the most recognized brands in the world. She started her career at Dentsu working in the network's high-growth agencies in New York City and New Delhi. Last year, she received a congressional honor from the House of Representatives for her contributions as entrepreneur in the State of California.
NATASHA CASE
CEO & Co-founder, Coolhaus
Natasha Case founded Coolhaus in 2009 with Freya Estreller, launching their unique ice cream sandwich company from a postal van at the Coachella Music Festival. The company has since become a leading innovative small dessert business, growing to include 4 trucks and 2 storefronts in LA, 2 trucks and one cart in NYC, and 4 trucks in Dallas. Consumers can also find Coolhaus' pre-packaged ice cream products in 5,000 gourmet grocery stores nationally. Case now serves as the CEO of Coolhaus, creating new product opportunities from development to design, building new relationships and innovating ideas as expansion continues.
KATHARINE DESHAW
Managing Director Advancement and External Relations, Academy Museum of Motion Pictures
Katharine DeShaw directs development, marketing and communications for the new Academy Museum of Motion Pictures located in Los Angeles. She is completing a $388 million capital campaign for the Renzo Piano-designed museum currently under construction. NationBuilder Books will publish her book—The Secrets of Fundraising—in the fall 2017. Previously, in 2005, the presidents of the Ford and Rockefeller Foundations recruited DeShaw to serve as the Founding Director of United States Artists for which she designed its USA Fellowship program, providing 50 artists a year grants of $50,000 each.
KRISTI FUNK, MD
Co-Founder & Medical Director, Pink Lotus Breast Center
Dr. Kristi Funk is board-certified surgical breast specialist who founded the Pink Lotus Breast Center in 2007 with her husband and business partner Andy Funk. She is an expert in minimally-invasive diagnostic and treatment methods for all types of breast disease. She has helped thousands of women through breast cancer treatment, including well-known celebrities like Angelina Jolie and Sheryl Crow, who have turned to her for her expertise. The Pink Lotus Breast Center fuses state-of-the art screening, diagnosis and treatment with preventive strategies and holistic, compassionate care.
For reprint and licensing requests for this article, CLICK HERE.
Prev Next