Los Angeles Business Journal Women's Summit: SUMMIT SPEAKERS & PANELISTS
Custom Content by the Los Angeles Business Journal
Tuesday, October 10, 2017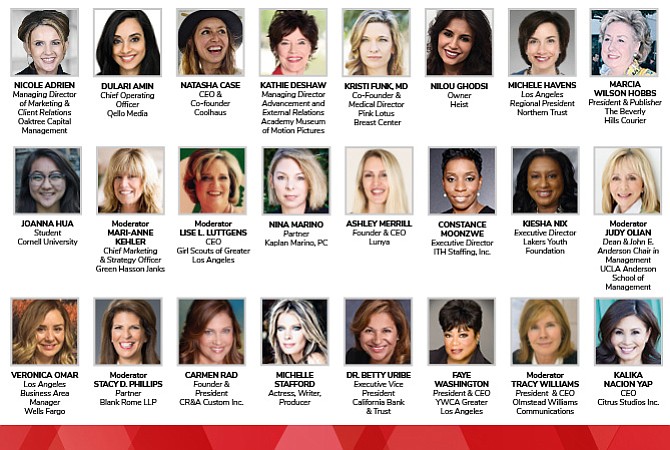 DULARI AMIN
Chief Operating Officer, Qello Media
Now serving as the new COO of Qello, Dulari Amin was most recently, co-Founder and President of Phenomenon, a brand strategy and creative agency. From 2006-2017, she bootstrapped Phenomenon to over 120 employees across two offices, and $30M+ in Revenue. Her firm's clients included some of the most recognized brands in the world. She started her career at Dentsu working in the network's high-growth agencies in New York City and New Delhi. Last year, she received a congressional honor from the House of Representatives for her contributions as entrepreneur in the State of California.
NATASHA CASE
CEO & Co-founder, Coolhaus
Natasha Case founded Coolhaus in 2009 with Freya Estreller, launching their unique ice cream sandwich company from a postal van at the Coachella Music Festival. The company has since become a leading innovative small dessert business, growing to include 4 trucks and 2 storefronts in LA, 2 trucks and one cart in NYC, and 4 trucks in Dallas. Consumers can also find Coolhaus' pre-packaged ice cream products in 5,000 gourmet grocery stores nationally. Case now serves as the CEO of Coolhaus, creating new product opportunities from development to design, building new relationships and innovating ideas as expansion continues.
KATHARINE DESHAW
Managing Director Advancement and External Relations, Academy Museum of Motion Pictures
Katharine DeShaw directs development, marketing and communications for the new Academy Museum of Motion Pictures located in Los Angeles. She is completing a $388 million capital campaign for the Renzo Piano-designed museum currently under construction. NationBuilder Books will publish her book—The Secrets of Fundraising—in the fall 2017. Previously, in 2005, the presidents of the Ford and Rockefeller Foundations recruited DeShaw to serve as the Founding Director of United States Artists for which she designed its USA Fellowship program, providing 50 artists a year grants of $50,000 each.
KRISTI FUNK, MD
Co-Founder & Medical Director, Pink Lotus Breast Center
Dr. Kristi Funk is board-certified surgical breast specialist who founded the Pink Lotus Breast Center in 2007 with her husband and business partner Andy Funk. She is an expert in minimally-invasive diagnostic and treatment methods for all types of breast disease. She has helped thousands of women through breast cancer treatment, including well-known celebrities like Angelina Jolie and Sheryl Crow, who have turned to her for her expertise. The Pink Lotus Breast Center fuses state-of-the art screening, diagnosis and treatment with preventive strategies and holistic, compassionate care.
NILOU GHODSI
Owner, Heist
After a decade-long successful career within the financial industry, Nilou Ghodsi took a leap of faith to pursue her dream to open a store that would essentially become a bigger version of her own closet. In 2004, she opened a curated high-end women's boutique located on Abbot Kinney Blvd. in Venice. Heist caters to the wordly woman who wants to explore and celebrate her individual sense of style by avoiding trends. Her keen eye for discovering emerging talent has garnered her a fiercely loyal niche clientele whom she lovingly refers to as "Repeat Offenders."
MICHELE HAVENS
Los Angeles Regional President, Northern Trust
Based in Los Angeles, Michele Havens serves as President of Northern Trust's Los Angeles and Santa Barbara Region with oversight for offices in Century City, Pasadena and Santa Barbara. In this position, she is responsible for the investment management, trust, estate, private and business banking business. She works extensively with high net worth families and their related charitable entities. She has a strong business record and brings an uncompromising focus to clients. In addition, she is a member of the Northern Trust's Western Region Executive Leadership Team and the firm's Global Business Leadership Council.
MARCIA WILSON HOBBS
President & Publisher, The Beverly Hills Courier
Marcia Hobbs is the President of Beverly Hills Publishing, which publishes the newspapers Beverly Hills Courier and the San Marino Tribune. Formerly, Hobbs was a marketing and strategic planning consultant with clients ranging from Smithsonian Institution to Ferrari. Leading by example as a productive contributor to the community, Hobbs is an active board member for a number of organizations, including Los Angeles-Guangzhou Sister City Association, Children's Hospital Los Angeles, Los Angeles County High School for the Arts, Children's Institute International, St. John's Hospital Foundation, and Good Shepherd Center for Homeless Women and Children.
JOANNA HUA
Student, Cornell University
Joanna Hua is a rising sophomore attending Cornell University, originally from Temple City. She is currently majoring in government and is also on the pre-med track, and hopes to work in the medical field with a specific focus on public policy. Hua was formerly on the Girl Scouts of Greater Los Angeles Girl Advisory Bureau, was named an Emerging Leader in 2014 and 2015, and earned the Gold Award—Girl Scouts highest honor—in 2015 for her sustainable service project promoting good mental health.
MARI-ANNE KEHLER
Chief Marketing & Strategy Officer, Green Hasson Janks
Serving as Chief Marketing and Strategy officer at Green Hasson Janks, Mari-Anne Kehler is a high impact leader who successfully expands business through action, using core skills of teaming, coaching, strategy development, program execution, measurement and innovation. She utilizes an integrated client-centric and industry approach, with experience in professional services, finance, consumer business, entertainment and media. Kehler's social good efforts have focused on organizational problem solving, leadership coaching, capacity building, constituent-development, communications, global and grass roots advocacy. Her passion for developing ideas and people allows her to flourish at Green Hasson Janks in one role, under one roof.
LISE L. LUTTGENS
CEO, Girl Scouts of Greater Los Angeles
Lise L. Luttgens was appointed the first CEO of Girl Scouts of Greater Los Angeles (GSGLA) in 2008. Since then, she has brought a renewed sense of growth and stability to the movement and a strong sense of community and collaboration to the council serving more than 40,000 girls. She leads with a strategic vision for the organization to play a pivotal and significant role in inspiring young women to reach their greatest potential. Previously, she was principal and founder of Luttgens & Associates, Inc., a firm specializing in nonprofit and health care organizations in transition.
NINA MARINO
Partner, Kaplan Marino, PC
Nina Marino is a 27-year lawyer and a State Bar of California Certified Criminal Law Specialist. Her practice focuses on white collar and complex criminal litigation on both a national and international level. Marino regularly represents individuals in matters involving allegations of all aspects of fraud. She also represents both foreign nationals and U.S. citizens in matters involving extradition and related Interpol notices. Marino's ability to communicate persuasively with government agencies on behalf of each client has served her clients' interests and is only matched by her skills as an effective and aggressive litigator.
ASHLEY MERRILL
Founder & CEO, Lunya
Ashley Merrill is the CEO and Founder of Lunya, sleepwear for the modern woman. Merrill launched Lunya in 2014 with a clear conviction that women's sleepwear was overdue for a fresh, modern perspective. She was a business leader (Merrill launched and managed online lifestyle destination Momtastic for Evolve Media) with no clothing industry experience, but in October of 2012, she decided to take a leap and fulfill her longtime dream of becoming an entrepreneur. She is also passionate about empowering women through education and business opportunity with a keen focus on impact investment in education and female entrepreneurship sector.
CONSTANCE MOONZWE
Executive Director, ITH Staffing, Inc.
Constance Moonzwe is an authority on training and staffing for healthcare and information technology positions. She is the Founder of ITH Staffing, which recruits for over 1,000 healthcare and IT organizations in all 50 states. Moonzwe has over 19 years of experience in the fields of Human Resources, Risk Management, Recruitment, and Compliance. ITH Staffing has served the clinical staffing and training arena for over ten years and the addition of technology staffing was designed to amplify the company's presence in health care technology and associated industries.
KIESHA NIX
Executive Director, Lakers Youth Foundation
Kiesha Nix is currently the Executive Director of the Lakers Youth Foundation where she oversees and directs programming and funding priorities for the charitable arm of the Lakers. She is responsible for implementing the mission of the Foundation, which is to assist underserved youth in our communities to develop and recognize their full potential by providing positive experiences and resources in education, health and wellness, and sports. Formerly Nix served as a Vice President in Enterprise Business & Community Relations at Bank of America.
JUDY OLIAN
Dean, UCLA Anderson School of Management
Judy D. Olian, Ph.D., is dean of UCLA Anderson School of Management and John E. Anderson Chair in Management. She began her appointment in January 2006 after serving more than five years as dean and professor of management at the Smeal College of Business Administration at Pennsylvania State University, and professor and senior associate dean at the Smith School at the University of Maryland. Under her leadership, UCLA Anderson has hired a record number of faculty and raised over $350 million for students and faculty support and to create innovative programming.
VERONICA OMAR
Los Angeles Business Area Manager, Wells Fargo
Veronica Omar is Los Angeles Business Area Manager for Wells Fargo's Los Angeles Bank. In her current role, Omar supports over 800 team members in 53 stores throughout Los Angeles, Beverly Hills, Hollywood Hills, Valley Crossroads and West Valley. A 12-year Wells Fargo veteran, Omar began her career as a credit manager in the Northridge branch. She has held various positions during her tenure at Wells Fargo including assistant and branch manager in various San Fernando Valley area branches. She is active in her community and volunteers at Habitat for Humanity and Meeting Each Need with Dignity (MEND).
STACY PHILLIPS
Partner, Blank Rome LLP
Stacy D. Phillips is a Certified Family Law Specialist and one of the country's most well-known and respected family law practitioners, having achieved virtually every honor available to a lawyer for her work. She is also an author, sought-after commentator, speaker and writer, philanthropist, and a tireless advocate for children and families. Throughout her career, she has given back through active involvement as a leader and volunteer in community and nonprofit organizations and professional associations. At Blank Rome, Phillips represents a wide variety of high-profile clients as they undergo the difficult changes involved in divorce and custody issues.
CARMEN RAD
Founder & President, CR&A Custom Inc.
Carmen Rad's entrepreneurial venture, CR&A Custom, is among only a handful of large-format digital printing and outdoor advertising companies in America that is minority (Hispanic) and woman-owned. CR&A Custom operates out a 25,000 square foot facility in the heart of Downtown LA and is full-service with the capability to design, manufacture, print, and install commercial signage and outdoor advertising formats. Examples are the oversized banners at Staples Center and L.A. Live entertainment campus as well as work for major corporations around the world.
MICHELLE STAFFORD
Actress, Writer, Producer
Michelle Stafford is an American actress, writer and producer. She is one of the most popular actresses in daytime TV and arguably best known for creating the role of Phyllis Summers on The Young and the Restless, which she played for 15 years. In 2013, she launched her web series, The Stafford Project. She currently portrays the character of Nina Reeves on ABC's General Hospital. She also has her own skincare line called Skin Nation that she launched in 2016. The skincare products are natural, organic, gluten-free, vegan and cruelty-free.
DR. BETTY URIBE
Executive Vice President, California Bank & Trust
Dr. Betty Uribe is Executive Vice President at California Bank & Trust and author of the international best seller, #Values, The Secret to Top-Level Performance in Business & Life. For nearly three decades, Dr. Uribe has been transforming business, culture, and people through values based leadership. At CB&T, Dr. Uribe has P&L responsibility for the Greater Southern California Division, a $3.5 billion line of business covering retail and business banking. Dr. Uribe is a recognized authority on the psychology of leadership, organizational turnarounds, and peak performance.
FAYE WASHINGTON
President and CEO, YWCA Greater Los Angeles
As President & CEO of the YWCA Greater Los Angeles, Faye Washington is a rainmaker in the world of non-profit. Her 32-year government record of management, personnel administration, legislative and budget policy development, strategic planning and implementing budgets of over $3 billion created the landscape for her groundbreaking tenure of leading the YWCA GLA in its mission of eliminating racism and empowering women. Washington strategically pursues funding opportunities that result in multi-generational impact and long-term residual value for the community at large. Through meticulous hard work, creative vision, audacity, and persistence, Washington has become known as a "game changer."
TRACY WILLIAMS
President & CEO, Olmstead Williams Communications
Tracy Olmstead Williams has 25 years of experience delivering public relations and crisis communications expertise to businesses. She founded Olmstead Williams Communications in 2008 and has led the company to double-digit growth. Williams partners with company CEOs, attorneys and internal communications teams to build campaigns that achieve business objectives. That focus on maximizing returns and attracting investors has brought the firm clients from private equity, investment banking and global financial and healthcare firms. Her emphasis on mitigating risk has made her a trusted advisor for companies and institutions for crisis management and litigation communications.
KALIKA NACION YAP
CEO, Citrus Studios Inc.
Kalika Yap is a flourishing serial (concurrent) entrepreneur whose businesses include award-winning brand agency Citrus Studios, Luxe Link, the Waxing Co. Her latest start up Orange & Bergamot democratizes branding & marketing for women owned businesses. She is also President-Elect of the Entrepreneurs' Organization, Los Angeles. A native of Honolulu, Hawaii, Yap started out working as a journalist for CNBC and Bloomberg after graduating from NYU, before making the move to the West Coast — the first step on her continuous entrepreneurial journey.
For reprint and licensing requests for this article, CLICK HERE.