Private Aviation Guide: Castle & Cooke Aviation - Fueling Los Angeles' Economic Engine
Custom Content by the Los Angeles Business Journal
Wednesday, October 4, 2017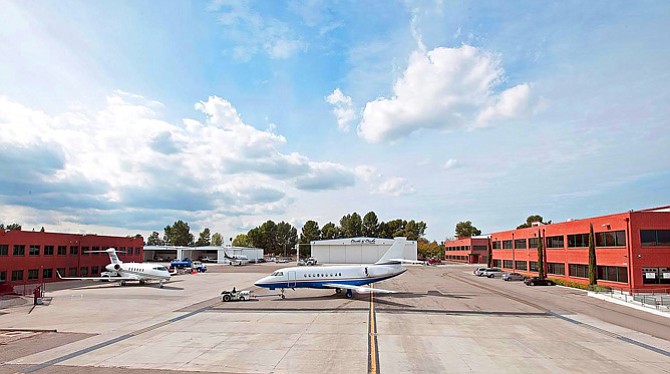 Despite the ease of communication afforded by modern technology, nothing can replace the value of face-to-face interactions for businesses in a highly-connected, globalized market. That's where local company Castle & Cooke Aviation—based at Van Nuys Airport (KVNY)—fits into the business plan of Los Angeles' premier corporations.
Operating out of a private aviation terminal, Castle & Cooke Aviation provides businesses in the greater Los Angeles and San Fernando Valley area with the aircraft solutions they need to make face-to-face interactions happen. What drives this need? For savvy companies, business aviation—unscheduled air travel via charter or privately-owned aircraft—is not simply a matter of convenience. It's the fuel that drives the success of their enterprises; the fuel that drives LA's economic engine.
According to the National Business Aviation Association (NBAA), organizations that use business aviation—as opposed to commercial airlines—outperform organizations that do not in numerous key measures: annual growth earnings, stock and dividend growth, total share price and market capitalization. In fact, these companies are recognized as the "best of the best" for in innovation, branding, places to work and revenue growth, among others. Quite simply, companies that utilize business aviation tend to be better managed.
After more than 30 years in the aviation business, Castle & Cooke Aviation knows how to best serve business clientele. The company has built a reputation for luxurious private air travel and quality services for nonstop excellence and nonstop elegance. Along with all the necessary aircraft handling operations (such as fueling and hangaring), guests to Castle & Cooke Aviation can trust its specially-trained team members to provide a premier experience with expert concierge care, an elegant lobby and reception room, an executive conference room for business on the go, and a VIP event and meeting space across from the operator's terminal building. And with more than 210,000 square feet of hangar space, 205,000 square feet of ramp space, and 45,000 square feet of Class A office and shop space, Castle & Cooke Aviation has plenty of space to accommodate local businesses' needs.
"We provide so much more than a standard aircraft handler," said Tony Marlow, Castle & Cooke Aviation's vice president of operations and business development. "We provide a premier travel experience, which can be crucial when flying in an important prospect. We're able to better serve our customers by offering them the space to provide their guests with an excellent first and last impression on their business trip. We're effectively an extension of their operation."
Prev Next
For reprint and licensing requests for this article, CLICK HERE.