Corporate Citizenship & Giving Guide: Girl Scouts of Greater Los Angeles
Custom Content by the Los Angeles Business Journal
Thursday, November 30, 2017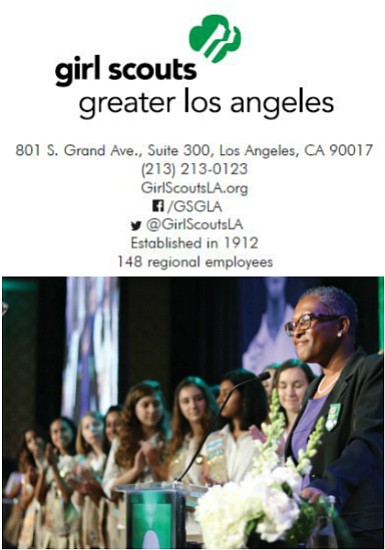 SERVICE AREA
As our region's leading and largest girl-focused nonprofit, Girl Scouts of Greater Los Angeles supports nearly 43,000 girls to thrive in partnership with more than 24,000 adult members and volunteers in Los Angeles County and parts of Kern, San Bernardino, and Ventura counties.
MISSION STATEMENT
Our mission is to build girls of courage, confidence, and character, who make the world a better place. We prepare girls for a lifetime of leadership by providing access to pivotal experiences, skills, and connections, while improving their communities.
COMMUNITY IMPACT
In 2017, we increased our impact by growing our membership in underrepresented communities by 19 percent, serving 13,200 girls in these areas. Our time-tested, research-backed programs empower girls to seek challenges, develop their confidence, and build healthy relationships.
LEADERSHIP
EXECUTIVE LEADERSHIP
Lise L. Luttgens
Chief Executive Officer
Brenda Zamzow
Chief Financial & Administrative Officer
BOARD OF DIRECTORS
Patricia A. Crider
Westfield Corporation
Cheryl Hundley
Blackline, Inc.
Shelley Thompson
Philanthropist
Jana Monroe
Herbalife
Kathryn E. Nielsen
Columbia TriStar Motion Pictures
David A. Battaglia
Gibson Dunn
Steve Bolkovatz
The Capital Group
Mia Britel
Deloitte Consulting LLP
Lana Bykova
Wells Fargo
Juanita Dawson
Raytheon
Lisa Greer
Whittier Enterprises
Karen Jong
RSM US LLP
Anthony "Tony" Kaufman
Princess Cruises
Chet A. Kronenberg
Simpson Thacher & Bartlett LLP
Manju Kulkarni
Asian Pacific Policy and Planning Council
Megan L. Martin
Warner Bros. Entertainment
Frances Moreno
Vaco Los Angeles, LLC
Michelle Reagan Attalla
City National Bank
April Spencer
Ernst & Young
Tania Van Herle
Harley Ellis Devereaux
Michelle Wroan
KPMG LLP
AREAS OF FUNDING
Your support plays a direct role in empowering and inspiring girls, and aligns your company with one of the most recognized nonprofit organizations and the second most-valued brand in the world. Partner with us to advance our program initiatives (STEM, entrepreneurship, outdoor, and life skills) or sponsor a signature event:
Volunteer Recognition Ceremony
Nearly 500 guests pay tribute to outstanding volunteers who make a difference in the lives of girls.
Gold Award Ceremony
Gold Award Girl Scouts who have earned the highest Girl Scout honor are recognized in a celebration by more than 750 guests. Our annual Gold Award class is consistently the largest in the nation.
Family Fit Fair
Featuring a 5K challenge course, the event attended by more than 1,200 Girl Scouts and family members culminates in a fit fair that promotes healthy living.
ToGetHerThere Luncheon
At a celebration of female leadership, more than 500 influential women and men and our Emerging Leader Girl Scouts gather for an event filled with inspiration and mentorship.
For more information, call (626) 677-2338.
VOLUNTEER OPPORTUNITIES
As a volunteer, you help girls unleash their inner leader, build essential life skills and confidence, and create memories they will never forget. There are many ways to get involved as a Girl Scouts of Greater Los Angeles volunteer—from becoming a troop leader to mentoring other adult volunteers. The level of commitment is up to you, whether you can give a few hours, a few weeks, or a few months of your time.
All adults, ages 18 and older, are welcome to apply. Call (213) 213-0123 or go to girlscoutsla.org to learn more.
GIVING OPPORTUNITIES
Advance our mission through general support
Corporate giving/sponsorships
Events and program partnership
Workplace/matching gifts
Planned giving
Stock
Employee volunteerism
For more information, contact Girl Scouts of Greater Los Angeles' development department at
(626) 677-2314 or click "Donate" on GirlScoutsLA.org.
GOALS FOR 2018
Reach more girls in underserved and underrepresented communities through outreach efforts and community partnerships.
Enhance the volunteer experience through increased support and training to ensure more girls benefit from the Girl Scout Leadership Experience.
Deliver more dynamic, high-quality outdoor program experiences to girls across Greater LA.
For reprint and licensing requests for this article, CLICK HERE.