Corporate Citizenship & Giving Guide: American Red Cross – Los Angeles Region
Custom Content by the Los Angeles Business Journal
Thursday, November 30, 2017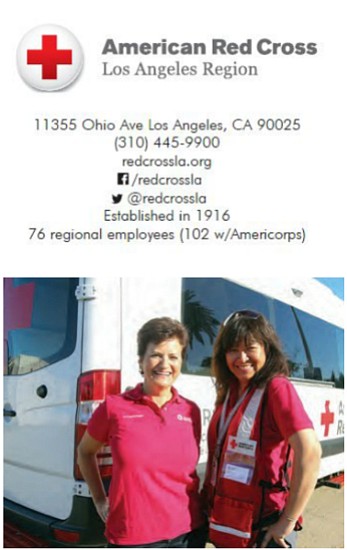 VOLUNTEER OPPORTUNITIES
Red Cross volunteers offer help and hope, and carry out 90% of our humanitarian work. We need volunteers, young and old, to contribute their unique backgrounds, talents and skills to our five lines of service. Individuals can help recruit blood donors and assist with donation drives. Locally, volunteers work in our emergency shelters or with the Disaster Action Team who respond to single-family fires. Hundreds of trained volunteers are deployed to major disasters around the country each year. Those who enjoy teaching train as instructors for Red Cross courses in disaster preparedness, CPR, First Aid, water safety, babysitting or International Humanitarian Law. The Red Cross serves the armed forces at Veterans Administrations and military hospitals, and as caseworkers to help families communicate with deployed personnel. We rely on nurses and mental health workers, those with marketing, communication and clerical skills and people with foreign language fluency to translate during Red Cross events or assist in international searches for persons living overseas or in war-torn countries.
GIVING OPPORTUNITIES
The generosity of donors empowers the Red Cross to fulfill our humanitarian goals around the globe, across the country or down the street. Disasters occur nearly every day – from residential fires to large scale events that affect whole communities. Individuals can donate money online, via text, by phone or mail. They can bestow one-time gifts, set up monthly donations or arrange planned giving opportunities. People can also gift vehicles, stocks and bonds, airline miles, and reward points, or donate at point of purchase with many of our major retailers and partners. Individuals can also arrange online auctions, host Facebook or Crowdrise fundraisers or organize in-person events that raise money for the Red Cross. Businesses, large and small, can match employee contributions, encourage workplace giving challenges or join us as partners at various sponsorship levels that support multiple Red Cross initiatives and programs and disaster relief.
Prev Next
For reprint and licensing requests for this article, CLICK HERE.