Corporate Citizenship & Giving Guide: American Red Cross – Los Angeles Region
Custom Content by the Los Angeles Business Journal
Thursday, November 30, 2017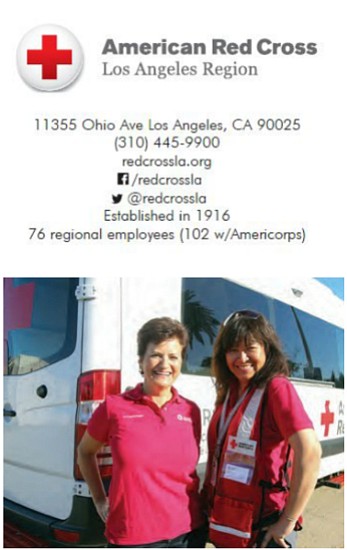 SERVICE AREA
The Red Cross Los Angeles Region is part of a nationwide network of locally supported chapters and serves over 10 million people in Los Angeles, Inyo, Mono, and Kern Counties.
MISSION STATEMENT
The American Red Cross prevents and alleviates human suffering in the face of emergencies by mobilizing the power of volunteers and the generosity of donors.
COMMUNITY IMPACT
Local volunteers and staff responded to 457 home fires, provided 10,400 comfort kits to veterans, trained nearly 140,000 individuals in first aid, and provided 146,000 units of donated blood from residents of LA.
LEADERSHIP
EXECUTIVE LEADERSHIP
Jarrett Barrios
CEO
BOARD OF DIRECTORS
Officers
Andrea Davis – Board Chair, The Walt Disney Company
David Allen – Vice Chair Barnes & Thornburg LLP
Bruce Daly – Vice Chair Deloitte & Touche, LLP
Scott Olmsted – Vice Chair, Bank of America Merrill Lynch
Members
Javier Angulo, Walmart
Judy Chambers Beck, Community Volunteer/ Artist
Kullen Birkeland, Grant Thornton
Andy Carrasco, Southern California Gas Company
Anne Chapman, Capital Group
Hannah Coan, Capital Group
Chadd Davis, Etonien LLC
Ron Dresher, D&B Marketing, LLC
James "Jamey"
Bradley Edwards, Cloudbreak Health, LLC
Angela Evans,Crenshaw Christian Center
Jim Fielding, 20th Century Fox
Adam Feit, Union Bank
Liz Giordano, Community Member
Meloni Hallock, Acacia Wealth Advisors
Patricia Hamrick, Arconic
Joan Herman, Herman & Associates LLC
Jay Hong, Wells Fargo
Kirk Hyde, Hyde Properties, LLC
Lois Ingham, Community Member
Sachin Jain, CareMore Health System
Vincent Jones, Reinvent Communications
Joseph Kanimian, Law Offices of Joseph Kanimian
Barbara Mathews, Edison
Cheryl Moersen, Ernst & Young
Tomoko Nagashima, PricewaterhouseCoopers
Michael Pagano, City National Bank
Ryan Patel
Tom Schwaninger, L.A. Care Health Plan
Tom Tierney, Westfield Property Group
Jorge Villegas, L.A.P.D.
Bill Walrath, Southern California Farmers Insurance
Bruce Watkins, Emser Tile
Samantha Yin, Youth Board Member
Lifetime Members
Willard Z. Carr, Jr., Gibson Dunn & Crutcher
Martin Cozyn, Occidental Petroleum
Rod Hagenbuch, Raymond James Associates
Kirk Hyde
Hyde Properties, LLC
Edmond Lelo, Wells Fargo International Group
Irv Margol, Eddy Associates
Allen Mathies, Jr., M.D., Huntington Memorial Hospital, Dean Emeritus Keck School of Medicine, USC
Buzz (Bowen) H. McCoy, Buzz McCoy Associates, Inc.
William A. Niese, Leadership Volunteer
Jay Rodriguez, Leadership Volunteer
Jeff Sakaguchi, National Philanthropic Board
Jill Valenti, National Philanthropic Board
FUNDRAISING EVENTS
The Los Angeles Region has several fundraising events in 2018. We are thrilled to kick off our second century of service with our annual Humanitarian Celebration on March 9th. Guests will wine and dine at chef-curated tasting stations before while we recognize our honorees; the evening continues with dessert, a DJ and of course, dancing! Our highly anticipated Annual Celebrity Golf Classic is a funfilled, celebrity-packed day of drives, chips and putts at LA's prestigious Lakeside Golf Club. Guest will join us on the links and stay for dinner and cocktails in the Clubhouse, all to support and raise money for Disaster Relief efforts. As an organization, we will Sound the Alarm, Save a Life in high-risk neighborhoods during the last weekend of April and first 2 weeks of May when Red Cross volunteers, along with local fire departments and other partners will install free smoke alarms and provide home fire safety tips. On May 10th, we honor our hometown heroes in Long Beach: ordinary people doing extraordinary things who use their Red Cross lifesaving tools in the service of others.
Prev Next
For reprint and licensing requests for this article, CLICK HERE.