Corporate Citizenship & Giving Guide: APLA Health
Custom Content by the Los Angeles Business Journal
Wednesday, November 29, 2017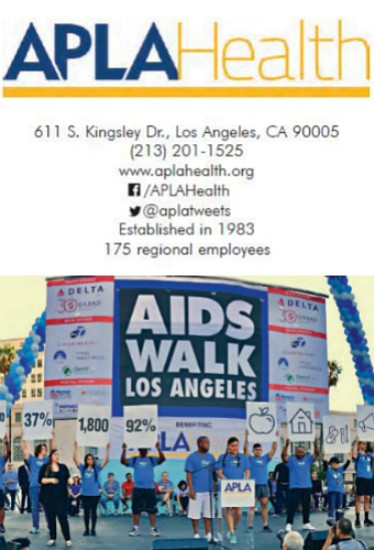 SERVICE AREA
Los Angeles County
MISSION STATEMENT
APLA Health's mission is to achieve health care equity and promote well-being for the LGBT and other underserved communities and people living with and affected by HIV.
COMMUNITY IMPACT IN 2017
Provided medical, dental, behavioral health and social care services to more than 14,000 Angelenos from 15 locations. Have provided culturally outreach and care throughout Los Angeles's vibrant communities.
LEADERSHIP
EXECUTIVE LEADERSHIP
Craig E. Thompson
Chief Executive Officer
cthompson@apla.org
BOARD OF DIRECTORS
OFFICERS
Peter Perkowski
Chair, Perkowski Legal, PC
James Patton III
Vice Chair, Integrated Construction Associates
Alan R. Walden
Treasurer, Capital Group
Janice Littlejohn
Secretary, Los Angeles Review of Books
DIRECTORS
Don Baxter, AFAO International Programs
Craig Bowers, Incluence
Paula Cannon, University of Southern California
Tracy Cohen, Clientline Volunteer
Cameron Fox, Paul Hastings
Anthony Henderson, Inventiv Health
Val Jackson, Cardinal Health
Lee Klosinski, UCLA Nathanson Family Resilience Center
Jessie L. McGrath, Los Angeles County
DJ Moore, Latham & Watkins LLP
Ron Sylvester, RS/tv, Inc.
Tom Whitman, Ion Marketing
Craig E. Thompson, AIDS Project Los Angeles
FUNDRAISING EVENTS
The Envelope Please: An Oscar Viewing Party
Dining Out For Life
Art Project Los Angeles
AIDS Walk Los Angeles
VOLUNTEER OPPORTUNITIES
We adore our volunteers! We offer a unique experience to give back by providing opportunities in office administration, client services and assistance with our fundraising events. We provide corporate partner volunteers with the opportunity to work at our Vance North Necessities of Life food pantry program (typically 2 – 4 hours). Our warehouse is located in North Hollywood and we have several distribution sites throughout Los Angeles County. Additionally, our signature event – AIDS Walk Los Angeles – provides opportunities for thousands of volunteers during the months of August, September and October.
GIVING OPPORTUNITIES
When you make a donation to APLA Health, you are giving thousands of people across Los Angeles
County access to life-saving services and quality health care.
Event sponsorship
Corporate sponsorship
Community events including annual holiday food drive
In-kind donations
Individuals contributions at aplahealth.org/donate.
GOALS FOR 2018
Develop and implement program activities for women and older adults living with HIV.
Implement Behavioral Health Services to include substance abuse disorders.
Increase agency and grassroots response to assaults on U.S. safety net programs.
Achieve National Committee (NCQA) of Quality Assurance Patient Center Medical Home (PCMH) certification.
For reprint and licensing requests for this article, CLICK HERE.