Corporate Citizenship & Giving Guide: Leadership in Los Angeles
Custom Content by the Los Angeles Business Journal
Tuesday, November 28, 2017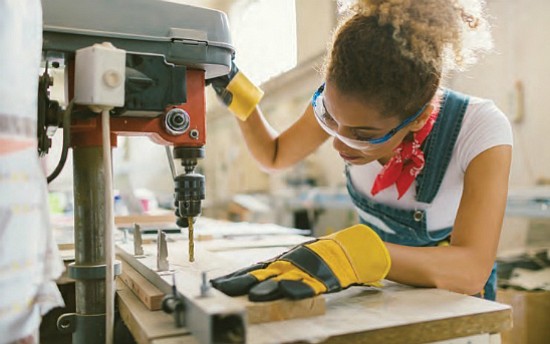 JPMorgan Chase is Driving Inclusive Growth and Helping More Angelenos Share in the Rewards of a Growing Economy
Creating greater economic opportunity for more people in Los Angeles is one of the defining challenges of our time. Too many people are being shut out of the rewards of our growing regional economy and the frustration and disillusionment that follow have had deep and far reaching impacts. Increasing economic opportunities must be a responsibility and an imperative for everyone – including corporations. Since 2014, JPMorgan Chase has committed more than $29 million in Greater Los Angeles towards some of the universal drivers of inclusive growth: workforce readiness training, small business expansion and the creation of affordable housing.
AFFORDABLE HOUSING
The city of Los Angeles declared a state of emergency on homelessness two years ago. But the crisis persists. JPMorgan Chase is engaged in solutions. We closed more than $70 million in community development construction loans in Los Angeles last year, which will create more than 380 new units of low- cost housing.
For the third year in a row, we are sponsoring the United Way of Greater Los Angeles' Home- Walk, a 5K run/walk with the mission of raising money and awareness to help end homelessness in the county. Hundreds of our employees have committed to participating in this year's walk, Nov. 18.
We are also working with numerous community partners. Last month, we announced a $3.5 million commitment to two community development financial institutions (CDFIs) to help create affordable housing in two of California's most expensive housing markets: Los Angeles and San Jose.
The Housing Trust Silicon Valley and Genesis LA Economic Development Corp.'s Small Housing, Big Impact initiative will take advantage of growing interest in accessory dwelling units (ADUs) -- also called granny flats and backyard cottages. In the wake of recent state legislation that gives California cities more flexibility and latitude to allow homeowners to build ADUs, these CDFIs will pilot a program – seeded by our grant -- to finance loans to lower- and middle income homeowners to build ADUs and help ease the housing crunch.
The initiative is part of a larger five-year $125 million national JPMorgan Chase program, PRO Neighborhoods, which supports economic development, small business growth and affordable housing by partnering with CDFIs to pool resources and expand lending activities for neighborhood development projects.
JOBS AND SKILLS
We believe that one of the best ways to advance opportunities is to prepare people for good paying jobs that offer a path to the middle class. As California's economy grows, many of our clients are telling us they can't find job candidates with the necessary skills to do the work they have available.
That's why we are contributing $10 million over five years in LA as part of a global initiative called New Skills at Work. It's the largest ever private-sector effort aimed at helping to prepare youth and adults for careers in high-demand, middle-skill occupations in sectors important to LA such as healthcare and global trade.
Our commitment is supporting numerous organizations including:
The LA Conservation Corps' Young Adult Corps, which provides paid job training and supportive services to build resumes, simulate job interviews, dress for success and search for jobs
The LA Business Council, which is researching the growing gap between the needs and supply of well-trained labor in the utilities sector.
The LA Area Chamber of Commerce Foundation, which is building partnerships between local community colleges, post-secondary institutions, K-12 schools and employers.
This fall, we launched a new class of The Fellowship Initiative (TFI) – a program that helps young men of color from economically distressed communities in Los Angeles, New York, Chicago and Dallas prepare for college and career success.
Forty high school sophomore young men of color from Greater LA were selected to spend three Saturdays a month receiving intense academic tutoring, mentoring and professional development guidance.
Each fellow will be partnered with a JPMorgan Chase employee for mentoring. The goal is not to turn them into bankers but to usher them into college prepared for the careers of their choice.
Our first class of TFI Los Angeles fellows graduated in May with great success:
100% of the fellows who completed the first program graduated from high-school on time
About 70% of the fellows were the first in their family to attend college
All gained admission to college and, nationally, TFI Fellows were accepted to more than 200 colleges, receiving more than $20 million in scholarships and aid
For many TFI Fellows, the program was life changing. Academic standings improved and a new confidence emerged. They went on college tours to nine campuses and took the SAT together. The summer of their junior year, the group completed a leadership program in South Africa. For 17 days, they toured famous sites such as Nelson Mandela's jail cell on Robben Island, the Apartheid Museum and Kruger National Park.
We are excited as the next TFI class of 2021 settles in and begins its journey to graduation and beyond.
SMALL BUSINESS GROWTH
We are firmly committed to supporting Main Street. Our firm serves more than 400,000 businesses in Los Angeles County, partnering with them on their depository, lending and cash management needs. We recognize that a strong neighborhood-based small-business sector means more local jobs and increased economic opportunity for all.
We recently committed $555,000 to Los Angeles nonprofits focused on small business, including to:
The Opportunity Fund, to help expand its services to Los Angeles and the Central Valley – offering flexible capital to neighborhood-based small businesses operated by historically under-represented populations.
Pacific Coast Regional, to support their lending and technical assistance to businesses owned by African Americans and Latinos.
Los Angeles Business Council Institute to support their research and design of a program to increase access to procurement opportunities related to the 2024 Olympic Games for small and minority-owned businesses.
In addition, this month we committed $1.2 million to Main Street Launch, to help that nonprofit provide capital and education services to small businesses owned by veterans.
We are very proud of our work here in Los Angeles. We remain committed to making our communities even stronger through investments and leadership.
This article provided by JPMorgan Chase.
For reprint and licensing requests for this article, CLICK HERE.