Sensor System Has Raytheon Seeing Green
Company says there are widespread applications for data-gathering tech
Friday, November 24, 2017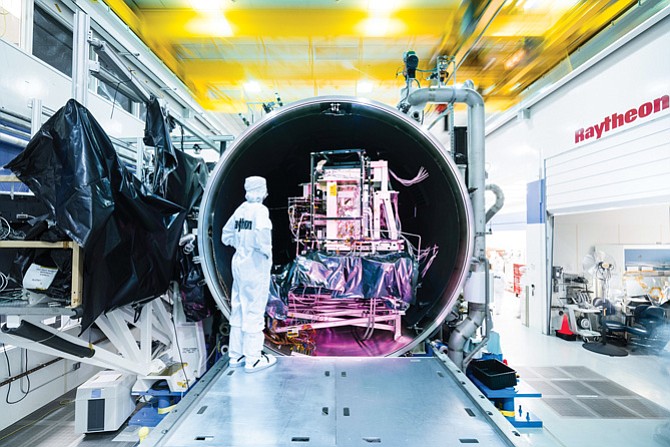 Spotting a 200-watt light bulb in the middle of the Pacific Ocean from outer space requires more than 20/20 vision and strained squinting.
The resolution weather forecasters can expect from Raytheon Space & Airborne Systems' Visible Infrared Imaging Radiometer Suite sensor, or VIIRS, goes above and beyond the human eye's limitations and of previous equipment, according to engineers at the company's El Segundo facility.
Raytheon launched VIIRS onboard a Delta II rocket this month as a component of the Joint Polar Satellite System-1. The dishwasher-sized sensor was built by 150 employees and is the second VIIRS sensor in orbit. It promises to drastically improve the quality of data collected by the National Oceanic and Atmospheric Administration.
There's are two more VIIRS instruments on order in addition to the two in orbit. The total value of all four VIIRS is approximately $1.1 billion, funded by the U.S. government.
The system combines the capabilities of four previously separate sensors into one at a much higher resolution, said Robert Curbeam, vice president and deputy of the Space Systems mission at Raytheon.
"That allows you to get better data on your forecasting models," he said.
The sensor collects visible and infrared imagery, as well as radiometric measurements, of the land, atmosphere, cryosphere and oceans. Such measurements are useful for gauging ocean color, sea and land surface temperature, ice motion and temperature, and the spread of wildfires. The system even allows meteorologist to collect weather data at night.
"That's a big deal because that gives you more observations," said Curbeam, who previously was a naval aviator and flew as a crew member on three Space Shuttle missions for NASA.
"Because you've increased the frequency of your operations that means that you have more opportunities to put recent data into your weather forecasting model. If you have recent data in your weather forecasting model you're going to have better weather forecasts."
Uber for Kids
HopSkipDrive, a child-safe ridesharing service, announced last week that it closed a $7.4 million round led by school bus operator Student Transportation Inc.
Student Transportation of Wall Township, N.J. will work with Santa Monica-based HopSkipDrive to expand its ridesharing services inside and outside of California as an alternative to school bus transportation, particularly in areas where there aren't enough students to fill a bus.
Drivers for HopSkipDrive are background checked, finger printed and must have experience working with children. The ridesharing service currently operates in Los Angeles, Orange County and the San Francisco Bay Area. Student Transportation's buses transport 1.25 million children to and from school every day, the company said in a press release.
HopSkipDrive has ridesharing and carpool agreements with more than 200 schools, said Joanna McFarland, chief executive of the service. In some cases, the schools pay for the carpools and in others parents pay while the school helps organize.
"We work with private schools, charter schools, as well as other organizations, and we help them setup carpools and rides to and from school or to other activities," said McFarland.
Denis Gallagher, chief executive of Student Transportation, will join HopSkipDrive's board of directors as part of the investment. Existing investors including FirstMark Capital, Upfront Ventures, as well as new investors Skyview Capital and Halogen Ventures, also participated in the investment.
Tech Tenant
Millions of square feet of positive net absorption have come from a few major tech and internet media companies in Los Angeles – a trend expected to continue, according to a report by CBRE Group Inc. of downtown Los Angeles.
Notable examples of large leases by tech companies in Los Angeles in recent years include Amazon Studios' plans to move into more than 280,000 square feet at Culver City Studios; Snap Inc.'s lease of 300,000 square feet at Santa Monica Business Park; and Netflix Inc.'s accumulation of about 560,000 square feet of space at Sunset Bronson Studios in Hollywood, said John Zanetos, a CBRE senior vice president.
"Those examples are significant market movers for Los Angeles," he said, adding:
"In terms of Netflix, in Hollywood they absorbed a significant amount of space in a market that's relatively small. That's caused upward pressure on rents in Hollywood."
Staff reporter Garrett Reim can be reached at greim@labusinessjournal.com or (323) 556-8332.
For reprint and licensing requests for this article, CLICK HERE.