Airbnb Approach on Warehouse Space
Friday, November 17, 2017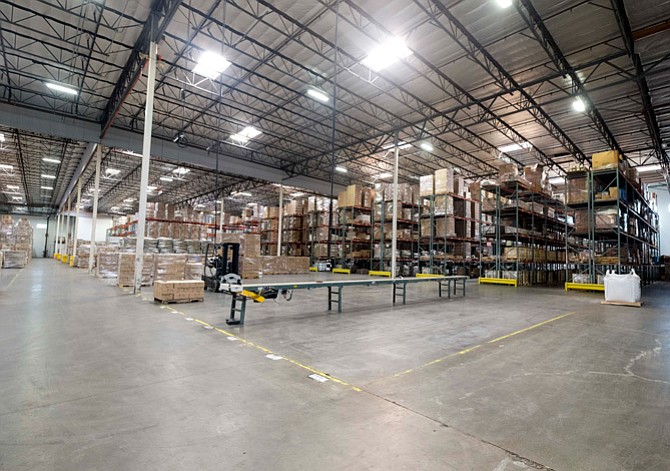 The head of a Westside investment fund who doubles as chairman of a major trucking outfit at the ports has launched a third enterprise that he's billing as the Airbnb of warehouse space.
Warehouse Exchange launched two months ago to create a digital marketplace matching landlords or tenants with unused warehouse space with businesses that need to store products or cargo on a short-term basis.
The company was started by Jonathan Rosenthal, who is the co-managing partner of Saybrook Corporate Opportunity Funds, a Sawtelle-based investment firm. A subsidiary of the firm, Rancho Dominguez-based Total Transportation Services Inc., one of the largest trucking and logistics company operating at the San Pedro ports, filed for chapter 11 bankruptcy protection last year, shortly after it lost legal claims filed by truckers working as independent contractors who wanted employee status.
Rosenthal serves as chairman of Total Transportation, which remains in operations. It's a job that has provided him with practical insights on logistics and the warehouse sector of the local real estate market.
Warehouse Exchange will aim to address what Rosenthal calls the "inefficiency and inelasticity" in the warehouse sector.
"If a retailer mostly fills up capacity in the warehouse it leases during peak season, what happens to some of the unused space that's sitting there for the rest of the time? That's where we come in," Rosenthal said.
The company launched its first market in Southern California and plans to launch into more cities over the next few years. Rosenthal said that the current system for warehouse booking is cumbersome and gives warehouses no opportunity to capitalize on excess space, while leaving some businesses with too much of it at any time of year.
The company's marketplace matches landlords or tenants who can sublease space with prospective short-term tenants in real time on its website. Anyone looking to store anything on a short term basis can match the parameters of its needs to available on this platform, Rosenthal said.
The company does not set pricing, but leaves the two parties to negotiate their terms. A deal based on pallets, for example, might come with a price ranging from $6 to $20 per pallet. Warehouse Exchange would take a percentage of the total value of the deal as its fee.
The company so far has over 20 facilities listed on its platform with around 450,000-square-foot of available space across the West Coast and the Mid-West. It counts 10 employees and was initially funded by Rosenthal and a group of investors, he said.
Jim Deveau, chief executive of Sawtelle-based Taylored Fulfillment Services signed up to use the platform as a seller.
"As a top 100 3PL (third party logistics) service provider, we find ourselves in the unique position of both a buyer and seller of warehousing and distribution space based on the peaks and valleys of retail.  Warehouse Exchange's business model is ideal to connect with manufacturers, wholesalers, retailers and other prospect accounts."
Warehouse Exchange may be onto something, said Thomas Galvin, a research analyst at Toronto-based commercial real estate firm Colliers International.
"That sounds interesting … and quite possibly a high tech disruptor for what most people consider to be a rather boring topic," Galvin said.
Warehouse vacancy rates are below 1 percent in many of Colliers' markets, Galvin said, so Warehouse Exchange's ability to scale would depend on users.
"Storing five to 10 pallets for a day or two would not make a lot of economic sense, especially since you could just store those in a truck," he said. "Storing 100 or more pallets would be the more likely scenario and more in line with their target audience."
He said if the company operated like Airbnb, the typical customer would be mom-and-pop operations.
Rosenthal said the company's clients could be anyone who needed storage space.
The company has considered legal pitfalls of its business model, such as customers using it to store illegal or dangerous items, Rosenthal said. He said he expected users to self-regulate, emphasizing that the business was a digital marketplace that provided a venue for clients to find each other.
"But we do take these concerns seriously and have a set of guidelines for all our users," Rosenthal said.
A challenge he foresees in the near future isn't the technology but the cultural mindset of the overall industry, which he says is traditional to a fault.
"The hardest part isn't the technology, it's about a new way of doing things," he said. "Innovation has always been resisted."
For reprint and licensing requests for this article, CLICK HERE.