Salute to Veterans: RSM Thanks Our Nation's Veterans
Custom Content by the Los Angeles Business Journal
Tuesday, November 14, 2017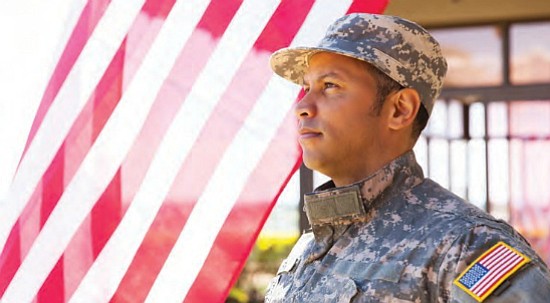 RSM US LLP ("RSM") has several employee network groups (ENGs) that represent the firm's Culture Diversity and Inclusion (CDI) program.
One of these ENGs is the Stars and Stripes Network Group. This network is composed of prior military and friends/family of those interested in supporting our veterans across all genders, age, stage and demographics focusing on:
community service,
recruitment,
business development, and
leadership development.
The network has leaders in each of the firm's five geographical regions, including the West Coast. Each region has a primary focus on initiatives such as homeless veterans through Volunteers of America, working with children of disabled and fallen soldiers through Folds of Honor.
Within the regions, there are several other local initiatives that each office feels most compelled to support within their market. Examples include:
Being named a Yellow Ribbon recipient in the state of Minnesota, due to RSM's focus on supporting veterans in areas such as recruiting, training and development.
In our Florida market, RSM worked with the Wounded Warrior Project and the US Naval Sea Cadet Corp on local fundraising activities.
In the Philadelphia market, employees secured food and clothing for local homeless veterans in conjunction with Comfort House.
In Boston, RSM professionals partner with Home Base, an organization focused on helping veterans dealing with the invisible wounds of war.
Last month, in Orange County, RSM participated in the third annual Patriot Golf Tournament to raise funds for veterans and their children.
Two key national initiatives are currently underway. One involves working with Hire Purpose to drive recruitment of veterans and their spouses. Another involves working with Folds of Honor in a unique mentoring program with students majoring in business or accounting. Through this program, students selected by Folds of Honor receive scholarships funded from the RSM Foundation. These students not only receive assistance in all areas of study related to their major, but they also receive personal guidance on common critical thinking skills within the business arena.
Another way RSM supports those serving and those who have served our country is through Military Appreciation Day at The RSM Classic, a PGA TOUR event sponsored by RSM. Through Military Appreciation Day, various activities take place throughout one day of the tournament each year, including the Folds of Honor Million Dollar Challenge. Through the challenge, the person hitting "closest to the pin" wins a special grand prize package, and the first qualifier to make a hole-in-one wins a $1 million dollar prize—$500,000 of which will be donated in support of The Folds of Honor Foundation.
This year, RSM will send a recruiting team to the Student Veterans of America annual national conference. The SVA supports more than 500,000 student veterans as they prepare for successful transitions to the professional ranks.
Leadership development is an area of focus, and includes transferable lessons such as leadership under pressure, adaption and innovation, tactical patience (versus taking initiative), establishing trust in complex situations and re-establishing trust once it's been broken.
One of the most unique attributes is that RSM touches all areas of diversity, including gender, race and age. We are humbled to be able to make a positive impact internally for our people, in the marketplace with our friends and clients, and to those veterans and veteran families in need. This is just one of the ways that we demonstrate our commitment to stewardship, one of RSM's core values. It's a way of creating a legacy for those who put themselves in the position of making the ultimate sacrifice to protect our freedoms in these United States.
Peter A.S. Pfeiffer is the national leader for RSM's Stars and Stripes employee network group. Pfeiffer, a Veteran, served seven years in the U.S. Army as a paratrooper and Special Forces officer on both active duty and the reserves.
For reprint and licensing requests for this article, CLICK HERE.