Startup Aims to Speed Drone Flight Approvals
TECHNOLOGY: New feature focuses on flights in controlled airport areas
Friday, November 10, 2017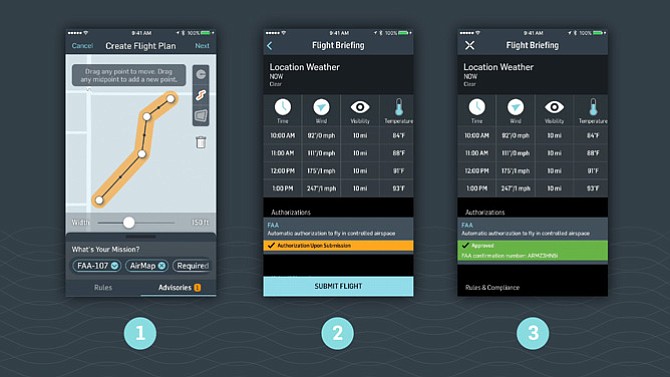 Marcus said AirMap is positioned to help usher in even more automation in the drone industry by collecting and sharing information needed to facilitate automated drone flights. Many in the industry believe drone flight automation could facilitate the use of drones for purposes such as package delivery and emergency responses.
"We believe that we are on the cusp of a massive transformation in the aerospace industry, bringing the benefits of flight to people in their everyday lives," Marcus said. "In order for that future to become reality we need to automate the way these vehicles navigate through the airspace."
The company developed the new feature for its app in collaboration with the FAA's Low Altitude Authorization and Notification Capability (LAANC) initiative, a data exchange designed to help third-party software developers build applications with the regulator's data and rules.
Some 12 private partners are approved for the automated waiver program, including AirMap.
Drone operators can apply for two types of FAA waivers: the automated authorization, which grants approval in seconds for drone pilots to fly under predetermined altitudes near controlled facilities; and, manual authorization, which grants special permission to fly above predetermined altitudes and is confirmed within 30 days.
The FAA wrote in a notice last month that its partnerships, with third parties such as AirMap, ought to also reduce illegal drone flights in controlled airspace.
"The FAA estimates a minimum of 30 percent reduction in noncompliant operations would result in 450 fewer safety reports over the next six months," the notice said.
The automated waiver is a first for AirMap, though the company is working on similar features with other countries, said Marcus.
Dan Burton, chief executive and co-
founder of Santa Monica's DroneBase, an online network of drone operators for hire, said he envisions integrating AirMap's feature into his company's software and thinks the automated process will help grow the drone
services industry.
"I think it will unlock a ton of value across the drone space," he said, adding his company processes a significant number of drone service requests within controlled airspace. "We want to say yes to every single one of those requests and this will let us say yes to a lot more."
For reprint and licensing requests for this article, CLICK HERE.
Prev Next