Fastest Growing Private Companies: Hawke Media Pioneers Contract Marketing
Friday, November 10, 2017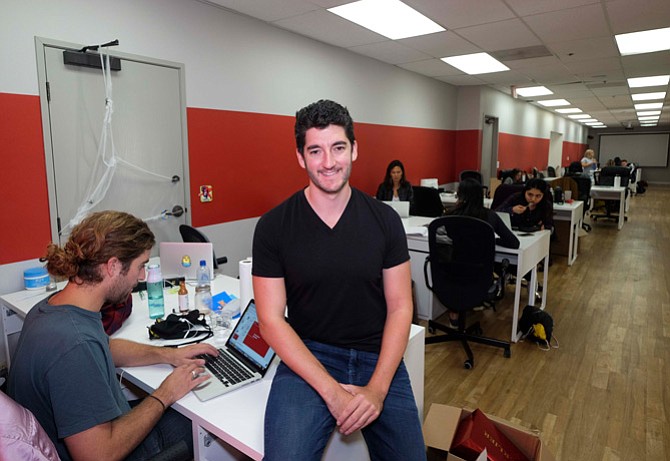 No. 5: HAWKE MEDIA
Santa Monica
BUSINESS: Contracted marketing agency
FOUNDED: 2014
EMPLOYEES: 120
REVENUE GROWTH 2014-2016: 500 percent
2016 REVENUE: $5.5 million
Marketing agency Hawke Media is Erik Huberman's fifth company and certainly the one to which he is most attached.
"I've never worked harder in my life, and it doesn't feel like work," said the founder and chief executive. "I think I'm going to do this for the next 20 or 30 years."
He sees the Santa Monica-based firm pioneering a new sort of marketing agency, one that acts as a utility player for companies that need help with their marketing but don't want to hire additional dedicated personnel. The firm advertises itself as "your outsourced CMO" and charges clients on a month-to-month basis – starting at $4,000 a month – rather than the long-term contracts that are sought by traditional agencies.
"We go into a company and identify holes and bandwidth (issues) in terms of certain marketing channels," said Huberman, adding that the company offers à la carte marketing services to meet specific client needs. "Every major agency owner, when I first started, said, 'That's nuts. That won't work.'"
Yet, Hawke Media has grown exponentially.
Its revenues shot up 500 percent, from $900,000 to $5.5 million, from 2014 to 2016. That placed it at No. 5 on the Business Journal's list of fastest-growing private companies this year.
Hawke Media will run email marketing, social media, influencer and paid search campaigns, among others, on behalf of its clients, which Huberman said numbered about 550 brands over the past four years. The firm also offers creative services and strategy consultations.
The 120-employee company's most requested services are Facebook advertising campaigns, marketing strategy consultations and email marketing campaigns, Huberman said.
"They are almost in an employee relationship but with much more flexible terms," said Peter Csathy, founder and chairman of CREATV Media, a digital media consulting firm that hasn't worked with Hawke Media but offers a few of the same services. "The CMO is a team versus a single individual. If they have the right team, by definition, you'll get more expertise than one individual."
Huberman contends that the $4,000 monthly fee his company charges, which equals $48,000 annually, is less expensive than an in-house marketing employee, who would likely cost at least $60,000 in annual salary, plus overhead. Clients who have at least a $10,000 monthly marketing budget, including fees and ad purchases, are good fits for the agency's services, he said.
That usually means companies that have at least $500,000 in revenue or are on their way to generating that much, he added.
About 70 percent of the company's customers are e-commerce outfits, Huberman said. Clients include Beverly Hills' FabFitFun Inc. and Beverly Grove's Sweat Tailor.
These sorts of services appeal to companies not just because of the lower cost, but because marketing is increasingly complex, involving rapidly changing technology across many different platforms, Csathy said.
"Things are moving so fast. We see such significant changes on a weekly, if not daily basis. … Just to keep up and to have the right expertise is increasingly challenging," Csathy said. "The idea of having an outside expert who is well-versed (in marketing) is increasingly powerful."
For reprint and licensing requests for this article, CLICK HERE.