Fastest Growing Private Companies: Halo Is Tops
Low-calorie ice cream maker grew its revenue 7,400 percent in 2014-16
Friday, November 10, 2017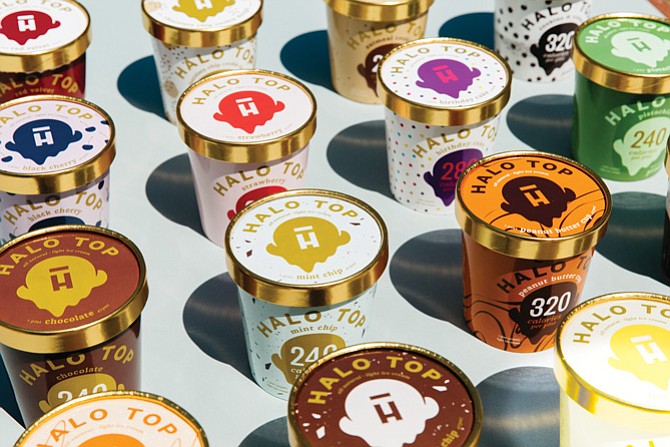 No. 1: HALO TOP CREAMERY
Los Feliz
BUSINESS: Low-calorie, high-protein ice cream maker
FOUNDED: 2012
EMPLOYEES: 75
REVENUE GROWTH 2014-2016: 7,391 percent
2016 REVENUE: $49.1 million
Halo Top Creamery is going back for a second bite after taking a scoop out of U.S. ice cream sales over the past year with its low-sugar, high-protein frozen dessert.
The Los Feliz-based ice cream maker's growth of almost 7,400 percent to more than $49.1 million in sales last year from $700,000 in 2014 landed it at the No. 1 spot on the Business Journal's list of fastest growing companies.
Now the Halo Top brand is poised to open its first brick-and-mortar shop this week at Westfield Topanga and is planning a Westfield Century City location.
It's also considering expanding outside the country.
Experts attribute the brand's success to its healthier-for-you profile and a social media following that it has carefully cultivated since its founding in 2012.
Halo Top advertised exclusively on social media until this year, when it added an online video commercial and a billboard to its media buy.
Chief Executive and founder Justin Woolverton said the brand's fans are evangelical.
"We didn't need brand awareness because our fans buy so much Halo Top at a time," Woolverton, who is a majority shareholder, said in May.
Halo Top's sales have skyrocketed over the past year with a big distribution push, said John Crawford, vice president of client insights in dairy at market research firm IRI.
Halo Top sold $84 million of pints at traditional grocery stores for the three months ended Oct. 8 compared with $11 million over the same period last year, Crawford said. It beat out top competitor Ben & Jerry's, which sold $80 million in pints at the same types of stores – mostly grocery chains – during that time. IRI uses bar-code data provided by certain retailers for its estimates.
"From nothing to be the No. 1-selling pint of ice cream – it's pretty remarkable how quickly it grew," said Crawford.
Milking health
Woolverton founded Eden Creamery, which now does business as Halo Top Creamery, in 2012 after trying to create a frozen sugar-free treat for himself.
Despite no experience in consumer packaged goods or the food industry, the former lawyer has gotten his product, which contains sugar alcohol erythritol and sugar substitute stevia, onto the shelves of most of the major food retailers, including Wal-Mart Stores Inc., Kroger Co.'s Ralphs and Whole Foods Market Inc.
Prev Next
For reprint and licensing requests for this article, CLICK HERE.