Fastest Growing Private Companies: Halo Is Tops
Low-calorie ice cream maker grew its revenue 7,400 percent in 2014-16
Friday, November 10, 2017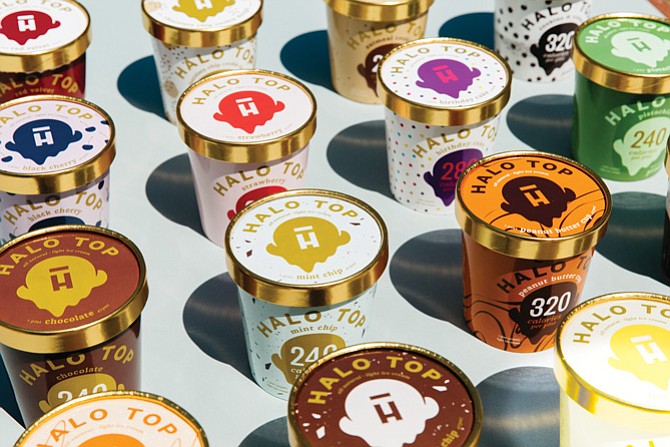 No. 1: HALO TOP CREAMERY
Los Feliz
BUSINESS: Low-calorie, high-protein ice cream maker
FOUNDED: 2012
EMPLOYEES: 75
REVENUE GROWTH 2014-2016: 7,391 percent
2016 REVENUE: $49.1 million
Halo Top Creamery is going back for a second bite after taking a scoop out of U.S. ice cream sales over the past year with its low-sugar, high-protein frozen dessert.
The Los Feliz-based ice cream maker's growth of almost 7,400 percent to more than $49.1 million in sales last year from $700,000 in 2014 landed it at the No. 1 spot on the Business Journal's list of fastest growing companies.
Now the Halo Top brand is poised to open its first brick-and-mortar shop this week at Westfield Topanga and is planning a Westfield Century City location.
It's also considering expanding outside the country.
Experts attribute the brand's success to its healthier-for-you profile and a social media following that it has carefully cultivated since its founding in 2012.
Halo Top advertised exclusively on social media until this year, when it added an online video commercial and a billboard to its media buy.
Chief Executive and founder Justin Woolverton said the brand's fans are evangelical.
"We didn't need brand awareness because our fans buy so much Halo Top at a time," Woolverton, who is a majority shareholder, said in May.
Halo Top's sales have skyrocketed over the past year with a big distribution push, said John Crawford, vice president of client insights in dairy at market research firm IRI.
Halo Top sold $84 million of pints at traditional grocery stores for the three months ended Oct. 8 compared with $11 million over the same period last year, Crawford said. It beat out top competitor Ben & Jerry's, which sold $80 million in pints at the same types of stores – mostly grocery chains – during that time. IRI uses bar-code data provided by certain retailers for its estimates.
"From nothing to be the No. 1-selling pint of ice cream – it's pretty remarkable how quickly it grew," said Crawford.
Milking health
Woolverton founded Eden Creamery, which now does business as Halo Top Creamery, in 2012 after trying to create a frozen sugar-free treat for himself.
Despite no experience in consumer packaged goods or the food industry, the former lawyer has gotten his product, which contains sugar alcohol erythritol and sugar substitute stevia, onto the shelves of most of the major food retailers, including Wal-Mart Stores Inc., Kroger Co.'s Ralphs and Whole Foods Market Inc.
Its success has come as sales of traditional ice cream brands have dipped in recent years. Total U.S. ice cream sales decreased almost 18 percent to $8.3 billion last year from $10.1 billion in 2007, according to market research firm IbisWorld Inc.
Consumers concerned about their health have turned toward versions with less sugar or more indulgent varieties enjoyed less frequently.
The trend has opened the door for upstart brands to grab market share from established competitors who have long dominated the freezer aisle, including Nestle, which owns Haagen-Dazs and Dreyer's ice cream brands and has a U.S. market share of more than 21 percent, and Unilever, which owns Ben & Jerry's and also has more than 21 percent of the market, according to IbisWorld.
Slim business model
Halo Top doesn't just strive for a healthier product – it also has a leaner infrastructure than some of its competitors. It has 75 employees but no headquarters office or manufacturing facilities, instead relying on contract manufacturers.
It has invested in its online presence, though. The company has built a following by interacting with customers on platforms including Instagram and creating entertaining content, said Lauren McGrath, head of talent and influencer engagement at New York public relations and digital marketing firm Lippe Taylor.
"Halo Top is essentially building its own consumer advocacy program through engagement," McGrath said. "They're encouraging them to create more content. It's a really important part of the social engagement mix that a lot of brands don't necessarily spend a lot of time on, but if they did, it would drive positive sentiment and return and more organic brand mentions."
Halo Top's new brick-and-mortar shops will allow customers to interact with the brand in the physical realm. The stores will sell scoops of Halo Top ice cream as well as soft-serve in waffle cones and tacos with toppings, according to the company.
The Westfield Topanga store will reflect the packaging's eye-catching design and the brand's sense of humor with a golden halo crowning the exterior and a pink neon sign that reads, "Let's spoon," the company said.
Serving it up
The company said it is considering selling its pints internationally, including in the United Kingdom.
The news might be enticing to a potential buyer, said Crawford, noting that London-based Unilever bought another upstart, Dallas-based Talenti Gelato e Sorbetto, in 2014.
"If you're looking to be bought by somebody like Unilever or Nestle, going to the U.K. is just another little carrot," said Crawford. "(It's) putting (them) on the radar of other folks."
Reuters, citing anonymous sources, reported in August that Halo Top was exploring a sale that would value it at $2 billion.
The company issued a statement at the time saying it had received offers in the past but had rejected them, according to the Los Angeles Times.
Crawford questioned whether the company could continue growing so quickly with its minimal infrastructure, noting that Halo Top saw its lead over Ben & Jerry's at traditional grocery stores taper down during the most recent three-month tracking period.
"The question to ask is, is this sustainable given the current model?" said Crawford. "I think it's going to be tough to sustain."
For reprint and licensing requests for this article, CLICK HERE.