Cancer Awareness & Prevention: LLS NAMES "MAN AND WOMAN OF THE YEAR" FOR 2017
Custom Content by the Los Angeles Business Journal
Thursday, November 2, 2017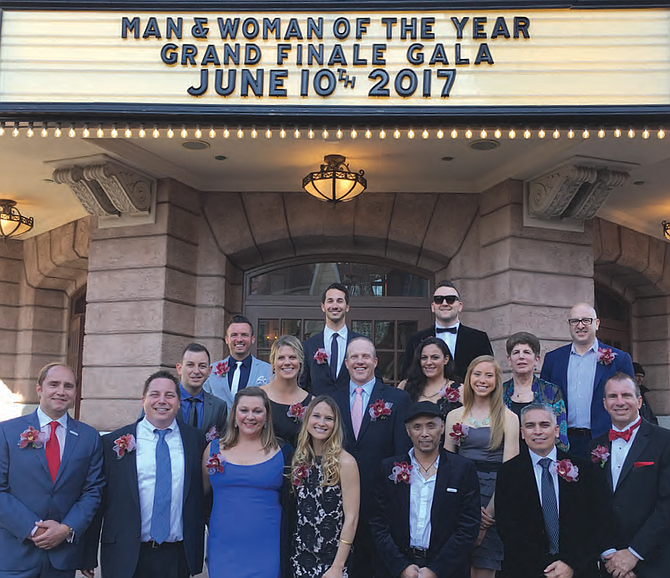 On Saturday, June 10th, The Leukemia & Lymphoma Society (LLS) celebrated its 2017 Man & Woman of the Year campaign at The Globe Theatre at Universal Studios in Hollywood. Nearly 500 guests attended the event, hosted by ABC7 Reporter Elex Michaelson, to celebrate the 24 candidates who competed for the titles of Man and Woman of the Year. "Man of the Year" went to Jonathan Gabay and his team, The A-Team, and «Woman of the Year» went to Caitlin Fitzgerald and her team, Cross My Heart & Hope to Live. The campaign collectively raised over $1.44 million dollars in ten weeks, which is a local record.
The Man & Woman of the Year campaign is a spirited fundraising competition among a select group of nominated individuals in the community. By accepting the nomination, candidates have 10 weeks to accumulate the most "votes." Every dollar raised counts as one vote, and the person who raises the most earns the prestigious title. Candidates run in honor of the Boy & Girl of the Year, who are local blood cancer patient survivors and sources of inspiration. The 2017 Boy & Girl of the Year were Aiden Kramer and Karina Lopez, both leukemia survivors.
The Man & Woman of the Year campaign raises vital funds for blood cancer research. Since its inception in 1949, LLS has invested more than $1 billion in research to find the cause and cure for blood cancers. This research has led to groundbreaking treatments – such as chemotherapy, radiation, stem cell transplantation and most recently, immunotherapy – that are vital to treating blood cancers and many other forms of cancer.
Congratulations to the Class of 2017 for your record breaking year, and thank you for making such a significant impact on the mission of The Leukemia & Lymphoma Society.
For reprint and licensing requests for this article, CLICK HERE.