Cancer Awareness & Prevention: Join in the Fight Against Blood Cancers
Custom Content by the Los Angeles Business Journal
Thursday, November 2, 2017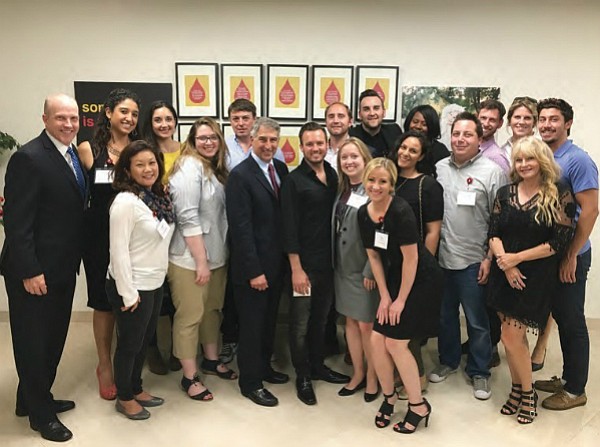 Approximately every three minutes, a person in the United States is diagnosed with a blood cancer; every nine minutes, someone dies from it.
The Leukemia & Lymphoma Society (LLS) exists to fund research, find cures and ensure access to treatments for all blood cancer patients.
Since 1949, LLS has been on the forefront of blood cancer advances such as chemotherapies and stem cell transplantation, and has led the way to the development of targeted therapies and immunotherapies that are saving thousands of lives. Sustained research investments are fueling an explosion of innovative science and clinical successes.
To date, LLS has invested more than $1 billion in research to advance the potential for cures. LLS research grants have funded many of today's most promising advances.
Currently, the organization is supporting approximately 300 active research projects that explore different avenues of new and leading-edge research.
One of those projects is aimed at the most daunting challenge in blood cancer: acute myeloid leukemia (AML), one of the most common types of leukemia in adults. In October 2016, LLS launched a paradigm-shifting clinical trial to test investigational targeted therapies against multiple subtypes of AML at multiple research institutions. With today's chemotherapies, the same that have been used for more than 40 years, only one in four AML patients survives five years beyond diagnosis, but LLS hopes to change that. Through this unprecedented offensive known as the "Beat AML Master Trial," up to 500 adult patients will be enrolled over the course of 3-5 years with the hopes of bringing new treatments and new hope.
LLS is the voice for all blood cancer patients and is working to ensure that each and every one of them has access to the most effective help possible. LLS has taken an unapologetically patients first position on the cost of cancer care, and this past May, organized a panel discussion featuring some of the nation's leading experts on blood cancers and healthcare policy to discuss the ever-increasing cost barriers that patients and their families face to access high-quality care. The panel examined the multiple components that constitute the economic burden of cancer care, which goes beyond direct medical costs to include the impact on a patient's employment, time spent traveling to receive necessary therapies as well as taking care of loved ones during a course of treatment. The assembled experts then stressed the need to discuss the cost of cancer care in terms of value for patients. Panelists also highlighted the need for transparency throughout the healthcare ecosystem, which applies to the prices of specialty drugs, as well as the importance for providers to have conversations about cost with their patients at the same time that they discuss treatment options.
While extraordinary progress is being made for blood cancer patients, more than one-third of patients still do not survive five years after their diagnosis, which is why more funding is needed to bring better therapies to patients, and faster.
YOU CAN HELP SAVE LIVES
As a participant, volunteer or donor to LLS, you will be supporting projects across the entire research continuum, from basic laboratory science through clinical trials.
Your contribution also supports LLS's services that provide patients with the latest disease and treatment information as well as support programs. LLS has medical professionals available to help patients and caregivers on the toll-free number (800) 955-4572, armed with up-to-date information about blood cancers and treatment options.
Many LLS funded therapies are not only saving the lives of blood cancer patients but also helping other patients as well. Treatments first approved to treat patients with blood cancers are now used to treat patients with stomach cancer, autoimmune disease and are being tested in lung, brain, breast, pancreative and prostate cancers.
Visit www.LLS.org today to join in the fight against blood cancers.
HELP BY SPEAKING OUT
You can help LLS advocate for increased research funding by communicating with legislators, representing blood cancer patients among local healthcare coalitions, and bringing media attention to impending issues affecting blood cancer patients, family members or care givers. Visit www.lls.org/raiseyourvoice today.
ABOUT THE LEUKEMIA & LYMPHOMA SOCIETY
The Leukemia & Lymphoma Society (LLS) is the world's largest voluntary health agency dedicated to blood cancer. The LLS mission: Cure leukemia, lymphoma, Hodgkin's disease and myeloma, and improve the quality of life of patients and their families. LLS funds lifesaving blood cancer research around the world, provides free information and support services, and is the voice for all blood cancer patients seeking access to quality, affordable, coordinated care.
Founded in 1949 and headquartered in Rye Brook, NY, LLS has chapters throughout the United States and Canada. To learn more, visit LLS.org. Patients should contact the Information Resource Center at (800) 955-4572, Monday through Friday, 9 a.m. to 9 p.m. ET.
For reprint and licensing requests for this article, CLICK HERE.