Four Seasons Residences Begins Construction with $239 Million Loan
Tuesday, May 30, 2017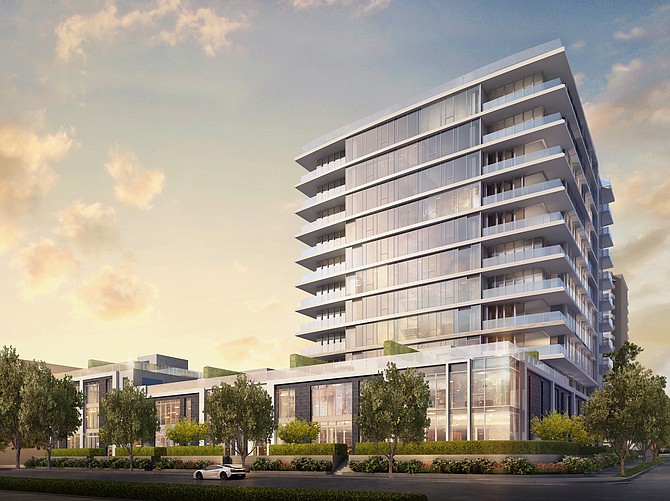 Construction began this week on Four Seasons Residences, 58 ultra-luxury condominiums and townhouses on the outskirts of Beverly Hills, after developer Genton Property Group raised $239 million for the project.
Jonathan Genton, founding partner of GPG, said Tuesday the company finalized the construction loan last week. GPG partnered with Boston-based private equity firm Alcion Ventures and Dallas-based mortgage banking firm Holliday Fenoglio Fowler to arrange the financing from London-based hedge fund Children's Investment Fund Management Ltd.
Although the developer had a "ceremonial groundbreaking" in October 2015 on the project across the street from the Four Seasons Hotel, construction did not begin at the time, Genton said. He said the total cost of the project was more than $300 million.
"It was critically important to our investors and international pool of buyers that we eliminated every potential obstacle before beginning primary construction of the Four Seasons Private Residences Los Angeles," Genton said. "While today's challenging lending and regulatory environment pushed back our initial ambitious timeline, we are now moving full-steam ahead toward setting a new standard for luxury living in Southern California."
About 18 units were already under contract, and GPG has completed $147 million in contracts and reservations, Genton said. Buyers thus far have hailed from Los Angeles, New York, Vancouver, Hong Kong, Istanbul, London, Shanghai, Singapore, and Jakarta.
The units at 9000 W. Third St. were priced upwards of $3,000 a square foot, Genton said. The residences will have an average size of 2,400 square feet, and the penthouse will be about 12,000 square feet, he said.
Thus far, there has been a shortage of ultra-luxury condominiums on the Westside, with many developers aiming to fill that void.
The Residences face competition from about 800 other ultra-luxury condo units taking shape on the Westside, all aiming for over $2,000 a square foot, and as much as $4,000 a square foot, according to sources familiar with the projects.
The Westside has had few comparable sales at those price points. The new units are all aiming for a similar clientele: wealthy international and bicoastal buyers who will pay top dollar for high-end amenities and low maintenance that come with condos attached to luxury hotel brands.
Developers have been increasingly betting on these buyers purchasing an additional home in Los Angeles as it evolves into a world-class city.
However, the volume of similar products gearing up to hit the market around the same time has caused concern among some agents.
"Some projects with crazy numbers will work. Some will fail," Hana Cha, managing director of new development at Beverly Hills brokerage Compass, said.
Residential real estate reporter Helen Zhao can be reached at hzhao@labusinessjournal.com. Follow her on Twitter @zhaomeow.
For reprint and licensing requests for this article, CLICK HERE.