Tunnel Skepticism Runs Deep
TRANSPORTATION: Pitch by Elon Musk hits city limits.
Friday, May 26, 2017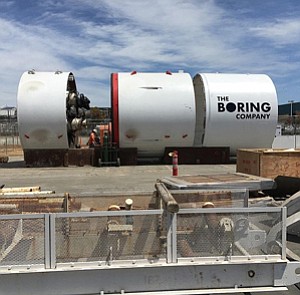 The average earth tunneling machine is slower than a snail.
That irks Elon Musk, founder and chief executive of Space Exploration Technologies Inc., known as SpaceX, and Tesla Motor Co., who sees the rapid and cheap construction of multiple layers of car tunnels under Los Angeles as the solution to the region's notorious gridlock. His newly minted Boring Co. started cutting a tunnel this month in the parking lot of SpaceX's Hawthorne headquarters as part of a plan to test a machine with three times more power than average – a precursor to a tunnel he envisions extending from Los Angeles International Airport to Sherman Oaks.
Yet Musk's super-charged tunneling machines might never get the chance to bore the warren of holes below Los Angeles, government officials said. When asked what hurdles Boring would have to clear in order to dig under Santa Monica, City Manager Rick Cole, a former L.A. deputy mayor, replied without hesitation.
"We would laugh them out of our office," he said. "It's a completely absurd pipe dream."
While Musk can tunnel underneath SpaceX's Hawthorne campus without approval from that city, crossing beneath city property or private land would require Boring to go through official channels, a nightmare-inducing process of regulatory approvals, community hearings, property rights acquisition, environmental reviews, and, most likely, litigation, public officials said.
The company would be required to get right-of-way permission from myriad public and private property owners, building permits for elevators that would lift cars from the tunnel to street level, among other approvals, Cole said.
"The level of complexity and permitting and environmental review – and opportunity for environmental litigation – would stretch this out for decades," he said.
Case in point: Los Angeles County Metropolitan Transportation Authority's attempts to tunnel and extend the Purple Line subway under Beverly Hills were met with fierce community opposition and a lawsuit in 2012, delaying the construction of the mass transit line, planning for which began in 2007, with construction scheduled to be completed by 2024 at a cost of $6.3 billion. And that's a public project backed by voter-approved funds.
Most local officials wouldn't know where to start the process of approving and supervising a privately built system of tunnels, said John Nachbar, city manager of Culver City, which sits along what would be a part of Boring's proposed route.
"This is so novel. No one would probably automatically know how to handle it," he said. "There's no cookbook for this."
Musk's proposal does have at least one highly influential enthusiast. Los Angeles Mayor Eric Garcetti said the MTA would support the project while speaking at a student hyperloop pod competition run by SpaceX in January. However, a city official with knowledge of the situation said nothing has happened in an official capacity since then.
"No one's filed for any permits for anywhere in L.A.," said the official, who asked not to be identified. "The mayor and Elon have had at most very broad discussions about these plans. … The conversation has not evolved to a point where you'd be talking about specific partnerships in detail."
Musk's chief of staff, Sam Teller, declined to comment on the company's strategy for gaining municipal approval for the proposed tunnel network.
Earth mover
Musk's grand subterranean plan was first teased by the entrepreneur on Twitter in December.
"Traffic is driving me nuts. Am going to build a tunnel boring machine and just start digging..." he wrote on Dec. 17. "It shall be called 'The Boring Company.'"
By April, Musk had dug a 50-foot-wide pit in the SpaceX parking lot and purchased a used tunneling machine with the intent of re-engineering it to dig faster and less expensively.
The plan, according to Boring's website, is to build narrow one-lane tunnels, thereby reducing the volume of dirt to be shoveled, and to increase the power of the digging machine.
"A snail is effectively 14 times faster than a soft-soil (tunnel boring machine)," the company's website says. "Our goal is to defeat the snail in a race."
Musk has tweeted pictures of the company's pet snail, Gary, named after a cartoon character from children's TV show "SpongeBob SquarePants." His boring machine is named "Godot" after the titular character in the Samuel Beckett play "Waiting for Godot," who never actually arrives.
Musk declared on Instagram that his planned tunnel would zig-zag underground from LAX to Culver City, Santa Monica, Westwood, and Sherman Oaks. The tunnels would supposedly whizz cars along at more than 120 mph on electric-powered sleds. After reaching its destination, the sled would then be raised to the surface on an elevator platform that emerges from a hole in the street.
"A large network of road tunnels, many levels deep, would fix congestion in any city, no matter how large it grew (just keep adding levels)," according to Boring's website.
Santa Monica and Culver City managers, however, said they have not had any conversations with representatives of Boring, nor have they received permit requests from the company.
Los Angeles City Councilman Paul Koretz, whose District 5 stretches across the Westside, said no one from Boring has reached out to him, either.
"Permission from the City Council is required for the construction of tunnels," he said, noting it might be an uphill battle to convince council members to sign off. "I haven't seen the council champing at the bit to look at new, unusual technologies."
While Musk enthusiasts might complain of government's reluctance to clear the way for new this technology, Santa Monica's Cole said the regulatory process is as relevant as ever for such projects.
"The public can be persuaded that the government is too bureaucratic until it's not bureaucratic enough," he said. "When you have the ground water polluted because of your tunneling activity, when you have the collapse of the street because of the tunneling, when you have severe traffic jams because of construction activity hauling out dirt, then, people will say: Where is the government? How was this ever allowed?"
For reprint and licensing requests for this article, CLICK HERE.