Tunnel Skepticism Runs Deep
TRANSPORTATION: Pitch by Elon Musk hits city limits.
Friday, May 26, 2017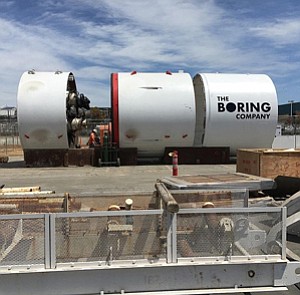 The average earth tunneling machine is slower than a snail.
That irks Elon Musk, founder and chief executive of Space Exploration Technologies Inc., known as SpaceX, and Tesla Motor Co., who sees the rapid and cheap construction of multiple layers of car tunnels under Los Angeles as the solution to the region's notorious gridlock. His newly minted Boring Co. started cutting a tunnel this month in the parking lot of SpaceX's Hawthorne headquarters as part of a plan to test a machine with three times more power than average – a precursor to a tunnel he envisions extending from Los Angeles International Airport to Sherman Oaks.
Yet Musk's super-charged tunneling machines might never get the chance to bore the warren of holes below Los Angeles, government officials said. When asked what hurdles Boring would have to clear in order to dig under Santa Monica, City Manager Rick Cole, a former L.A. deputy mayor, replied without hesitation.
"We would laugh them out of our office," he said. "It's a completely absurd pipe dream."
While Musk can tunnel underneath SpaceX's Hawthorne campus without approval from that city, crossing beneath city property or private land would require Boring to go through official channels, a nightmare-inducing process of regulatory approvals, community hearings, property rights acquisition, environmental reviews, and, most likely, litigation, public officials said.
The company would be required to get right-of-way permission from myriad public and private property owners, building permits for elevators that would lift cars from the tunnel to street level, among other approvals, Cole said.
"The level of complexity and permitting and environmental review – and opportunity for environmental litigation – would stretch this out for decades," he said.
Case in point: Los Angeles County Metropolitan Transportation Authority's attempts to tunnel and extend the Purple Line subway under Beverly Hills were met with fierce community opposition and a lawsuit in 2012, delaying the construction of the mass transit line, planning for which began in 2007, with construction scheduled to be completed by 2024 at a cost of $6.3 billion. And that's a public project backed by voter-approved funds.
Most local officials wouldn't know where to start the process of approving and supervising a privately built system of tunnels, said John Nachbar, city manager of Culver City, which sits along what would be a part of Boring's proposed route.
"This is so novel. No one would probably automatically know how to handle it," he said. "There's no cookbook for this."
Prev Next
For reprint and licensing requests for this article, CLICK HERE.